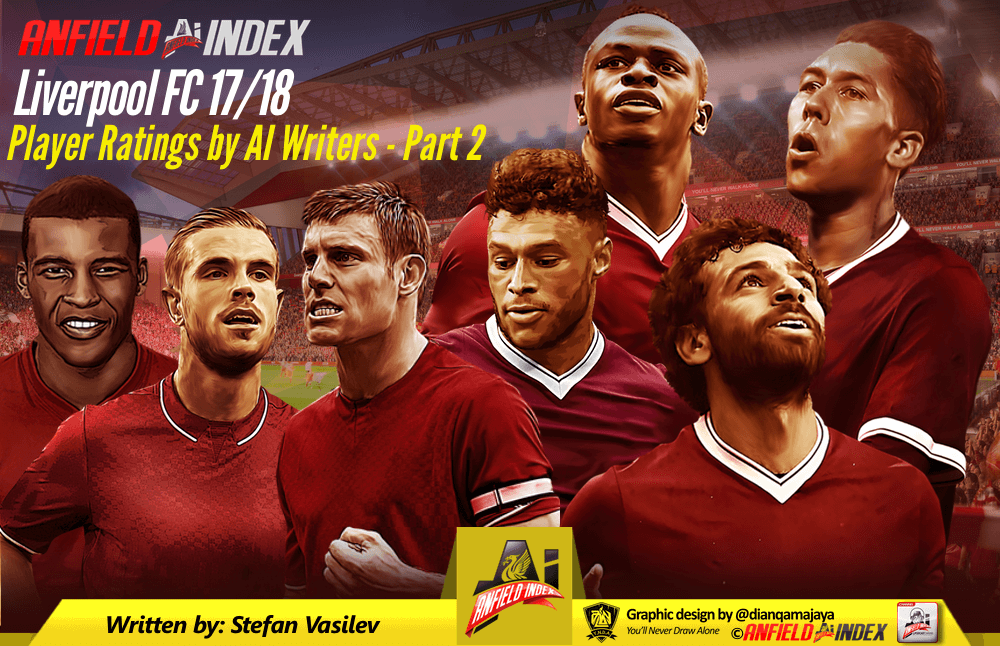 LFC 2017/2018 Player Ratings - Part 2
After rating the defence, now it's time for midfield and attack.
Alex Oxlade-Chamberlain – Average Post-match Rating 6.63, Writers' Season Rating 7.5
The Ox had a slow start to his Liverpool career, appearing mainly as a substitute in the begging of the season. He grew to be our best midfielder as the season progressed before being sidelined by an injury sustained against Roma. His banger against Man City will be on the highlight reel for years. The injury also casts a doubt on what his role will be next season with midfield being massively upgraded. Ox is versatile enough to fit in midfield and attack, in the middle and on the wing. Hopefully, the injury is just a set-back and he picks up where he left off.

Emre Can – Average Post-match Rating 6.36, Writers' Season Rating 7.25
Emre's last season in a red shirt was a good one before injury ended it. When available he was the engine of the team – the only consistent midfielder in the squad. However, both Naby Keita and Fabinho are better than him. He will be missed but the Reds were prepared for Can's exit.
James Milner – Average Post-match rating 6.14, Writers' Season Rating 7.42
Milner had a record breaking Champions League campaign, setting the record for assists in a single season. There are certain things we expect from James Milner – to run himself to the ground, to not do stupid stuff and to be effective without being spectacular. Mister reliable delivered exactly that.
Jordan Henderson – Average Post-match Rating 6.03, Writers' Season Rating 6.5
The captain had a quiet season. He managed to boss some games and be completely invisible in others. Not that he did much wrong but more is expected of him. With all the incoming midfielders his place in the starting eleven is under threat. Hendo needs to improve if he wants to keep it.
Georginio Wijnaldum – Average Post-match Rating 5.71, Writers' Season Rating 6.33
Gini also had a fairly average season. He was terrible at the beginning of the campaign and improved at the end. Even though the Dutchman finally managed to score an away goal his offensive output dropped compared to his first season. More often than not he failed to control games, which was his main function.
Adam Lallana – Average Post-match Rating 4.44, Writers' Season Rating 2.75
Even though Lallana played more Premier League minutes than Danny Ings, Tom and Leanne didn't have a rating for him. That's how bad his season was. He offered absolutely nothing when he was on the pitch. Yes, he had injury problems but the Englishman just doesn't seem to fit in the team anymore. He doesn't offer the pace needed to play in the front three and is not good enough with the press to be in midfield. He certainly looks like the odd one out of the group.
Roberto Firmino – Average Post-match Rating 6.76, Writers' Season Rating 8.83
Bobby had the best season of his career. Relentless pressing, goals and assists – he brought the package. The Brazilian is the perfect striker for Klopp's system. He had such an amazing season even the mainstream pundits and media started appreciating him.
Sadio Mane – Average Post-match Rating 6.73, Writers' Season Rating 8.5
Mane is probably the most underappreciated member of our front three. Sadio had a great season. His pace is and directness and integral to the way we attack. Mane missed some time due to injury and suspension early in the season and was a bit off his usual high standard when he came back. But once he got going Sadio was amazing.
Philippe Coutinho – Average Post-match Rating 6.83, Writers' Season Rating 5.92
Some of the writers (me included) couldn't ignore Phil's off the field antics and gave him a rating of 1.  Others decided to take the high road and gave him a proper rating based on his performance. And there wasn't much wrong with that. Coutinho was brilliant on the pitch. FSG managed to get a crazy transfer fee for the Brazilian and has invested it straight back to the squad, at least on paper making us stronger.
Dominic Solanke – Average Post-match Rating 6, Writers' Season Rating 4.75
After looking great in preseason Solanke struggled to impress when it mattered. He missed quite a few good chances and did not impact games the way he was supposed. The Englishman is still young and will surely improve but for now, he is still one for the future rather than a player to help right away.
Daniel Sturridge – Average Post-match Rating 5.89, Writers' Season Rating 4.5
Sturridge may have played his last game in red. He didn't have any impact on the season and struggled for game time. That prompted a loan move to West Brom where he got injured and didn't leave have any positive contribution.
Danny Ings – Average Post-match Rating 5.4, Writers' Season Rating 4.67
After missing two season due to injury Ings finally managed to be healthy enough to play. His output was subpar. Ings' Anfield future is uncertain, as awesome as him having a great season would be, Klopp needs to be ruthless and improve our attacking bench options.
Mohammed Salah – Average Post-match Rating 7.16, Writers' Season Rating 9.92
Undoubtedly LFC's best player. Mo had an all time great Premier League season. He broke the record for goals scored in a 38 game season and lead the team to the Champions League final. The Reds struggled when he was not on the pitch as painfully evident after he went to the hospital in Kiev. To truly be considered great, however, he needs to keep this level, as he himself has stated numerous times.
Thanks to Adam, Tom, Leanne, Alex and Aadi for their ratings.