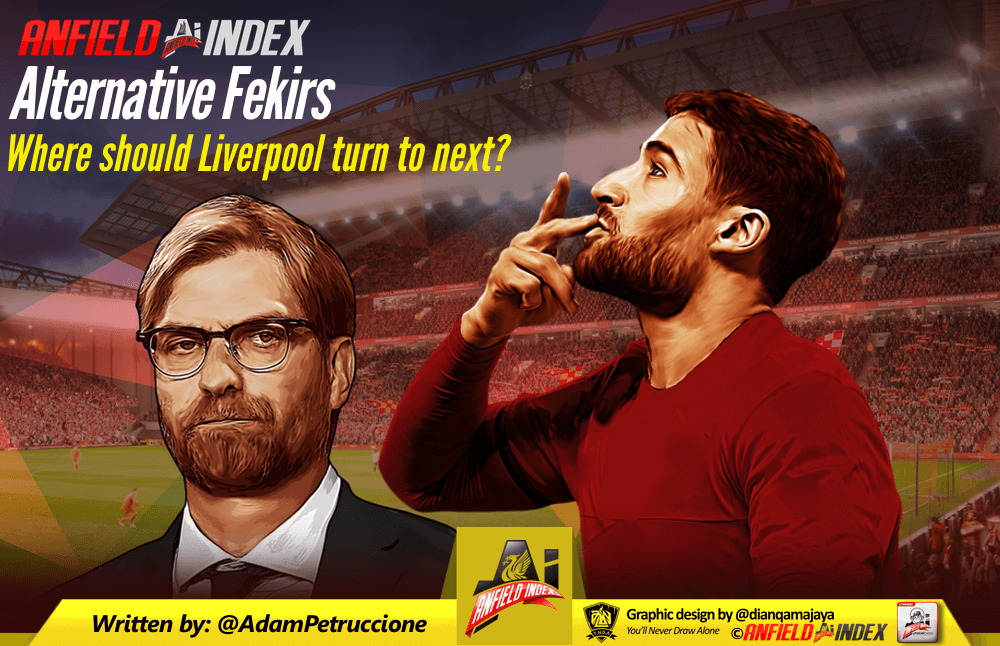 Alternative Fekirs: Where should Liverpool turn to next?
It was definitely going to be Thursday, then absolutely Friday, then without question Saturday… but at 8pm Saturday night, the Nabil Fekir saga came to an abrupt halt. Depending on which party you believe, Liverpool had reservations once they had the opportunity to review the details of Fekir's knee reconstructions from two years prior or Liverpool were simply using the knee as an excuse to try and renegotiate a lower fee at the last minute.
Regardless of who you believe, missing out on Fekir would be a major blow to Liverpool's summer business. You can tell how much of a hit the club have taken just by the look on the manager's face.
https://twitter.com/fivetimesclub/status/1005732086030983168

So… on to Shaqiri then? I can tell you're inspired. The truth is though, that Shaqiri would only ever be intended for depth on the wings where Fekir would have played in the advanced number-eight position, possibly rotating into the false-9 to give Firmino a breather.
Clearly, if the club were willing to earmark 50million on Fekir there must be agreement that the squad needs a playmaker in midfield. Perhaps a high-level playmaker who is a threat from distance could enable Liverpool to ease past weaker teams where we've often struggled in the past. If a deal with Lyon can't be resurrected, where could the Reds turn for Fekir alternatives?
Who's Next pic.twitter.com/fVjbLACGb4

— SimonBrundish (@SimonBrundish) June 10, 2018
Anfield Index's own Simon Brundish kept a running table of the top attacking players in the world throughout the season, but with many of them either already playing for Liverpool or previously having played for the Reds, there are only a handful of potential targets left if you're looking for players who are already as productive as Fekir has been.
The idea of Griezmann or Dybala coming to Liverpool at this point is not entirely out of the question, but they certainly wouldn't slot into that advanced eight position, so you can scratch them off of the list as well. What you're left with is the idea that Liverpool really won't be able to find another player coming off a run of production like Fekir. They're going to have to find the next breakout star. Not an impossible task, because a lot of players would look good surrounded by the likes of Salah, Firmino, Mané and Keita, but it won't be a walk in the park.
A lot of the possible names fit into a similar profile; not as physical as Nabil Fekir, but faster, younger and more suited to the wings. Fekir would have been able to split time between the midfield and providing a rotation option for Firmino as a false-9. There may not be another player available at that fits that profile exactly.
THOMAS LEMAR
Coming off an admittedly poor season, Lemar is still a major talent at just 22. Only 2 goals in 30 Ligue 1 appearances is a rough return, but how much was the player unsettled by Liverpool's approaches last summer? He shares a remarkable ability to maintain possession in traffic with Fekir. A versatile player, he could man the advanced eight as well as the left wing, and with Mané's ability to play on the right, Liverpool would be adding several new options with just one player. Is Monaco still looking for near 100 million for him? That's yet to be seen. However, the may want to cash in before he has another season with poor production.
MALCOLM
The 21-year-old put up 12 goals and 7 assists mostly from the right of Bordeaux's attack in 35 appearances. With Liverpool, he might line up in on the right side of the midfield in a 442 or 4222 with Mané opposite and Firmino/Salah ahead. An expert dribbler at speed, he'd pick up where Chamberlain left off, but he has also become a long-shot merchant. A skill like that would force defenders to run out, leaving lanes for Salah and Firmino to exploit. As the main attacking threat for Bordeaux, he wasn't asked to defend with any ferocity. Is he capable of fitting into Klopp's pressing system? That would be the unknown with Malcolm. Inter is trying to wrap up a deal with the Brazilian, so Edwards would need to move quickly in order to make this happen.
HAKIM ZIYICH
If you make it to 25 in the Ajax squad without being plucked by one of Europe's top clubs then the assumption is that there's something wrong with you. The Moroccan is going to have a chance to show what he can do in the World Cup though and you can bet scouts from all of the big clubs will be watching. A crafty operator in the middle of the park for Ajax, he would work well in the advanced-eight role and, like Malcolm, isn't afraid to shoot from distance. With his slight build he isn't known for his tackling, so again, he is one who would have to adjust to Klopp's requirements. He doesn't have the same versatility of the other choices and that might be a major negative for Liverpool's scouts as well.
PABLO FORNALS
Most of his starts (25) came from the ten at Villarreal, but he had 12 more from a range of positions from the attack to central midfield. One of the best creators in La Liga, he put up 12 assists to go with only 3 goals. At 22 years old the age is right, but if you're comparing him to Fekir and some of the other options, he isn't the same goal threat or someone who would take up our free-kick duties.
ISCO
Positionally he's very similar to Lemar, able to play a range of positions on the left. He'd be very difficult to pry from Real Madrid, but what Liverpool would be getting is a midfielder in his prime (26) who is a great link between defence and attack, able to dribble the ball from deep with ease. His end product is good, but still, you'd think he could put up more than 7 and 7 in 21 La Liga starts playing in that Real Madrid team. He's not the focus of the attack in the Spanish capital, but if we're honest, he wouldn't be in Liverpool either.
JULIAN BRANDT
Liverpool seem to stay away from Leverkusen in recent windows despite all of the talent on hand there. Julian Brandt split 26 starts all over the attacking midfield and made spot starts deeper as well, so he has the versatility box checked. For such an exciting player in a team full of young talent, 9 goals and three assists don't jump off the page at you but he is still 22. A good performance in the World Cup could vault Brandt in terms of the demand for him around Europe.
OUSMANE DEMBELE
Dembele is an interesting one because his talent is through the roof and unlike some of the others on this list, he has production to go with it when you look at his per-minute stats, but he wouldn't be the most natural fit in the advanced-eight role as we know it. He, like Malcolm, might inspire a switch to a 442/4222 set-up. Young (21) and fast, he would add counter-attacking threat to our already turbo-charged team, could handle free kicks, and is more of a threat from wide areas than anyone currently in the squad.
FLORIAN THAUVIN
Didn't he bomb out at Newcastle two seasons ago? Yep, the same guy. But, his production has exploded since returning to Marseille, and he's still just 25. He put up 25 goals and 13 assists this year, making him one of the only players on Simon Brundish's production chart who would realistically be obtainable. Like just about every other player discussed here, he isn't known for his defensive contributions, but he'd be able to create from that advanced-eight spot, can take a great set-piece or a long shot from open play.
HAKAN CALHANOGLU
A different type of midfielder than the rest on this list, Calhanoglu would make Liverpool's midfield one of the most physical in Europe. AC Milan may be willing to deal since they are under Financial Fair Play pressure, and their Turkish talent would be one of their more marketable players. A wizard from deep free-kicks, he would certainly add a threat from an area we don't already have and in terms of players 25 or under, he creates the fourth most key-passes per 90 minutes.
FINAL VERDICT:
You can see why Fekir was the target as all of these options have a downside to them, but if Monaco were willing to deal again and factor in a discount for his poor season at something close to what we were about to pay Lyon… I still believe Lemar makes the most sense. He has the physicality to go along with the creativity and being a left-sided player Lemar provides more options than bringing in a player who is naturally suited to the right side.