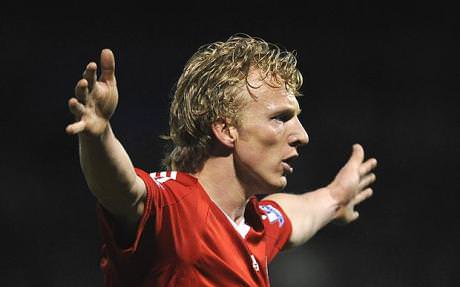 Dirk Kuyt | The man for the big occasion
After spending big in consecutive transfer windows, Liverpool finally have strength in depth in attacking positions.  With this though, comes selection problems and, so far this season, the man to miss out has been Dirk Kuyt.
Formerly one of the first names on the team sheet, Kuyt has only started half of Liverpool's games so far this season, as Jordan Henderson has been preferred on the right side of midfield and Luis Suarez has mostly played as either a lone striker or alongside Andy Carroll.  Ahead of two big games in the Merseyside Derby and Manchester United's trip to Anfield, there is an argument that Kuyt should be brought back into the starting line-up.
Over the years, Kuyt has consistently delivered in important matches.  He simply has the knack of scoring 'big' goals; be it against top teams in important games or against lowly opposition who Liverpool struggle to break down.
In the 2007 Champions League final, Kuyt gave Liverpool a late lifeline with a headed goal against AC Milan.  It was Kuyt's first goal in Europe's premier competition and although only a consolation, was a sign of things to come.  Kuyt had also scored the opener in Liverpool's home win against Chelsea that season and went on to score important goals the following season – two from the spot at Goodison (one winning the game in the last minute) and vital Champions League goals in successive knockout rounds against Inter Milan, Arsenal and Chelsea.
Perhaps overshadowed by Fernando Torres in 2008-09, Kuyt still scored in the Champions League Quarter Final against Chelsea.  In 2009-10 he was again in fine 'big game' form, scoring in both league derby matches, as well as against Arsenal and
Tottenham.
Poor team performances and changes in management didn't stop Kuyt last season, in what was arguably his best season in a Liverpool shirt.  Kuyt put three past Manchester United at Anfield and scored the equalisers at home to Everton and away to
Arsenal.  He was, yet again, a key performer in the big games.
So, why is Kuyt so effective in big games?
His phenomenal work rate is well documented.  His experience is useful, particularly now with a new youthful look to Liverpool's squad. His history as a striker gives an edge that other 'wide players' don't necessarily have.  He can play in several different positions and is tactically aware.
It is no coincidence that great managers speak of him highly.
In 2009 Rafael Benitez labelled Kuyt 'Mr. Duracell' and went as far as saying "You can use him in so many ways so you can pretty much guarantee he will be in the starting line-up."
Kuyt starts for Holland, despite facing what is arguably even stiffer competition than at Anfield. Forward players for Holland include Wesley Sneijder, Rafael van der Vaart, Robin Van Persie, Arjen Robben, Klaas-Jan Huntelaar and Ibrahim
Afellay.  Kuyt starts though, despite rumours that supposed star man Robin Van Persie would rather he didn't.  Of the forward options mentioned, only van der Vaart has more caps and Huntelaar more international goals.
The contribution for his national side is recognised.  Bert Van Marwijk, Head Coach of the Holland national team, once said Kuyt was "the example of a true and genuine team player.  He's so focused; he's working so hard for the team and gives such a positive signal to the rest of the players."
Football legend, Johan Cruyff is another admirer, once claiming Kuyt was "worth his weight in gold."
Current boss Kenny Dalglish also spoke fondly of Kuyt.  "He's a great pro and you always know what you are going to get from him.  He fights for everything."
For the next two matches in particular, Kuyt's reliability and fighting spirit could prove crucial. With Jordan Henderson yet to hit top form, Kuyt could be the safe option on the right of midfield.  Alternatively, Kuyt could link up with Luis Suarez up front, a partnership that worked very well towards the end of last season.
Liverpool's squad is strong enough now though, that whatever happens, quality players will miss out. Here's just hoping that, for the big games at least, it's not Dirk Kuyt.
Twitter – @PaulBoyham