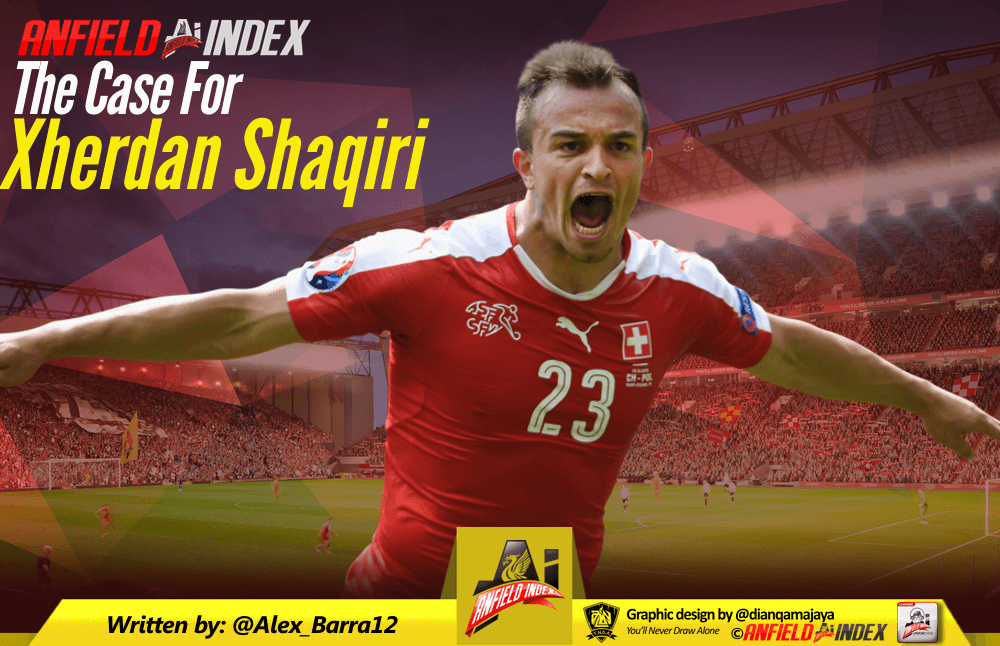 The Case for Xherdan Shaqiri
Following an impressive start to their summer with the signing of Fabinho and the impending arrival of Naby Keita, Liverpool have looked to bolster what was their most glaring weakness of the season, shining brightly in the eyes of every fan who watched their side go down to Real Madrid in Kiev.
A lack of depth.
Xherdan Shaqiri, having been relegated with Stoke this season, has emerged as the cut-price option to bolster the Reds' attacking unit. Should they bring in a Phillipe Coutinho replacement (or what may become known as the "Fekir alternative") then Shaqiri would represent quite the shrewd move:

Here's why.
Style
Having risen to prominence at Basel, Shaqiri's explosiveness, thrilling long-range strike and audacity in taking players on saw him move to Bayern Munich, then Inter Milan, and then Stoke City, in what is an inverted tale of a young prodigy making his way up to the heights of international football. Indeed, Shaqiri's downside equates to the unknown: does he still possess the traits that Bayern saw in him to pay €11.6 million? Has he matured, if not regressed at Stoke City? And would a bit-part role suit him, when he was the main man in Stoke?
Playing off of either flank at Bayern and Inter, with a spell in the number ten role in his (presumed) final season at Stoke, the Swiss attacker has a penchant for the spectacular (see his Euro 2016 goal in GIF form further below) and ideal physical traits: the speed, the touch, and the explosiveness over the first few steps means his focus is always on beating players.
With better players and more cogs in a more fluid machine surrounding him, however, that could be different.
Strengths
Right, getting it out of the way quickly, here's that goal. You know the one, enjoy.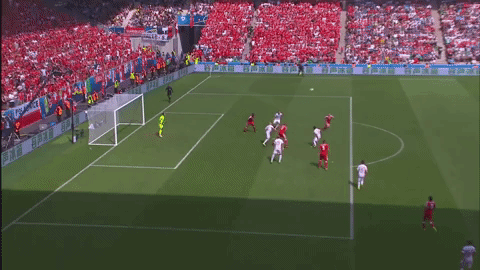 Yes, his audacity is notable, as is his desire to drive forward and beat players. It's the adventurousness that marks him out as a player with the ever-repeated "elite mentality" and belies his experience at top clubs. There's a perception that Shaqiri does too much, he gets compared to Wilfried Zaha; perhaps because both have been carrying their respective clubs this season, but the two are worlds apart.
For one, Zaha is centred on beating players purely through the dribble, while Shaqiri is more clever, more intricate with his moves. Zaha's quicker, obviously, so he'd feasibly be the one Liverpool fans swarm to as a backup to Mohamed Salah, but Shaqiri's class is often understated.
If Liverpool were frustrated by an obstinate defence, and Mohamed Salah's pace was proving ineffectual, why would bringing on someone who is reliant on pace and dribbling be such an innovative move? That's where the Swiss player comes into his own, able to carve out chances on his own and make a considerable impact on the scoring charts too.
There's also the fact he'll cost approximately £30 million less and is currently a better player.
The price is undoubtedly another strength to any deal involving Shaqiri: £12-15 million for a backup winger, when you were forced to bring on Adam Lallana in a Champions League final and sold Jordon Ibe to Bournemouth for a nearly identical fee the summer before? That is a downright bargain.
He's also creative: he made more key passes per game (2.1) than Sadio Mané in the Premier League (1.7) – who has been credited with being a much more creative cog for Liverpool – and Wilfried Zaha (1.8.) And he takes set-pieces, curling strikes above the wall on a regular basis from short-free kick range.
Over fifty per cent of his goals come from outside the box, but then Stoke City didn't particularly spend much time inside the box as a general rule. With more time in possession, the smart movement of better players around him and, most importantly, less reliance on him to deliver the spectacular on a weekly basis, Shaqiri has the right environment to get his career to where it should be: scoring goals for a top-tier side.
Weaknesses
Obviously, questions will be asked over Shaqiri's mentality, and whether Liverpool will be buying a former Bayern Munich player whose talent needs nurturing or a Stoke City player who overperformed in the early part of his career and then plateaued, settling in a place around mid-table.
He should have a more successful dribbles count, given how often he looks to take players on, and his inconsistencies are quite stark: he'll make headlines with a wonder-goal, then fade into obscurity for a few weeks. He was evidently better than Stoke, and while many expected him to drag them up to his level, the truth is they might have pulled him down to the dregs.
There's also an issue regarding his pressing ability: something he rarely ever did at Stoke City. Klopp will have a job on his hands to convert him into the all-action, dynamic winger both on and off the ball.
Where will he fit?
It's rather obvious, but the importance of Liverpool having an attacking option from the bench cannot be overstated: Shaqiri addresses the weakness that cost Liverpool the Champions League final. Yes, Loris Karius made a mess of himself, but as soon as Mohamed Salah went off, Liverpool barely created a chance from open play. A riveting half an hour was distilled to numbness with the arrival of Adam Lallana.
Bring Shaqiri off the bench, and suddenly the reliance stops. Liverpool are on their way to creating an excellent team, but that's not limited to the eleven players on the pitch. Liverpool need a squad, and Xherdan Shaqiri would bolster that for a pittance.
(Stats via WhoScored unless otherwise stated.)