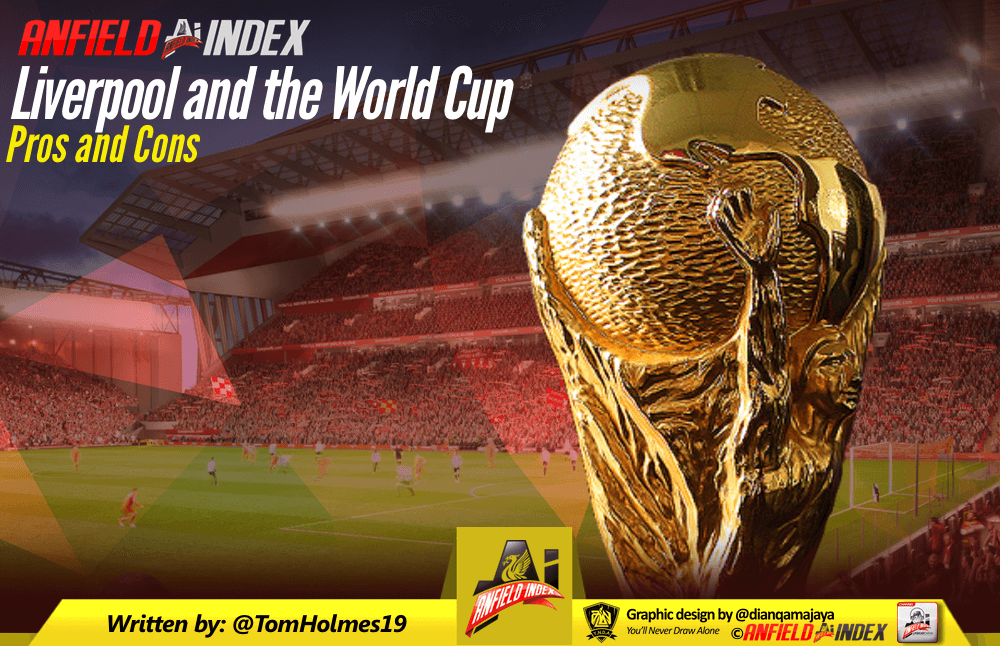 Liverpool and the World Cup - Pros and Cons
The World Cup is one of the biggest tournaments in the sporting calendar. It's the most popular sporting event in the world and is watched by hundreds of millions, if not billions worldwide. For many football fans, it's the pinnacle of the sport and the pinnacle of sport in general. But for a lot of football fans, it's not that. Many fans of club football have different priorities, especially in England where the national team are less fondly regarded and have less expectation on them. So how do those two come together? How can one watch the World Cup from a club – in this case, LFC – perspective?
Since this is an LFC website and hence an LFC-centric article, I'm going to attempt to balance the pros and cons of Liverpool's representation at the World Cup – focusing on both those going and those who aren't.
To begin then, the players that are there. Liverpool captain Jordan Henderson is joined by Trent Alexander-Arnold in the England squad, whilst the main trio of Bobby Firmino, Mo Salah and Sadio Mané will all be there –representing Brazil, Egypt and Senegal respectively. Liverpool have eight players in total at the World Cup, with Dejan Lovren (Croatia), Simon Mignolet (Belgium) and Marko Grujić (Serbia) the others.
So that's six of Liverpool's starting eleven towards the back-end of the season. Andy Robertson, Gini Wijnaldum and Virgil Van Dijk all represented teams who didn't make the World Cup, whilst Loris Karius wasn't picked for Germany and James Milner has retired from international duty. Crucially, neither Naby Keita, (who represents Guinea) nor Fabinho (left behind by Brazil) will be attending, meaning Liverpool have an opportunity to get them up to speed.
Moreover, of the six first-team starters that are going, we can expect most of them to return relatively early into the tournament. Senegal will do well to get out of their group, whilst Egypt and Croatia are expected to lose in the Last 16 stages. England could be interesting, but the quarter-finals are probably their ceiling, leaving only Bobby Firmino – with Brazil expected to go all the way. Nevertheless, Bobby is not Brazil's first choice, so he is unlikely to pick up significant game time in the tournament.
The main positive of Liverpool players not going to the World Cup – and those that do not stick around – is obvious and twofold. The first main bonus is that it reduces fatigue and injury, as those not at the World Cup are less likely to pick up a niggle and will likely be more refreshed when the pre-season begins.
Moreover, pre-season is expected to begin in earnest before the World Cup concludes, so players who aren't at the tournament will be able to integrate themselves fully into the club with a proper pre-season. To have Naby and Fabinho reporting for duty on 1st July will be a huge boost to Klopp, as well as the likes of Van Dijk and Robertson who didn't get a full pre-season last year.
On the other hand, going to the World Cup has obvious benefits too. For starters, it's what the players will want to do. For the likes of Mané and Salah, in particular, they will be leading their countries out onto the biggest stage of them all as their star men. If you watch Salah's reaction to getting Egypt to the World Cup for the first time since 1990, you'll understand how much it means to him for them to be there, and you'll want them to do well. Players who do have a good World Cup are only adding numbers to their price tag, and are bringing valuable experience and form back to the club with them.
And being on the biggest stage is not just a personal thing either. Having quite a few players playing in major international tournaments can only help Liverpool's reputation, both commercially and in terms of footballing standing. Showing that the majority of your starting eleven are good enough to play in the World Cup is a status symbol that LFC the brand can promote, and can use to incentivise other players.
That's another benefit to having big-name players in and around the international set-up of big footballing countries. It allows the likes of Bobby Firmino to make friends with good players from other teams and promote Liverpool within certain camps – and this sort of thing cannot be underplayed in terms of making signings. Increasingly, Liverpool are a club that are getting better at talking their signings into bed, and having players at the World Cup cannot hurt that enterprise.
The World Cup is of course potentially useful for scouting talent too – although the Reds need to be careful not to jump on players based on one or two good World Cup performances. That said, moving off the field and into the transfer window, the Reds are already seeing one of the other main negatives of the World Cup as they attempted to wrangle the Fekir deal up against the clock.
It's harder to secure transfer deals with players who are focused on their national team, especially when medicals and personal terms are thrown into the mix. That's another issue Liverpool have to navigate with regards to Alisson amongst others – a good World Cup performance adds millions to the price tag and that can work both ways.
So from a Liverpool perspective, do the benefits outweigh the negatives? As usual, this is one that's impossible to gauge before the tournament and also depends massively on personal preference. Some would like to see Egypt and Senegal knocked out tomorrow to get Mo and Sadio back in training ASAP, whilst others will be roaring Mo and Sadio on in every game they play. Moreover, the tangible effects of the World Cup on the squad most likely won't appear in the short term but will play out over the first few months of the season or even beyond.
Someone like Bobby, who has played a full season, jumping into a World Cup and then straight back into a full season, could suffer horrible long-term effects, or could be absolutely fine depending on how he is managed, and what happens with Brazil and his personal game time. If one of our big players gets injured it's a travesty; if they win the World Cup it's a valuable experience.
So overall my advice to Liverpool fans would be to try and divorce themselves from the minutiae of supporting Liverpool over this World Cup period and just enjoy the wealth of football on offer. I for one, will be glued to my screen for Russia vs Saudi Arabia – not thinking about whether or not Liverpool are going to sign Yuri Zhirkov.