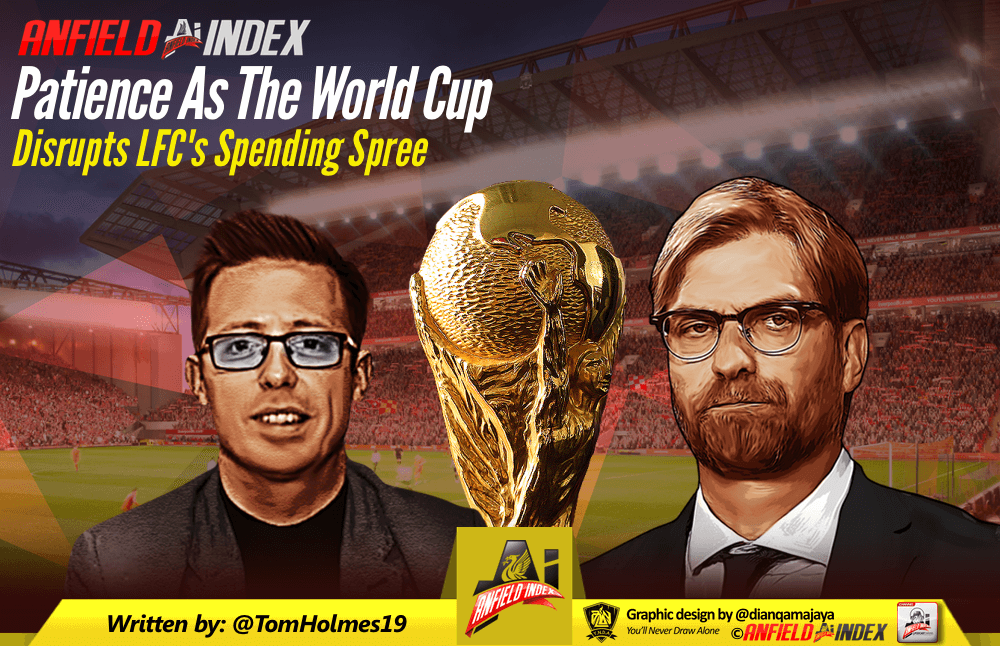 Patience As The World Cup Disrupts LFC's Spending Spree
For Liverpool fans it's an exciting if slightly impatient time. Naby Keita and Fabinho are set to join the club on the 1st of July, symbolising a complete restructure in the club's midfield. Fans are still expecting upgrades in every position – defence, midfield and attack – with the possibility of an upgrade on Loris Karius also in the works. But the issue is that this year, the transfer window is shorter. The World Cup is underway, and the window closes on 9th August, leaving just 25 days between the World Cup final and the closing of the window.
So the window appears to have shrunk. Liverpool have potentially 25 days to return to or wrap up the signing of Nabil Fekir should they wish to. 25 days to find and buy a replacement. 25 days to focus on signing a goalie, 25 days to look at Lascelles, you get the picture.
The fact is, this window started with a bang. We all knew Keita was coming in, but signing Fabinho before the end of May was a huge boost to the Liverpool fanbase, as it underlined that the club were working hard behind the scenes to get the deals done quickly and impressively, with the promise of Fekir done before the World Cup.
Since then, however, there have been no new arrivals, and things are getting edgy. We're only two and a half weeks after the signing of Fabinho, and yet people are already panicking. Counting days in their heads. The World Cup has lodged a great big wedge in the middle of the transfer window, said window is closing three weeks early, and the panic is already setting in – Liverpool are going to start the season with Dejan Lovren and Loris Karius starting.
Of course, the reality is entirely different – for a multitude of reasons. The first thing to note is that with Fabinho done and Naby in the back pocket, Liverpool have given themselves a huge head-start on this window. Two huge improvements have already been made to a team that was capable of reaching and competing in a Champions League final. Truthfully, this is a Liverpool team that only needs three, or at most four more signings to be competitive at the top level, and even then, some of the big gaps in the team have already been plugged.
The next thing to note is how rapidly situations can develop. Transfers can be done in days, with moves like Liverpool's deal for Alex Oxlade-Chamberlain secured very late in the window across a number of hours. It's not the way clubs, especially Liverpool and especially Jürgen Klopp like to do things – but it can be done.
Along similar lines, nobody knew about Fabinho until it was done. So Liverpool might have deals in the pipeline, deals that are already done, just waiting for the right moment to be announced or confirmed. For all the speculation about Fekir, some believe the signing is done, just waiting until after the World Cup to be announced.
So whilst the 25 days that's potentially being pitched is foreseeably an issue, the idea that transfer sagas can't be done and dusted in 25 days or less is clearly nonsense. And provided Liverpool's scouts have already done the legwork, a rapid transfer does not mean the same thing as a panic buy.
And the fact is, whilst we would want our transfers to be done before the World Cup to integrate the squad better, if Fekir – for example, because he's an easy example to use – joined after France were eliminated from the World Cup, he would probably get a holiday anyway, so would potentially join the squad at exactly the same time as if he had already been announced.
And if a player, like Fabinho for example, wasn't going to the World Cup, and hence will be joining the Reds as soon as the club kick off pre-season, then their not being at the World Cup means we can sign them whenever we want to anyway. Just because the World Cup being in the middle of the summer prohibits certain deals getting done, doesn't prevent deals being done at all.
And similarly, whilst players like Alisson probably won't be moving clubs during the World Cup, because they won't be able to leave their camp for medicals and the like, clubs will definitely be having conversations, and negotiations will be taking place. Just because a deal might not be able to be completed, doesn't mean it can't be 90% done in the meantime.
The point is, 25 days is both a long time and incredibly misleading because it's not 25 days – it's much closer to 60. Two months is a long time in football, particularly where transfers are concerned and we're still less than a month into the window.
What I am trying to get at, is that patience is a virtue and one that we absolutely have to employ. Man City are taking their time to get their deals over the line, United have done quick work but are yet to make a big name signing, Chelsea haven't even got a new manager yet and Spurs are running through treacle trying to get their summer business done.
It's always nice to get ahead of the curve, and to an extent, Liverpool have already done that with Fabinho and are unfortunate not to have added Fekir to that list. But setbacks at this stage are far from fatal ones. At this stage 12 months ago, people were panicking that we weren't going to get the Salah deal over the line – and we got that done before the end of June.
That said, there certainly seems to be less panic around than there was this time last year. Liverpool seem to have targeted clear areas, have already demonstrated that they're capable of getting the deals done and are putting out feelers for the right sort of players. Everyone is expecting a winger, an attacking midfielder and a central defender to join this window, with the goalkeeping issue the main point of contention.
Nevertheless, patience remains a key virtue for Liverpool fans as the summer transfer window rumbles on. We may have a quiet month or so with the World Cup finally underway. But make no mistake, LFC are working hard, and it'll all be wrapped up by the time we see the men in red, well… back in red.