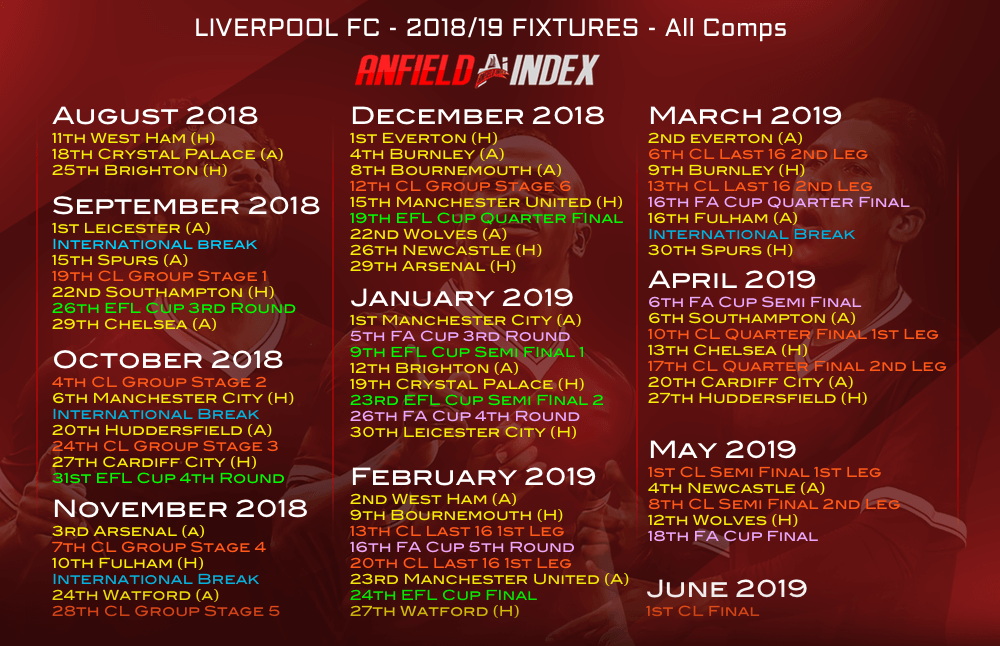 2018-19 Premier League fixture reaction. The season we win it?
With the recent disappointment of the proposed Nabil Fekir signing falling through, Liverpool fans have been in need of a distraction to take their minds off the circus that the transfer window rumour mill. Not only is the World Cup due to begin today (hooray football is back!), but the 2018-19 Premier League fixture list has also been released. As a fan base, we have the tendency to dwell on frustrations of the past, so the 2018-19 fixture list is an excellent opportunity for us all to forget about the past and to look forward to what we think the forthcoming season might bring.
The season starts off with a home match against West Ham. This is the first time Liverpool have started the Premier League season off with a home match since the 2014-15 season. This gives us a chance to iron out any creases and blow away the cobwebs on home soil and hopefully start the season off with a confidence-boosting win. The West Ham match is followed by winnable fixtures against Crystal Palace and Brighton. This is an ideal opportunity for the team to pick up some early confidence and momentum before two tricky ties away to Leicester City and Tottenham Hotspur. Here are the first five fixtures in full: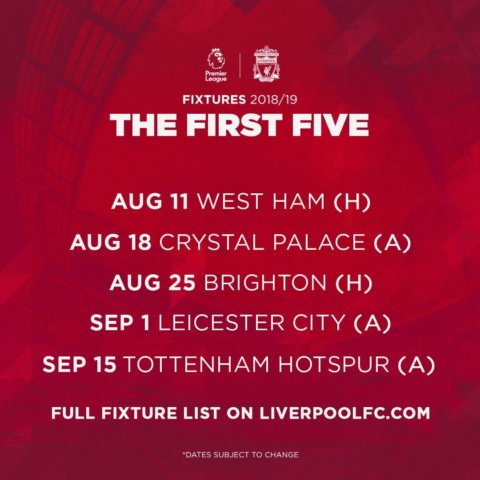 With fixtures coming thick and fast, the festive period can often make or break a season. A promising league campaign can completely collapse in the space of a few weeks if the team underperforms. And the reds have a tough festive period this year with fixtures against Manchester United, Arsenal and Manchester City making up 3 of the 5 fixtures over the period. Some might look at this as a daunting proposition, but with 2 of the 3 fixtures being at home, I look at this as an ideal opportunity to steal a march on our rivals by taking points off them.
It's at this stage of the season where the squad depth will really be tested, and with the recent acquisitions of Naby Keita and Fabinho and with more reinforcements still to come, Liverpool look far better equipped to deal with the gruelling festive schedule.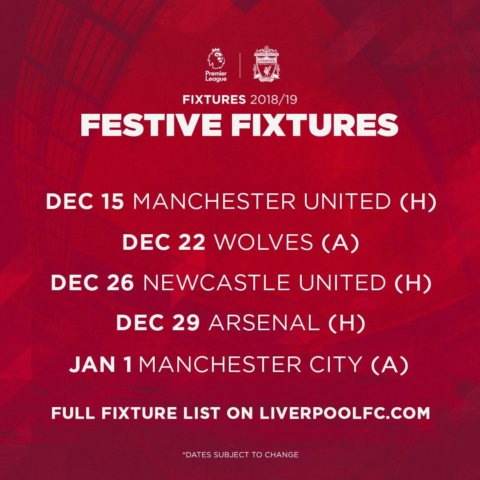 So, after a favourable start to the fixture list and a tough festive period, how are Liverpool's fixtures looking in the final straight?
April 13th sees us entertain Chelsea at Anfield in what will surely be a tough game. But following the tough test against the 2016-2017 Champions, Liverpool finish off the season with 2 newly promoted teams in Cardiff City and Wolves as well as 2 teams who were promoted the previous season in Newcastle United and Huddersfield Town. If Liverpool are in a title race at this point in the season, this would be an excellent opportunity to pick up a healthy haul of points over the final 4 matches.
Liverpool also have the advantage of a home fixture to end the season against Wolves. This could be key for us if the final match of the season happens to be pivotal in deciding the final standings in the league table.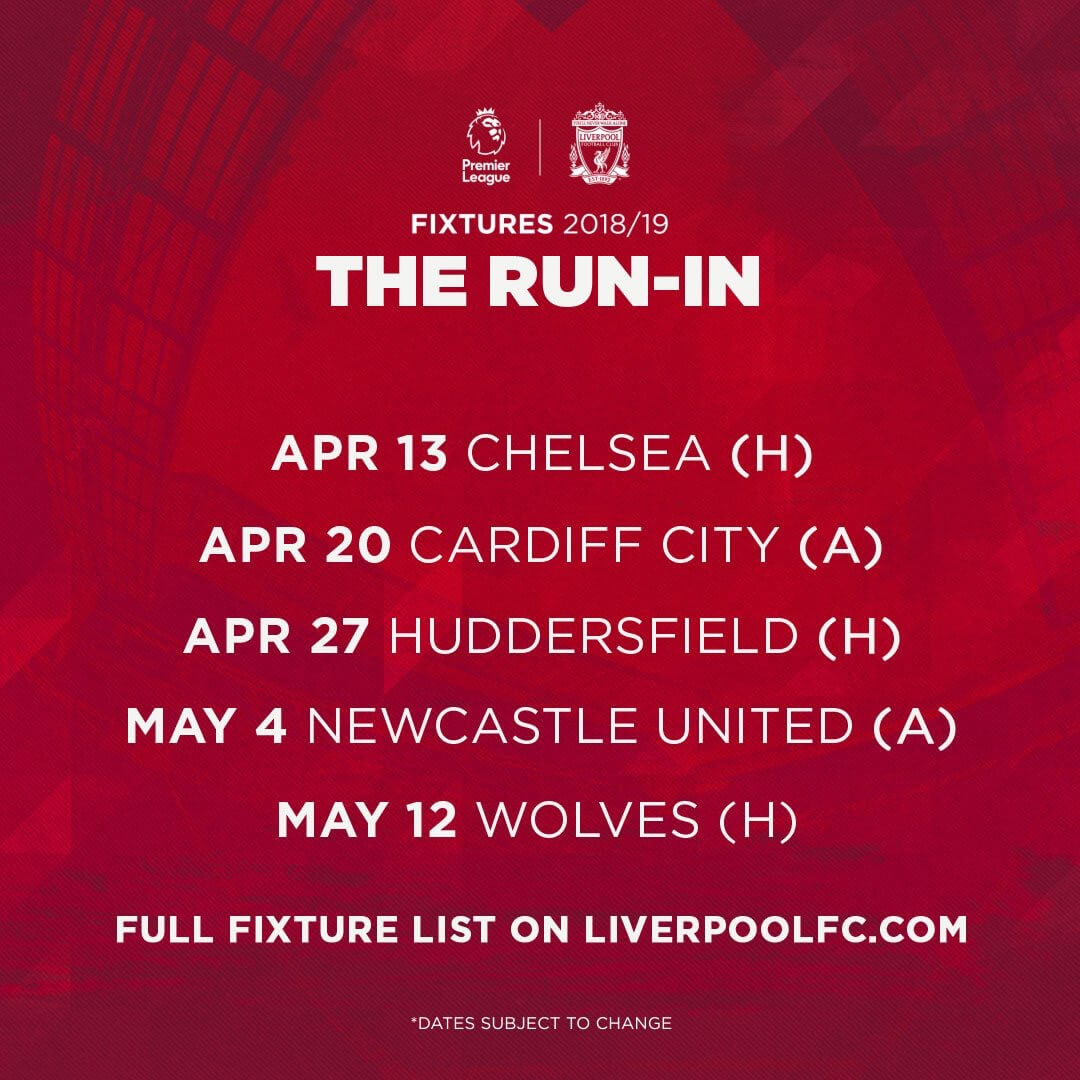 With Liverpool having the ideal scenario of the season being bookended with two home fixtures, we have a great opportunity to start and finish the season well. But what about the effect of the Champions League fixtures in amongst the league campaign?
Matchday one of the Champions League is on 18th/19th September which means it will be played between Tottenham away and Southampton at home.
Matchday two is on 2nd/3rd October which means it will be played between an away match against Chelsea and a home match against Manchester City. Obviously, the fixtures are tough but at least we again enjoy the luxury of a home match following the Champions League tie.
Matchday three is on 23rd/24th October which means it will be played between an away match against Huddersfield town and followed by a home fixture against Cardiff City. That is pretty much the ideal scenario.
Matchday four is on 6th/7th November which means it will be played between an away match against Arsenal and yet another home match, this time against Fulham.
Matchday five is on 27th/28th November which means it will be played between Watford away and Everton at home. Although there will undoubtedly be tired legs after the midweek Champions League fixture, a derby fixture against Everton at home is the perfect tonic for fatigued bodies and minds.
And the final Champions League group stage match is scheduled for the 11th/12th December which means it will be played between Bournemouth away and Manchester United at home. Obviously, that will be another tough game against the old rivals, but once again Liverpool get the advantage of a home tie following a Champions League fixture.
This means that Liverpool play a home fixture after every single Champions League group match. Seeing as there is a pattern of teams dropping points in the league following Champions League fixtures, it should be of great assistance to us that we have the comfort of a home fixture following all 6 of our group matches.
Here is the 2018-19 fixture list in full including all other competitions.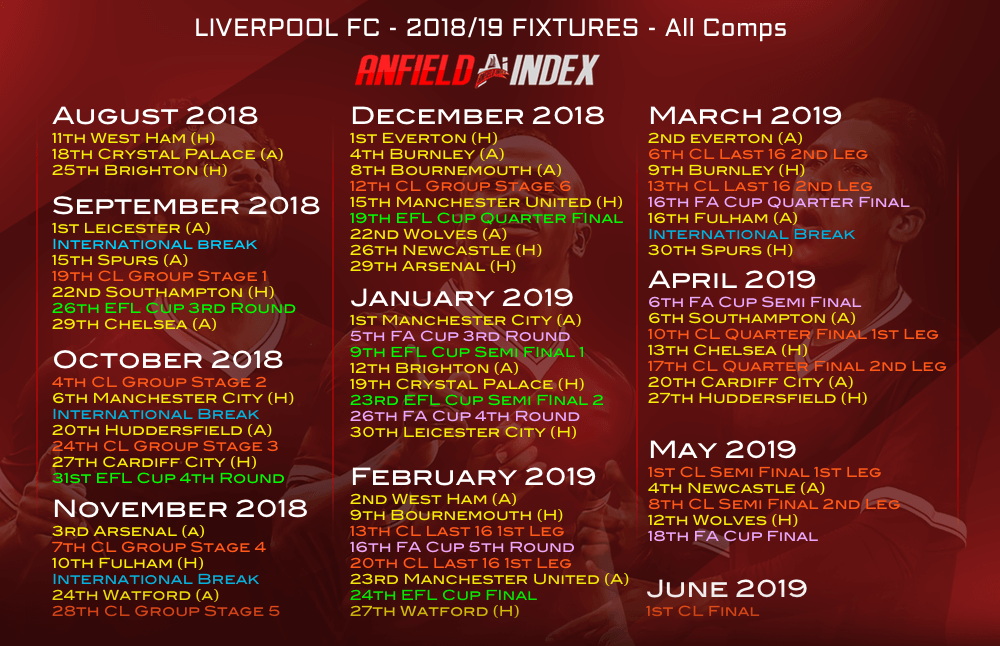 Another positive for Liverpool is that although the defeat in the Champions League final was a body blow to the club, it does mean that we do not have the huge distraction of the Club World Cup to contend with during the season. Although we would have obviously loved to have been a part of that tournament because it would have meant we are Champions League winners, it will be of great assistance to our league campaign that we do not have to deal with the inconvenience of the extra fixtures and having to play catch up during the season with games in hand.
So with the home matches to start and end the season, home games following each and every Champions League group match, no Club World Cup distractions, a heavily bolstered squad and the final 4 fixtures all coming against newly promoted or recently promoted teams, things are looking very positive for Liverpool in the forthcoming Premier League campaign already.
As a fanbase, Liverpool fans often get ridiculed for saying that "next season will be our year". And often it has been a somewhat fanciful notion considering the difference in squad depth and financial resources between us and our rivals. But this is a different Liverpool. A far more resilient Liverpool. A Liverpool whose transfer business over the last two years has arguably been the best in the league. And now the fixtures have seemingly fallen in our favour. Everything is lined up for something special. With the charismatic and brilliant Jurgen Klopp at the helm, I can't help but wonder…is this finally going to be our year?