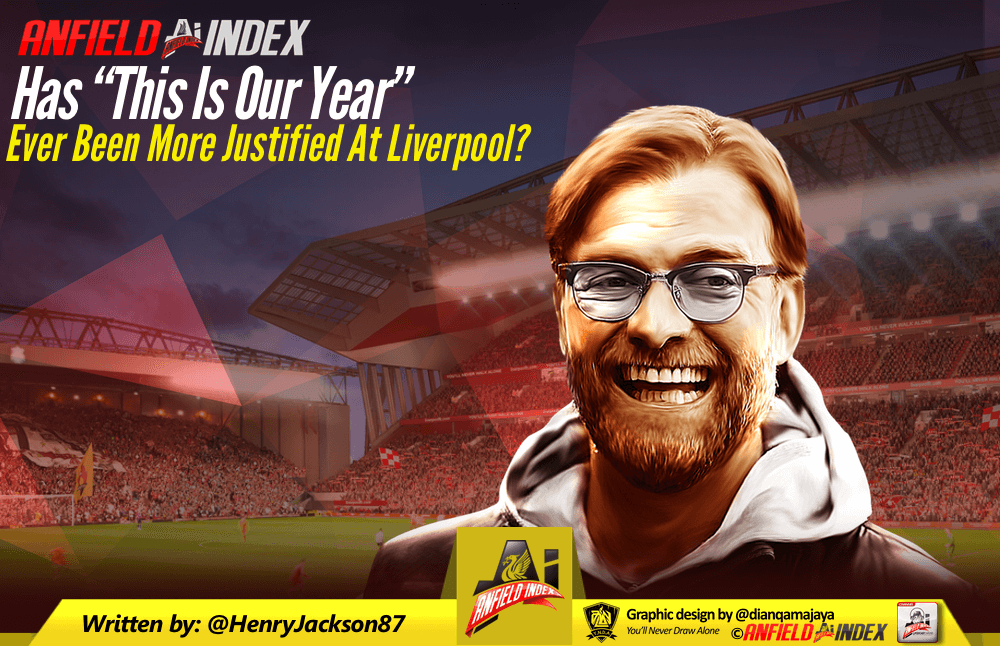 Has "This Is Our Year" Ever Been More Justified At Liverpool?
"This is our year."
That hopeful saying surrounding Liverpool's title aspirations has been used to ridicule Reds supporters since the glory days came to a crashing halt in 1990, often fairly so.
Every year we seem to say it and invariably it ends in tears, with our pre-season predictions proved incorrect.

A lot of the time it has been blind optimism, but there have also been occasions when the levels of confidence have been justified, following seasons of great promise.
There is no doubting Liverpool fans love to tell the world about how great their team is, so when these bold words fail to come to fruition, it is only natural that mocking will come our way.
What is the point of being a football fan if you can't aim big and genuinely believe your club is on the cusp of something special, though?
We are in this to enjoy it, and dreaming of being crowned English champions every May should be the only way to approach matters unless such an achievement is completely out of the question. That's just being irrational.
On that note, it's time to be as bold as brass and say… 2018/19 really could be the Reds' year.
I can already hear the sniggering from Manchester, London and other parts of the country, but so be it.
You look at the current situation and it is difficult to think of a time when Liverpool were in a more healthy position in the Premier League era.
There is a stability at the club that has so often been non-existent, with everyone pulling in the same direction and an upward trajectory evident.
Forgetting the frustration of the Nabil Fekir deal collapsing, which was a punch to the gut, the feeling of positivity that exists is so refreshing.
It has not even been a month since Liverpool lost the Champions League final to Real Madrid, and we should really still be suffering from the most grotesque of Kiev hangovers.
Try finding any sane supporter obsessed with being overly negative, though. That match has been and gone, and there seems to be a collective effort to gaze promisingly into the future.
There is no reason to feel anything but confident, in fairness, barring certain concerns surrounding the goalkeeping situation and a few other positions in need of strengthening.
Slowly but surely, Jurgen Klopp is building his perfect Liverpool team and it already looks even more formidable ahead of next season.
The front-three of Mo Salah, Sadio Mane and Roberto Firmino are Europe's most devastating attacking unit and will continue to go from strength to strength the more they dovetail with one another.
The brilliant trio often felt on another wavelength to an effective but functional midfield in 2017/18, but the middle of the park has been transformed in an instant.
That's not to decry the impact Jordan Henderson, Gini Wijnaldum and James Milner had and will continue to have, but Naby Keita and Fabinho are a couple of game-changing acquisitions.
They will add so much dynamism and quality to the team, and the thought of the unique Keita wreaking havoc behind Salah, Mane and Firmino is one that will give opposition managers sleepless nights.
A Fekir alternative will also come in, assuming a deal for the Frenchman isn't done later in the summer, and Alex Oxlade-Chamberlain will return from injury halfway through the season.
At the back, Virgil van Dijk will continue to shine as the most dominant centre-back in the country, with two of Europe's most exciting full-backs in Trent Alexander-Arnold and Andy Robertson maturing further in their roles.
Dejan Lovren still needs to be improved upon, but his excellent late-season form should not go unnoticed. He has shown he can be more consistent than many give him credit for.
It doesn't look definite that a significant upgrade will arrive at the heart of Liverpool's defence, although bringing in someone like Newcastle United captain Jamaal Lascelles makes perfect sense, in terms of competition.
Klopp is still learning all the time, too, and the German will ensure many of the mistakes that occurred in the Premier League last season will become a thing of the past.
Liverpool will grow even more adept and overcoming parked buses and their record against their rivals is likely to improve, following a surprise dip.
Klopp knows how difficult it is going to be to dethrone a fantastic Man City side, but the three wins against them last season are proof that they have got the champions' number.
Pep Guardiola's men are the undoubted favourites for the title, but they are not invincible.
Man United, Tottenham, Chelsea and Arsenal will all strengthen, as well as City themselves, but they will all be fearing Liverpool, well aware that they are only getting better.
It will be incredibly difficult to win the league, but this is an increasingly special Reds team, in what is a prosperous time for the club in general.
They have just reached the Champions League final but still have other gears to find, which is immensely exciting.
I firmly believe we are about to witness Liverpool's most impressive outfit since John Barnes, Peter Beardsley et al ripped opponents apart in 1987/88, and the league crown has to be the primary aim, such will be the magic on show.
They might fall short again and rival fans will enjoy telling us that we were wrong, but we have every right to be a feeling a little on the over-confident side.
This is our year (I think).