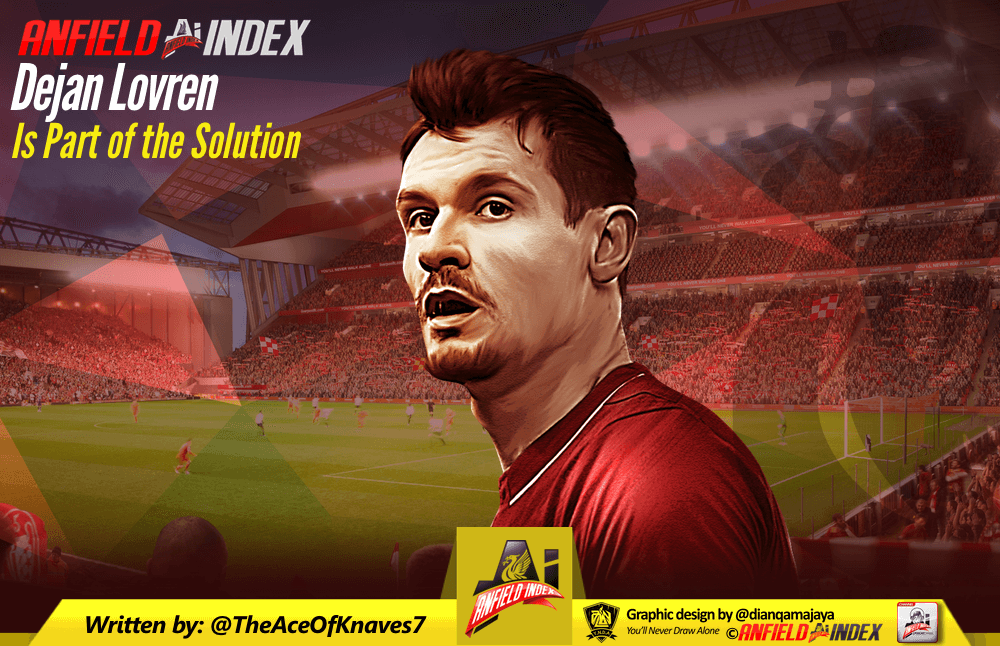 Lovren is Part of the Solution
A Central Midfielder is not just a Central Midfielder. Forward is not just a Forward. Neither is a Centre Back just a Centre Back. They are living, breathing, important pillars on which the entire structure of our team is erected. Each is not just a cog in a mighty machine, but rather are the machine itself. Jürgen Klopp football requires the team to move as one. The 'freedom of play' often labelled on Klopp's attacking players is not down to reckless abandon. Instead, it is facilitated by calculated adjustments constantly being made by players on the pitch. Such 'freedom' is always encompassed within the ambit of the system. Perhaps that is what Klopp meant about Lovren when he said, "Look out there and tell me five that would make us stronger. Five. Then you win a prize. It's difficult how it is."
Infamous Quote
It was interesting how the narrative around that statement was positioned. It was paraphrased as though Klopp had said there weren't five defenders in the world better than Lovren. This false narrative diluted the bigger picture. I believe Klopp was strictly talking about signings who would make Liverpool stronger. One could easily name more than five centre-backs objectively better than Lovren. However, there is a different way of approaching this. An approach which was more likely used by Klopp when he made that statement.
Klopp didn't just want a centre back better than Lovren. He wanted a centre-back who had the characteristics of Lovren but at a higher level. Klopp deliberately used the word 'stronger'. One has to remember Klopp was of the belief Liverpool would be signing Virgil van Dijk. Whether the signing would be in that summer of 2017 or at a later stage. With this in mind, when Klopp effectively wanted a centre back that made the team stronger, he wanted a front foot, aggressive centre-back that would partner Van Dijk.

Stylistic Importance
Forget about naming a 'better' CB for a second and concentrate on making the team stronger as Klopp suggested. The balance needs to be right. Think of Nesta and Stam, Ferdinand and Vidic, Vertonghen and Alderweireld, Godin and Giménez or the more familiar Hyypiä and Carragher. The balance is usually better when a technically gifted, ball-playing centre-back is partnered with an aggressive front foot one.
Having two Van Dijks might look good on paper. In some cases, it could work. However, having an aggressive, no-nonsense partner who just lives for defending and nothing else next to a Van Dijk would be complimentary and arguably a better pairing. Compatible pairings are effective. This was somewhat showcased during the second half of the 2017/18 season once Virgil van Dijk came in.
Season Analysis
During the first half of the 2017/18 season, Matip was the ball playing, technical defender. In the first half of the season, Liverpool were the team that allowed more goals per shot in the English Premier League. The shots Liverpool were allowing had a high chance of being converted. As alarming as this was, it wasn't all doom and gloom. Liverpool had one of the lowest ratios in the league when it came to shots allowed. Opposition teams many shots. The problem lay in that those few shots allowed were high-level chances. Such chances would more than likely result in goals being conceded. It was evident that if Liverpool could reduce the quality of those few chances they were allowing, the defence would improve significantly.
The second half of the 2017/18 season saw those needed improvements as Matip was upgraded to Virgil van Dijk. Van Dijk had similar characteristics but at a higher level. It's not to say Matip is a bad defender, it's just the fact that Van Dijk does what Matip does, but better. The improvements in the defending were there for all to see. During the second half of the 2017/18 season, the quality of chances Liverpool allowed opposition teams reduced to league average levels. Teams were still only getting a few chances a game but were now also getting even fewer quality chances. This showed Liverpool's much-maligned defensive shape was not actually flawed like many pundits love to claim; rather it was a personnel issue.
Centre-Back Profile
Based on this premise, the stylistic centre-back pairing stated above appears to works well within a 'gegenpressing' system. Signing a centre back with Lovren's characteristics but to a more elite level would be the next step for improvement. That is the 'stronger' team Klopp envisaged when he made that now infamous statement.
There are ancillary attributes, such as aerial prowess, tactical astuteness and overall team chemistry compatibility that will play a factor in helping to decide who best matches the characteristics we desire. That said player would also need to be someone comfortable playing on the right-hand side of a centre-back pairing. One thing's for sure though, Klopp has shown many times through his tenure at Liverpool, that he will not buy someone just for the sake of buying, it will need to be a player who has similar characteristics to Lovren, but at a higher level of quality.
Lovren Decision
I've seen last-minute winners in a champions league semi-final, as well as, thirty minutes to forget at Wembley against Spurs. Lovren has always been hit or miss for me, but for the first time in his now four-year Liverpool career, I have seen glimpses of a consistent performer since he started lining up next to Van Dijk. The problem lies in that there will always be fears that the crazy, inconsistent Lovren will resurface. I'm not sure he can ever rid himself of that stigma. However, what he has done, especially over the second half of the 2017/18 season is lay the blueprint of what would make us stronger; whether that continues with him as he develops, or with a new front foot, aggressive, no-nonsense pit-bull remains to be seen. One thing's for sure, the system flows better when you upgrade certain elements.
I now hand it over to you, to name five centre-backs that "would make us stronger".