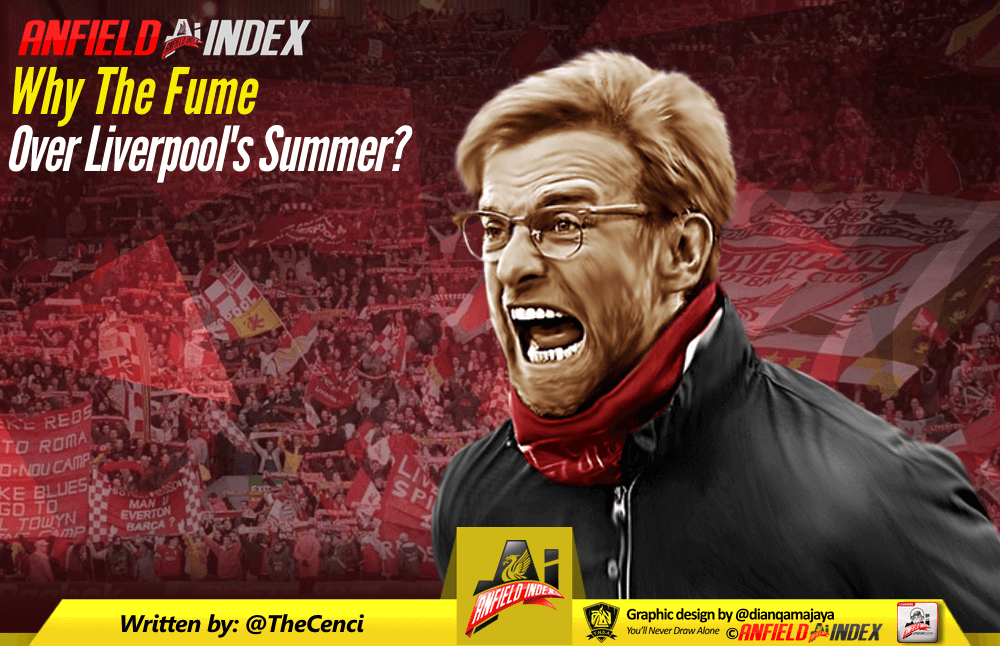 Why The Fume Over Liverpool's Summer?
I write these words on 14th June – World Cup day.
It would be too much to suggest that you've noticed my absence from this website but, trust me, I haven't stroked a keyboard for a fortnight. There are many reasons for this – work has been busy, every weekend has been booked up and my new novel is almost ready for publication, but there's a more dominant reason.
I've had nothing to say.

Seriously, there isn't much to get excited about.
Oh, things have happened. Earlier than usual, to be honest. We've bought Fabinho, nearly bought Fekir and gone through Concussiongate, but it wasn't enough to make me tap away and drag my foul views to your ears. You can thank me later.
Without the actual football, things can get a bit tiresome or they can put to one side and we can crawl out of our cave, mole-like, and blink into the sun. I've elected for the second option.
I mention the date because it stands two whole weeks before Liverpool are allowed to complete signings. Yes, we can do the background stuff, but we won't be seeing the usual picture of player + scarf + Kop background for a while yet.
But the way people were acting that we had 18 minutes to buy half a squad.
Why panic? We've already made one major purchase in Fabinho and have Naby Keita looking at flights to Speke Airport and they're probably going to be first eleven starters. That's a pretty good start and it's unlikely that we're going to be completing all our work before mid-June.
Then there's the World Cup. We could have some players picked out already, but just need to see how they react to that sort of pressure. It's alright to see a player do well in his comfort zone on the continent, but it's a different prospect with the world watching. Klopp often talks about the importance of character and how it determines his transfers as much as ability. I bet Gerard Houllier wishes he'd done the same thing instead of buying Diouf before the 2002 World Cup.
Actually, there's always the danger of the opposite – the player who has a bit of a reputation pre-tournament and then a decent campaign, only to turn out average once the bid has gone in. 'The Phil Babb' if you will.
Not that Phil was terrible. He just didn't justify the price. Mind you, he did leave his bollocks in the Annie Road post once which is more than I've ever done (don't Google if you're of a nervous disposition).
Of course, the Fekir situation has led to further fan division. In the red corner, we have the 'Michael Edwards is a tit. The club has fucked up again. We still haven't got a goalkeeper and relegation is inevitable' lads, while in the other red corner stands the 'You people don't know what support is. You're a disgrace. No one loves the Reds more than me. BELIEVE' team.
I'm in the neutral corner. Holding the towels and the slime-bucket.
It's June 14th and we've all got four weeks of pain-free football to watch. We get to see our favourite players; we get to see Gareth Southgate talk about 'a great experience for our lads' and 'well, it's a shame it has to come to an end.' We also get to see Sergio Ramos get kicked a lot. I'm tuning in especially for that one.
But most of all we get to watch without the anxiety of the scoreline. Who cares who wins? Just enjoy. Unless you're really into the English side, in which case I think you're on a hiding to nothing there, but each to their own.
There's always the publication of the Premier League fixtures to pique the Red interest. Isn't it amazing how unerringly the random computer selects the same weekend for the Merseyside, North London and Manchester derbies?
It's hard to get excited about even that. We all scan them to see how they affect us and us alone. We're not playing on my birthday, the only away ground I haven't visited is, at this point, a Saturday kick-off, the home derby is first and it looks like I'll be staying home for the entirety of Christmas week. That's all I took from them.
So that's about it. It's sunny outside and Liverpool aren't playing for ages yet. If Liverpool aren't playing then there's no resulting angst to perturb the mind. Our manager has the same idea. He was recently pictured on a beach drinking a beer. He's having a break so why don't we?
And if you're worried about not having a spine-tingling novel to read over the summer, I can even help you there.
Just a thought.