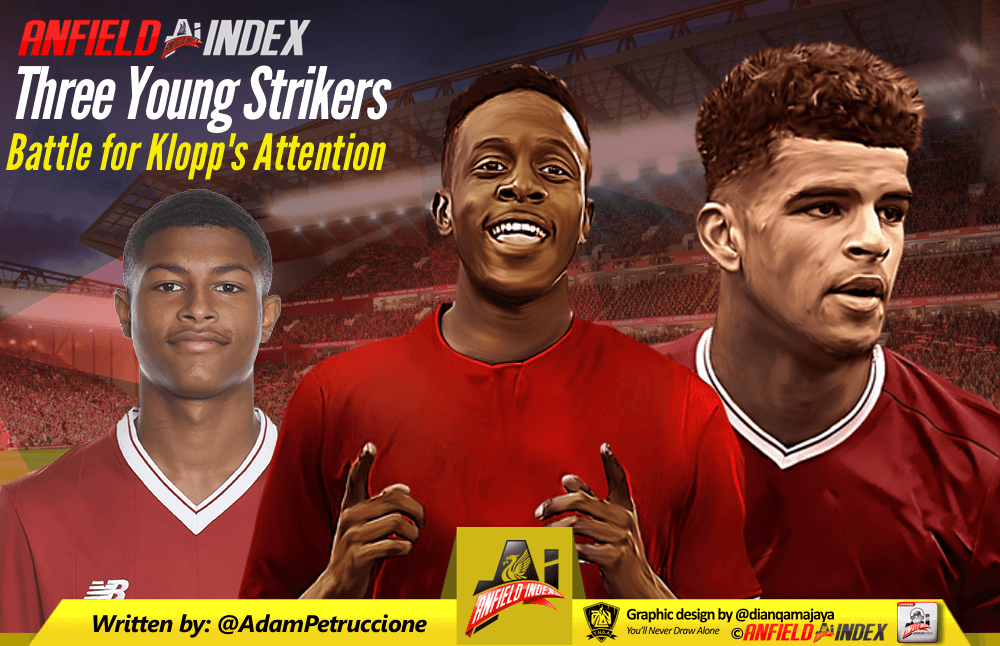 Three Young Strikers Battle for Klopp's Attention
Three young forwards. One hoping for a second chance. One trying to hang on to his first. And, one still trying to break into the first team.
DIVOCK ORIGI
Did you ever go away, maybe for a summer holiday or a study abroad and upon your return, instead of getting that expected moment of passion from your significant other, you got that look that says, things have changed? Yeah, me neither, but if it had, I have to assume Divock Origi has been getting a lot of those looks since he's come back from Wolfsburg.
Origi was seen as having all the promise in the world in 2015/16 before a cynical challenge by Funes Mori ended his campaign. He's never been the same since, and in truth, he may never have been the player we imagined him to be. Divock Origi has never scored more than 8 goals in any one competition and that was accomplished over 33 appearances in Ligue 1.

Origi always performed best for Liverpool when given consistent runs in the team, but it would be a nightmarish scenario if he were to be required to play consistent minutes again for Liverpool. He can play on the left wing but is not the type of fluid forward who can rotate freely with whichever two of Mané, Salah and Firmino he was paired with.
Yes, things have definitely changed around Liverpool since Origi was last seen as a key piece to our future. A smattering of goals over 30 games is not going to get anyone's pulse racing anymore. If you can't score goals while doing keepy-uppies in front of the keeper, or slot home winners while looking away, then you need not apply in this Liverpool attack.
As the main striker for Wolfsburg last year, Origi made 29 appearances, scoring 6 with 2 helpers. Before Liverpool had made two consecutive Champions League campaigns maybe we would target a player like that who was only 23 with the right speed and size, but those days are in the past. Liverpool are shopping in a different bracket now. And, if Origi wouldn't be attractive to us as a new signing, I can't see him being attractive to us as a returning loanee either.
Which young striker would you keep in the squad next season?
Origi or Solanke? pic.twitter.com/BHpyucnGzI

— Adam Petruccione (@AdamPetruccione) June 19, 2018
DOM SOLANKE
Dom Solanke has a completely different resume than Origi as he enters into his second year as a Red. Solanke was never given the consistent run that Origi was granted at Liverpool, but again, this has a lot to do with the talent around him and the expectation levels at the club. Solanke was often coming on in situations where we were either desperate or just needed a body to do Bobby's pressing for him. The former Chelsea man absolutely blows Origi away in all of the "extra stuff" that is so critical to Klopp's system. As we know, he just didn't score apart from that one goal in the final Premier League match against Brighton.
At 20, Solanke is three years younger than Origi. It is still very unclear what Dom Solanke might look like in his prime where Divock Origi's trajectory is getting much clearer. Solanke isn't a smooth like-for-like replacement for any of the front three, but he has shown that he can do Bobby things off of the ball while providing size and physicality that we don't have elsewhere in the attack.
Certainly, Liverpool are going to bring in at least one attacking player, either on the wings or in attacking midfield. Minutes for a still-developing player like Solanke will be hard to come by unless he jumps up a few levels with his performances. Will the player be satisfied with another season of sparse minutes? From his perspective, a loan could be the best option, but for the Reds, it really depends on how generous the transfer gods are this year.
Rhian Brewster set to sign a new 5 year deal. Here's a reminder of what he can do… pic.twitter.com/t60TOf1KH5

— MB (@MrBoywunder) June 17, 2018
RHIAN BREWSTER
The third young forward in the battle for Klopp hugs is Rhian Brewster, a prospect we almost waived goodbye to a few weeks ago. So highly thought of is Brewster that Borussia Monchengladbach, a mid-table Bundesliga side, came knocking. We know that Brewster has been tearing it up in the Academy, but to have a German club with serious ambitions try to take an 18-year-old striker to solve their goalscoring problems, that serves as real validation of the type of prospect we're dealing with.
Able to play as a support striker, in the middle or on the right, Brewster isn't the most versatile player out there, but he would certainly be able to feature in as many positions as Origi or Solanke could.
"The way people talk about Dembele being one of the utmost players in world football, (Brewster's) got the ability to do exactly that." – Mel Reddy (The Anfield Wrap – June 18th)
Promises must have been made to Brewster to get him to commit his future to the Reds rather than going abroad to kick-off his career. Now Origi and Solanke know that promises have been made to someone they're in direct competition with for precious few minutes. Short of a Tanya Harding – Nancy Kerrigan situation, you would think either one or both of them will think the solution is to seek opportunities elsewhere.
Preseason starts for Liverpool in three weeks, July 7th at Chester. Moves away from the club won't be arranged for Origi or Solanke before then. A battle royale is going to take place between these three to become the primary attacking substitute. How Jurgen uses them even in seemingly meaningless preseason matches should reveal quite a bit about what the pecking order is in the manager's head.
If nothing else, the battle is going to make these preseason matches a helluva lot more interesting.