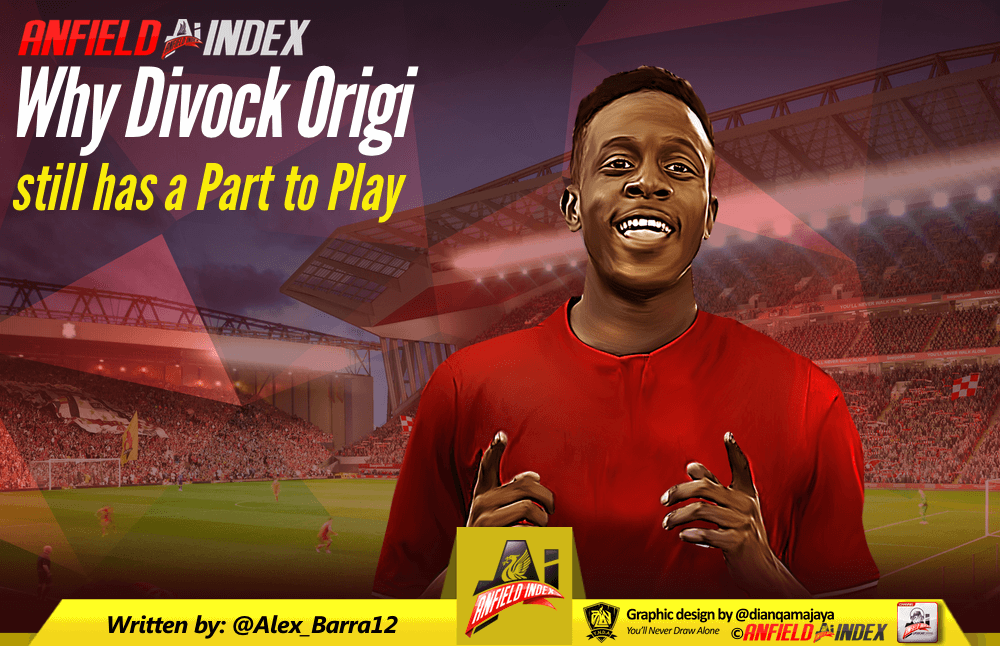 Why Divock Origi still has a Part to Play
As Liverpool descend into the usual frenzy of rumours, speculation and leaning on a wall at Melwood (a trend that is worryingly scarce in the Reds' transfer announcements these days), much has been made of their lack of reserve firepower; a situation amplified by the contract extension given to Rhian Brewster.
Indeed, the news arrived alongside a clamour of "Give the kid a chance" with supporters wanting the next impromptu wonder-talent to make his mark on the Premier League. Even with Trent Alexander-Arnold blossoming and Ben Woodburn displaying signs of readiness, fans seem desperate for another youth prodigy to get his chance.
So why have so many given up on someone who was once that youth prodigy, but has also proved he can do it on the big stage?

Divock Origi endured a torrid time at Wolfsburg, it must be said. However, that turgid loan spell was essentially a product of the Wolves' worst ever Bundesliga season: one in which their key man up front, Mario Gomez, was sold mid-season to Stuttgart, and the assortment of coaches that took the reins didn't seem to have an answer to the side's malaise.
Origi's first six weeks were filled with praise, so much so that rumours arrived of Wolfsburg already looking to make the move permanent. He scored four times in his first nine games (all of which, incredibly, were draws) and then scored only twice in the remaining 22 league appearances he made for the German club. Of his last ten appearances, only three were starts, as their reliance on him to be their main goalscoring threat seemed a burden too strong for the Belgian to bear.
The role Liverpool would have for him would ease that burden, however. The role he indeed did play at Liverpool, under Jürgen Klopp, was a weapon off the bench; versatile in his influence both up front and off the left flank, and able to carry the ball as well as score when required: he managed ten goal involvements (seven goals, three assists) in the 2016/17 season, which involved 14 starts and 20 sub appearances.
It's a record that breeds far more confidence than a substitution involving Danny Ings, who is clearly not up to the Reds' standard, or Dominic Solanke, who is both too young to be relied upon and too wasteful to be a backup to the front three.
There are those who argue that Solanke's "ceiling" (such a dreaded word) is higher than the Belgian's, and yet they ignore Klopp's mantra on everything being centred on the player: bad seasons happen, bad moments happen, but if the player has something in him worth fighting for, the big friendly German will do the utmost in his power to coax it out of them. What would he see in Origi?
Well; a player who's played across three of Europe's top five leagues, who ousted Romelu Lukaku from Belgium's starting lineup in the 2014 World Cup after scoring against Russia at 19 years of age. A player who has scored multiple goals for Liverpool when given the chance as opposed to just the single strike in the last game of the season. A player who Jürgen Klopp placed his faith in, and who still has a long way to go in transforming from exciting but inconsistent prospect to full-on weapon available for Liverpool's rampant arsenal.
That is a player that Liverpool would enjoy bringing off the bench in games where a deadlock needs breaking. He's shown it before: the curling finish against Stoke, the vital goal against Dortmund, and a Merseyside derby goal to boot.
Fans are constantly aggrieved when another club picks up a bargain, investing time in a player and letting him shine. Liverpool fans ought to be extremely aggrieved should Divock Origi make good on that potential at another top-level club: because he's everything they're looking for right now.