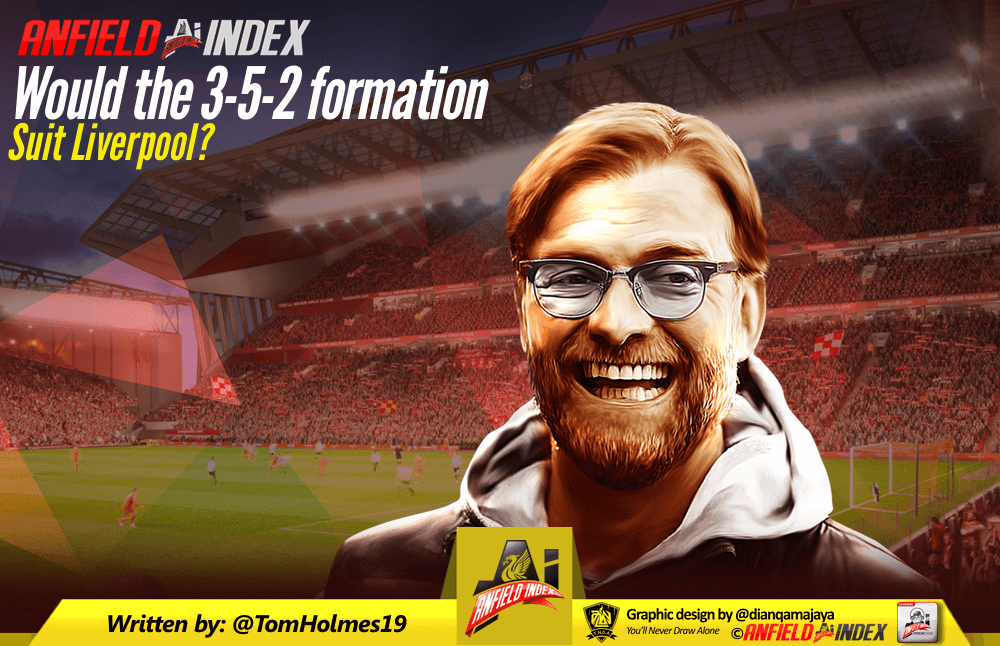 Would the 3-5-2 formation suit Liverpool?
Gareth Southgate's England have been playing a relatively unused and potentially interesting variation of 3-5-2 formation at the World Cup – with a lopsided back three, wing-backs who are multi-faceted and a three-man midfield with only one defensive player in it.
It's a well-balanced formation that suits England very well. The back three is shielded by Jordan Henderson, but ahead of him, there are four very attacking individuals who are able to link up, drop deep and run in behind. We saw that the front four were absolutely explosive for the first half an hour of play against Tunisia, with Henderson the critical component in keeping control in behind them.
The other main strength is that it allows England to utilise Harry Maguire's strength on the ball, as he was consistently able to step out of the back and play almost as a deep-lying playmaker, despite being part of the back three.

The most obvious weakness is one common to sides who play three at the back. A lack of natural width in attack and defence can leave you overly reliant on your wing-backs, and this can cause problems defending in the channels or against naturally aggressive full-backs. This is one reason that Liverpool have had huge success against teams who play three at the back, as Salah and Mané have either been able to pin the wing-backs or isolate the inside centre-halves.
The other main weakness of the formation is that it puts a lot of pressure on the sole DM to dictate the play. Playing essentially a 5-1-4 both enables and requires someone to step out of the back, but that can leave spaces, and it puts a lot of pressure on the player who at times is playing as the sole midfielder when the game transitions quickly.
So I wanted to look at how this formation could work for Liverpool, as I believe it is one that Klopp has most of the raw assets to adopt. The first thing to note is that I don't see this being a formation that Liverpool use regularly for a multitude of reasons. Klopp loves the 4-3-3, it works really well and when you have two exceptional wingers and two brilliant full-backs in your side, playing quite a narrow formation like 3-5-2 doesn't make a lot of sense.
However, the main use I felt this formation might have is if Liverpool picked up an injury to Mo Salah or Sadio Mané, the latter especially. The main reason for that is that the Reds have struggled to maintain the 4-3-3 in the absence of those individuals because they are the only two wingers in the squad and the 4-3-3 is a formation that relies heavily on those two players operating off the flanks.
So in many ways, the reason we shouldn't play the 3-5-2 and why we should are inherently linked. Mo and Sadio are arguably our two best players, so we should use the formation that gets the best out of them, but when one or both are injured, it is worth considering other options – given that the formation that has only really worked at its best when at least one if not both have been playing.
So how would the 3-5-2 work for Liverpool? The best place to start is up top. Salah has operated as part of a front two with Bobby before and whilst I wouldn't argue it's his best position, he's certainly not wasted there, so if Sadio were to pick up an injury, it may be the best way to utilise those two individuals.
Along the same lines, the front four England use have been two AMs and two strikers, but the width has been generated purely by movement, and this is something Liverpool's front line have in bags. With the front four given a bit of licence, particularly the front two, Salah, in particular, can wreak havoc by spreading wide before dropping inside again. On the other hand, if Salah is the one injured, it might be a bit different for Sadio, but it's certainly a position that in theory, he could operate.
The wing-backs fix themselves – Trent and Robbo will be first-choice this season and both are well suited to playing in wing-back roles, especially since both are so critical to Liverpool's attack anyway. If we're being honest, part of the pull of a back three system for Liverpool is that we'd have the most important position in the system sorted, because our full-backs are dead good.
Moving into the midfield, and one of the reasons I prefer the 3-5-2 to other back-three variations is that it would allow us to keep our attacking three-man midfield that has plenty of potential. At the start of the article, I pointed out how important the DM is, particularly defensive to this system, which is why Liverpool's signing of Fabinho is so useful. He's the sort of player that could boss the midfield in front of the back three, making it much harder for teams to counter-attack when one of the back-three surges forwards to dictate play.
However, I think Liverpool's midfield three would have to be more balanced than England's, as the Reds don't necessarily have two out and out attacking midfielders like Dele Alli and Lingard, and Fabinho's passing game isn't necessarily good enough to single-handedly control a midfield, which is why having Naby Keita in there adds some much-needed balance, whilst also freeing up Naby to surge forwards when he wants to. Overall, I don't see the shape of the midfield needing to change in this formation, which as I say, is one of the main benefits of it.
The main issue then, with the 3-5-2 is, of course, the three themselves. Liverpool's defence is not blessed with a plethora of good central defenders, with Virgil van Dijk the obvious standout. However, VVD would also be the most likely to play the Maguire role, leaving Liverpool with an immediate conundrum. Do they dare allow Van Dijk free reign to stride into midfield and dictate play, leaving two weaker centre-backs behind, potentially exposed? Or do they hang back VVD, which has the opposite effect of leaving Liverpool potentially short of creativity and linkage to supply the front four?
Ultimately, this is a system that I feel has one obvious positive and one very clear negative. I am a huge fan of the way that the attack and midfield link in Southgate's version of the 3-5-2, and I feel that the fluidity in the forward play would be an excellent way for Liverpool to offset the absence of either Mané or Salah, allowing them to play a more narrow team and allow Robbo and Trent to provide width.
However, the issue remains that attempting to play a back three formation without strong central-defenders, especially if not all of them are adequate ball-players, has its drawbacks, and England have been exposed and probably will be exposed again by issues in defence – which this system does not address and perhaps would even magnify LFC's defensive issues.
Overall, I'd be curious to see how Liverpool were to utilise this system if Mané, in particular, were injured, but I doubt that it's one that would work as a long-term option – with the diamond midfield or the 4-2-2-2 certainly other viable options.