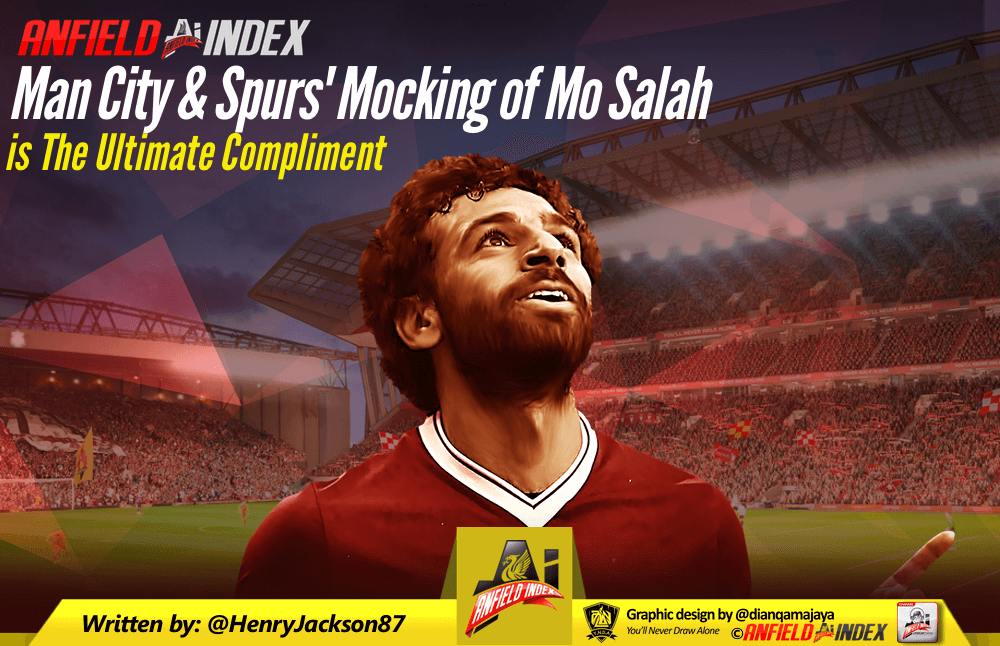 Man City & Spurs' Mocking of Mo Salah is The Ultimate Compliment
It's hard to think of a more likeable footballer in the modern game than Mo Salah. When you weight it all up, what is there to possibly dislike about him?
A deeply religious man with great values, he plays the game in exactly right way without an ounce of ego and snide – there is no feigning injury, berating referees or a lack of team ethic.
He has become a sporting icon all around the world after his remarkable feats in 2017/18 and is arguably the most popular and important sportsman in Africa right now.
After being cruelly taken out of the Champions League final by the anti-Salah in many ways, Sergio Ramos, the 25-year-old's World Cup adventure is all but over, despite his best efforts in an under-cooked capacity.
In the hours and days since Egypt were downed by hosts Russia, we have heard bizarre, mocking jibes from a section of rival English supporters that seem truly baffling.
Were it Luis Suarez or no doubt many other former Liverpool players who have rubbed people up the wrong way, it would be understandable, but Salah? What has he done to merit such ridicule?
Perhaps the most intriguing subplot in all of this is that these odd 'rival' fans are neither Man United or Everton supporters, as you might expect.
They're not even Chelsea fanatics, with Liverpool having had such a bitter rivalry with them since the mid-2000s, and even Arsenal fans you could just about understand an attempt at being on the wind-up.
In fact, it is those of a Man City and Tottenham persuasion who have been unfathomably vocal, as they continue their quest to start a rivalry with the Reds that barely exists.
Lads, we don't mind your clubs, we don't mind your managers and there is no history whatsoever between us. Give it a rest.
So why are City and Spurs so hellbent on ripping Salah to shreds and revelling in one of world football's good guys suffering more misery?
The answer is simple: Liverpool have really got under their skin in recent times and Salah has been the driving force behind it all.
Let's start with City, who instead of savouring a magnificent title triumph are more interested in talking about the Reds every day of their existence.
Their imperious campaign may have been a record-breaking one, with 100 points in the Premier League a stunning achievement, but Liverpool prevented it from being a truly iconic season.
The two sides met on four occasions in all competitions and Liverpool prevailed on three of them, with the 5-0 loss at the Etihad last September mainly down to Sadio Mane's unlucky but ultimately fair red card.
When Pep Guardiola's men strutted into Anfield in January, talk of an unbeaten Premier League season was on the cards, but they were undone by a superb Reds display, with the 4-3 scoreline actually kind on the eventual champions.
That will have been part one of where this sudden bitterness has come from.
Then there was the Champions League quarter-final – you know, the one where their entire fanbase has tried to claim it was thousands of Liverpool supporters throwing things at the City team bus, rather than an idiotic few.
Liverpool ended their European dream in emphatic fashion, which again will have hurt them deeply, as they desperately try to dominate in the competition that continues to frustrate them.
What do those three wins all have in common? Salah scored in every one, and it helped him pip Kevin De Bruyne to all the end-of-season awards.
It sounds petty, but that will have also have irked them.
If City weren't deeply threatened by Jurgen Klopp's ever-improving Liverpool side they would simply keep quiet and deem them an irrelevance.
Instead, they couldn't look more bothered if they tried, and in Salah they have someone who is the poster boy for their new most hated club.
As for Spurs, they have become a bunch of oddballs from nowhere, obsessing about the Reds as much as they do bitter rivals Arsenal.
Again, like City, there is no reason for there to be any dislike between the north Londoners and Liverpool, but they are doing their best efforts to make it happen.
Quite where their seeming dislike of Salah has come from remains unknown, but the fact he beat their precious Harry Kane to the Golden Boot will no doubt have irritated them.
Especially with their star man was attempting to claim goals and acting like that kid in the playground who only cares about his goal tally.
Why should Spurs fans think any differently about Salah than United and Everton supporters? There is genuinely no explanation for it.
With both clubs, it is proof of how good not only Liverpool have become – yes Spurs fans, we know you'll bang on about finishing above us when yet again we had bigger fish to fry than the league in April and May – but also what a devastating weapon Salah is.
The Reds have someone who is a bonafide world star, and every goal he scores, assist he produces and award that comes his way seems to rub City and Spurs fans up the wrong way.
It would be wrong to excuse the likes of United, Everton, Chelsea and Arsenal any mocking in all of this because there will be many from those fanbases reacting in a similar manner.
Similarly, Liverpool fans are no angels a lot of the time, and some will no doubt be making some strange accusations about City and Spurs.
It is still head-scratching as to why their supporters are comfortably standing out from the pack, however, when it comes to this unreasonable treatment of Salah and fixation with the Reds.
Take it as one big compliment, Mo.