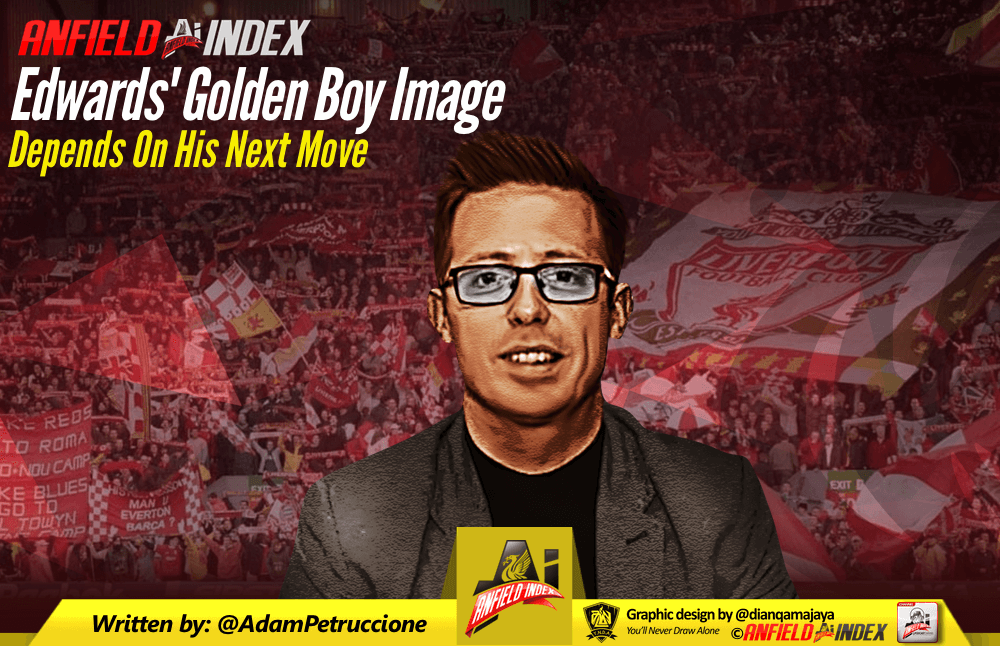 Edwards' Golden Boy Image Depends On His Next Move
Rewind a couple of weeks and Liverpool sporting director Michael Edwards was being suggested as the next Red to be knighted. Michael and Edward were the most common baby names on Merseyside. Local sculptors were providing sketches for bronze statues… of his laptop.
The surprise signing of Brazilian midfielder, Fabinho, raised enthusiasm for the transfer window and the season to come to levels that haven't been seen on Merseyside for a generation.
The move was a brilliant one on the pitch, in terms of cost (£43.7m) and as a public-relations exercise. With Emre Can's long goodbye grinding to an agonizingly slow conclusion and the pain of the Champions League final still fresh, solving one of Liverpool's longest running problems was a relief, a reassurance and a call to arms for the fanbase.

From that peak, we travelled a familiar path, crashing back to earth after the nearly there non-signing of Nabil Fekir. Fair or not, the club took a beating for what some viewed as a failure to get the deal over the line. Those opinions are far from valid, but the club still could have done a better job of controlling the narrative. After all that praise and goodwill, Liverpool supporters are now wondering what exactly is going on inside Edwards' air-conditioned office.
This week, another non-transaction appears ready to blow up Liverpool's little corner of the internet. On Wednesday, one of the club's mini-crises was seemingly brought to a conclusion as every major football publication reported that 18-year-old Rhian Brewster, had agreed to a new five-year deal, ending speculation that he could move to Borussia Monchengladbach for free.
On Thursday morning, Spurs and Arsenal fans took to Twitter with glee after the paper which shall not be named, put out a story claiming that Brewster had in fact NOT signed on the dotted line with Liverpool and was considering a move back to London where he originally was part of Chelsea's youth set-up. Comments from the young striker to Goal.com's Neil Jones didn't help to calm this writer's paranoia.
"At the moment, I just want to be playing regular professional football for the first team. Whether that was at Liverpool or somewhere else, yeah I was uncertain." – Rhian Brewster via Goal.com
Brewster such a good talker for one so young. Also discusses his ideal striker, the areas he needs to improve, and the reaction to his Guardian interview with @DTguardian – a smart kid who knows what he wants out of life. #LFC https://t.co/slcklpjIHT

— Neil Jones (@neiljonesgoal) June 19, 2018
No paper, journalist, blogger or casual commenter has touched the story, so it appears that the rag made up the story whole cloth… imagine that? However, the mere possibility of losing another talent on a free is a reminder of how fragile things are for Liverpool's sporting director.
Losing Emre Can without compensation was papered over by the fact that Michael Edwards and the recruitment team replaced him with one of the best defensive midfielders in Europe under our collective noses. Seeing a second major talent depart for nothing after all of the hype and buildup from the manager on down… that would cast the departure of Can and our overall business in a completely different light.
It shows just how vital it is for Edwards to get his next move right in a condensed and pressurized window. Any other negative news is going to put him and the club in a tough situation. Public pressure will only intensify to get a deal over the line with Fakir regardless of the underlying problems with his knee. Rumoured deals to sell Marko Grujic for a bag of balls while replacing him with Jack Grealish for big money will be severely scrutinized.
Tread carefully Mr Edwards. Appearing to have lost the magic keystroke for a few days can undo years of fantastic work.