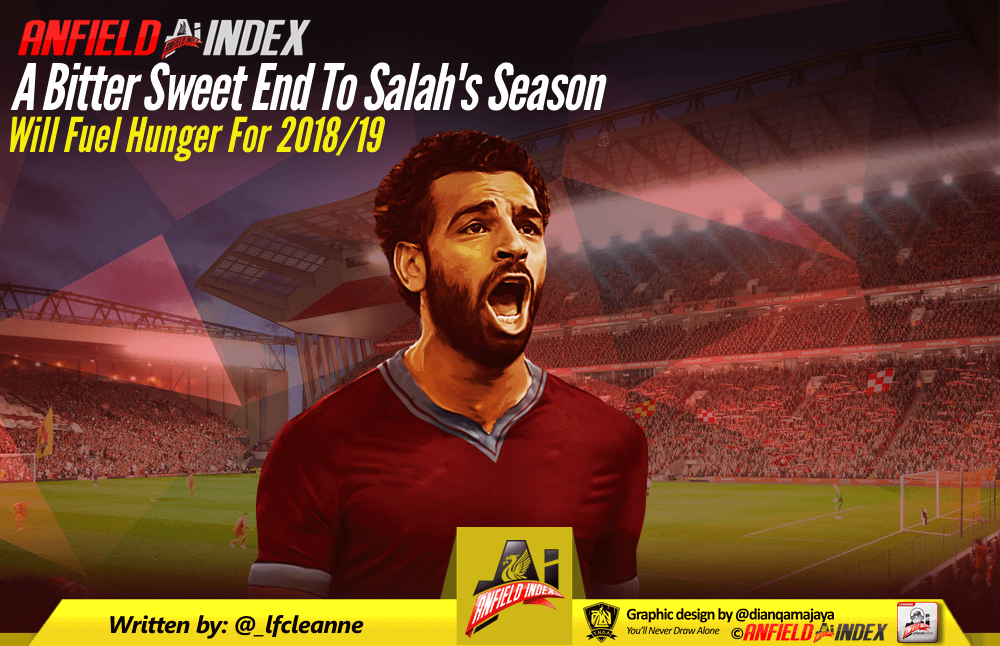 A Bitter Sweet End To Salah's Season Will Fuel Hunger For 2018/19

A scintillating first season on Merseyside, Mohamed Salah stole the headlines in a record-breaking campaign that saw him secure the PFA Player of the Year, Football Writers' Association Footballer of the Year as well as the lion's share of Liverpool POTM awards. With 41 goals to boast, the King, as he shall forever be known, beat Harry Kane to the illustrious Golden Boot. It's some trophy cabinet he's racked up.
It's truly remarkable what Salah has achieved in such a short space of time, producing every type of goal you could imagine. There's been screamers, dazzling dancing moves to send Watford defenders on the floor before carefully tapping the ball home, doing keepy-ups to taunt the Porto goalkeeper and just generally taking the Premier League, and Europe for that matter, by storm.
If you want to see Mo Salah light up the World Cup and lead Egypt to victory tonight, Retweet and Like #RUSEGY #WorldCup pic.twitter.com/hd8EBCE9QR

— Goal Playerz (@GoalPlayerz) June 19, 2018
Salah's league figures tell the tale of his season perfectly; 32 goals and 10 assists in 2954 minutes corresponds to a goal or assist ever 70.3 minutes. To offer some context, the season of Suarez in 2013/14 saw him notch 31 goals and 12 assists, a goal or assist rate of 68.9 minutes. Thus, while Salah falls slightly behind the Uruguayan's record, it's indicative of the quality we've all seen from our new star man.
Best Season For Liverpool FC!

Mo Salah's minutes per goal or assist compared with some of #LFC's finest in their best season at the club!

Analysis by @SimonBrundish for @AIUnderPressure pic.twitter.com/JA0wxIwN9g

— AnfieldIndex (@AnfieldIndex) March 20, 2018
Then came the Champions League final and with it, a chance to showcase his talents on centre stage against the world's best. Sadly the stars didn't align for Liverpool to grab their sixth or for Klopp to bring home his first trophy since taking over from Brendan Rodgers, with Salah suffering a harrowing shoulder injury inside the opening thirty minutes.
A bitter end to an oh so sweet tale for our Mo.
Depending on which side of the fence you sit, Sergio Ramos' actions were premeditated; the veteran centre-back's gesturing to the Madrid bench after Salah was helped off the field said it all. Such debate is beside the point though – this was a player who had helped Liverpool enjoy a record-breaking Champions League campaign, an individual capable of changing a game in a split second. Even a neutral fan would've been gutted to see him forced off.
It's no real surprise Salah's since reflected on that game as the worst moment of his career to date, discussing it in a recent interview with Marca:
"Leaving the final was the worst moment of my career. I began to think I would miss the World Cup, it was devastating."
Thankfully from Salah's point of view, he has been able to take part in Egypt's World Cup campaign having ensured national hero status following a 94th-minute penalty winner against Congo that sent his country to their first World Cup since 1990. However, it's been much the same case as in Kiev; a remarkable story and journey ending with a gut-wrenching final chapter.
Egypt's hopes of progressing beyond the group stage are now over having suffered a 3-1 defeat to host nation Russia before Uruguay's 1-0 win over Saudi Arabia made it mathematically impossible for a miraculous turnaround to occur. For  Salah, it's a painful way to close the book on a record-breaking year.
Fitting though, that he was to get his moment in the spotlight after being hauled down inside the area. Although nothing more than a consolation goal for the Pharaohs, it saw Salah score his first ever World Cup goal and his country's first since 1990 – yet another incredible feat for our King.
Mo Salah penalty Russia vs Egypt #WorldCup pic.twitter.com/3FTWvJZEUU

— World Cup 2018 goals (@zefootballwiz) June 21, 2018
Talk about bittersweet.
Sadly, Russia wasn't able to witness the usual Salah, with a shoulder injury obstructing his rhythm. Labouring as a result, Salah's courageous attempts to push through the pain and try to drag his country out of trouble came to no avail.
We were all hoping Salah would get the perfect end to a perfect season at Liverpool, but it just wasn't meant to be. However, an early exit comes with certain silver linings where Klopp is concerned.
The 26-year-old will head out one final time in Russia before enjoying a well earned summer break with his family. Those not on international duty such as Adam Lallana will report back to Melwood for pre-season training on July 2nd while Salah is expected to return earlier than expected given Egypt's struggles. An appearance in the International Champions Cup in late July is now on the cards.
A clearly unfit Salah scoring his country's first World Cup goal since 1990, incredible. Gutted his World Cup journey appears to be over, but looking forward to his involvement in Liverpool's pre-season campaign.

— Leanne Prescott (@_lfcleanne) June 19, 2018
A painful ending to an electric campaign, Salah's disappointments could fuel his hunger for success next season. For all the individual accolades achieved, the forward will be desperate to get his hands on some silverware under Klopp's tutelage. That extra yard and grit could see him replicate the heights of 2017/18 – wouldn't that be a sight to behold?
Of course, the flip side is that Salah's heartbreak may cause him to become more desperate for silverware in a negative sense. Should he not achieve that in the near future at Liverpool, we could have another big name star departing Anfield and leaving us all with heartbreak of our own.
Needless to say Salah will be at an all-time low for the next few weeks, but current pain shouldn't cloud an incredible campaign back in the Premier League. I can't say I'm particularly adverse to seeing him back at Melwood earlier than expected, either.
He's still our King, our Mo.