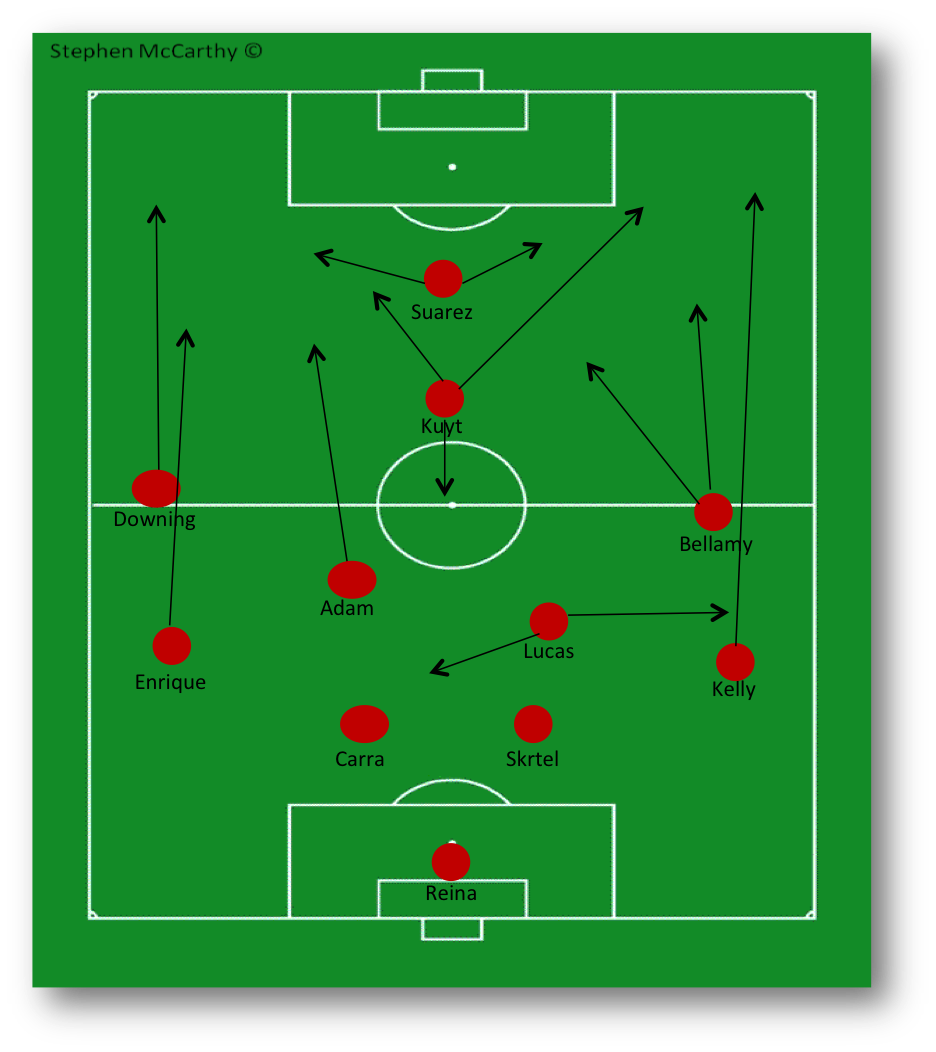 Liverpool V Everton | The Friendly Derby
Welcome to the friendly derby. However, judging by the amount of red and yellow cards in this fixture over the years the players don't seem to follow the maxim of 'friendly derby'.
It's Everton against Liverpool, a game that needs no introduction. Everton go into the game on the back of a 2-0 defeat to Man City and with a last 5 game record (LWDWL) that screams inconsistency. It's generally thought that Everton have started the season badly yet if they win their game in hand then they go level on points with ourselves. Whilst we on the other hand go into the game on the back of a morale boosting 2-1 win over Wolves at Anfield. Morale boosting considering we have lost the 2 previous games. One very heavily to Spurs, and the other an undeserved away defeat to Stoke.
You might say we have started the season inconsistently ourselves. Last season the derby at Anfield finished 2-2 and we were beaten 2-0 at Goodison where we managed to put in one of our most insipid displays under Roy Hodgson. Bizarrely Roy told the after-match press conference that it was our best display of the season. How times have changed. I'm hoping that if we get a win on Saturday then it will give the players a huge confidence boost to kick on from there and go on a long undefeated run. Easier said than done says you. So how do we go about getting that all important derby victory.

Everton Offensive/Defensive Formation
First off, lets take a look at Everton's probable formation, then next we can take a look at some of their key players and how to stop them. Firstly, knowing the formation will allow us to determine what kind of tactics they may employ. When it comes to Everton's formation I don't think it's any great secret that David Moyes doesn't vary much from a 4-4-2/4-4-1-1 or 4-5-1, depending on the opposition or whether they are playing home or away. Unless of course you look at their most recent game against Man City at the Eithad when incredibly Moyes played with no recognized striker. Almost a 4-6-0 formation with Felliani playing as a supposed striker and Cahill playing off him to his left. In fact, when you take a look at the game both Felliani and Cahill spent a lot of time in the central midfield positions trying to stifle City's attack. As you can see from the Guardian chalkboards below Felliani only made 6% of his total attempted passes in the central strikers positions. I would be very surprised if Moyes used such a similar negative formation at home against us.  It is worth noting that in the same game Jack Rodwell was used to man mark David Silva. A tactic which could be employed by Moyes against our own Luis Suarez.
I believe that in such a tight game that David Moyes will want to control the central midfield area and will employ a 4-4-1-1  (see below) formation flipping to a 4-5-1 when they don't have the ball. This will enable them to be dangerous in attack and when losing possession the extra man in midfield will help in trying to control the midfield area.
If fit, Cahill will be asked to fill the role between the lines, dovetailing his forward duties with getting back into midfield to help when Everton lose possession. Osman should play inside left with Fellaini trying to provide some sort of creativity from the midfield and will try to get forward to support the front two. Neville will do the holding role and shuttle across in front of the back four covering for any other midfielders caught out of position. Osman's role will be to cut inside leaving space ahead for Baines to exploit and get crosses into the box. While Coleman on the other side will fill a more traditional wingers brief. Expect Hibbert behind him to be more defensive than Baines on the other side.
Threats to our defence: (stop Everton scoring)
Everton are a team who love to cross the ball into the box and they play to their strengths as they have some fantastic headers in their team. Cahill being one of, if not the best, headers of a ball in the Premiership at the moment. Looking at last season's stats they attempted 1019 crosses. 195 more attempted crosses then ourselves. They completed exactly 100 more accurate crosses than us. Furthermore, of all their goals scored last season a total of 28% of them were scored with the head, double our amount which was at 14%. So it's obvious from the stats that this is a vital weapon in their armory.
Having said that they are not a team who like to actually get to the byline and cross the ball. Out of 25 games played last season Seamus Coleman only crossed from the byline once, Osman none, and Baines 6. So we should expect most of the crosses to come from deeper positions. True to form this season, out of the 23 corners Everton have taken only two of them have been short. So they do like to get the ball into the box as soon as possible. As seen below in the graphic from the Stats Zone app.
So if we are to keep a clean sheet then I believe it is absolutely vital we limit the number of times Baines, Coleman and Osman get crosses into the box.  In fact, I believe, Everton's best and most dangerous player is Leighton Baines. If we can keep him quiet then we will have gone a long way to winning the game. It's incredible to think that Baines attempted 351 (34% of their total) of Everton's 1019 total attempted crosses from the whole of last season. This season out of 123 attempted crosses by Everton, Baines alone has contributed 41 of them. That's an incredible 33% coming from one player. He takes corners from both sides and has a wicked free kick. So Baines is definitely one to watch. You can see his influence below in the comparison crossing stats for last season and the Guardian chalkboards against Villa this season where he obtained an 81% pass completion.
So how do we stop them crosses
Our full backs and wingers have got to get tight to Baines, Coleman and Osman. And be aware that Osman, as a right-footed left (inverted) winger, likes to come inside on his right foot and shoot. 21 out of Osman's 32 shots last season came from the centre of the box. Do not allow them time and space to cross the ball. And if we do let crosses come into our box be very aware of Cahill and Felliani arriving late into the box and attacking the ball in the air. Everton, relatively speaking, are not particularly creative in central midfield, so if we cut off the supply line into our box then I believe it will go a long way to winning the game. Lastly, and I know it may be an obvious one, it is imperative that we don't give silly free kicks away in dangerous areas. What we can't do is do what we did against Wolves, where we committed 16 fouls, 7 of those in dangerous areas and put ourselves under unneeded pressure. See below info graphic of fouls committed against Wolves from the Stats Zone app.
Liverpool Offensive/Defensive Organisation
When it comes to our formation and tactics I don't think it's as clear cut as Everton's as to what team Kenny will pick and what formation he will go with. Since Kenny's second coming we've dabbled with 4-2-3-1, 4-4-2 and 4-4-1-1 with different personnel fulfilling different roles. But, since the start of this season we seem to have settled more on a 4-4-2/4-4-1-1 depending on our opponents and players available.  Kenny seems to have settled on a midfield four of Downing, Adam, Lucas and Henderson with Suarez and one other up front or playing in the hole. The Everton game however is a one off. The pace will be 100 miles an hour and there will be tackles flying in all over the place. As a result I think we need to pick a team and formation that reflects this. My preferred team and formation to win the game would be as follow and I will explain why below.
I think to win the game we need to pick a team that is fluid, quick, and can inter-change positions regularly. Speed of movement and fast inter-play of passes I believe is the key to winning the game. The inclusion of Bellamy and Kuyt rather than Henderson and Carroll will allow this to happen. It will be important that either Suarez or Kuyt can get back into midfield to help out so we don't get overpowered by Everton's probable midfield five. Both Adam and Lucas are not the most mobile centre midfield pairing so we will need to be careful that there is no repeat of the Spurs disaster where we got over-run by a more dynamic Modric and Parker. As illustrated below, you can see how Parker dominated the midfield against Adam up until Adam got sent off in the 28th minute.
A front attacking four of Downing, Kuyt, Bellamy and Suarez should have a lot of movement for the Everton defence to deal with. Also with Bellamy on the right I believe he will give more stability than Henderson when coming up against the threat of Baines. On a side note, I think it's maybe one game to early for Gerrard to start. I expect him to come from the bench around the 60th minute mark to get some more game time and build up his match fitness.
Everton weakness (how do we score)
There are a few areas I think we may be able to exploit when it comes to the Everton back four. While I sang the praises of Baines further up in the article I believe his willingness to get so far forward may be an area we can exploit. Hence the reason for picking Bellamy on the right. If Everton lose possession high up the pitch then Baines will have left a lot of space in behind for Suarez, Kuyt or Bellamy to get in behind. It's an area I would like to see Adam ping balls into and for our players to make runs into. You can see from the Guardian chalkboards below that 49% of Baines passes were made in the top 2/6th's of the pitch against QPR. That is a lot of space in behind to exploit.
Secondly, if you take a look at some of the goals Everton have conceded this season and below from the Guardian chalkboards you can see that they can be vulnerable to quick passing just outside their box in front of their back four. Distin, Jagielka and Hibbert are not the fastest defenders out there so it is an area we should look to exploit. Again this is my reason for including Bellamy and Kuyt. Not to mention their ability to give 110% which may be vital in the frenetic atmosphere of a derby.
Thirdly I believe the Everton back four may be susceptible to opposition players attempting to dribble past them. From the 4 defenders that Everton may start against us on Saturday they have been dribbled past 11 times. Compare that to the back four that may start for us and they've only been dribbled past 5 times. Added to that if we pick the team above then we have a few players who do like to dribble with the ball. Suarez, Downing and Bellamy would all be a danger in this area. I believe Suarez could be vital in this game. If he can get some good possession of the ball then he will cause Everton a lot of problems. As a team we've had 46 successful dribbles so far this season, with Luis Suarez with 10 of that total and Downing with 4. Between them that's 30% of the teams total for the season.
Lastly, if we are not only to win the game but improve as a team then we need to increase our chance conversion ratio. As the stats table from this season below surprisingly shows, we have actually created more chances from open play than both Man United and Chelsea yet their goals scored column is far superior due to their higher chance conversion ratio. A chance conversion rate of 26% for ManU and 18% for Chelsea. Our chance conversion rate at 8% is actually on a par with the 16th place team in the table Swansea. If we are to beat Everton then we really need to start putting away our chances.
Defensive Summary:
Cut our Everton crosses as much as possible.
Be aware of the aerial danger of Cahill and Felliani and pick up their runs into the box.
The danger of Baines getting forward. Crossing ability, corners of his from both sides and free kicks.
Osman (right-footed) coming inside from left to right and shooting from the centre of the box.
Do not concede free kicks in dangerous areas.
Offensive Summary:
Fluid movement. Front players switching positions. Quick inter-play of passes. Especially around the Everton box.
Exploit the space behind Baines when he is caught up field. Quick counter attack with runs from our forwards into this area.
Take on Everton's back four with pace and dribbling. Quick movements with the ball.
Improve our chance conversion ratio. We will get chances, we just need to put them away.
If we follow these tactics and pick the right team and formation I believe it will go a long way towards winning the game. Start badly and on the back foot with the wrong tactics and it will be an uphill struggle. Here's to 3 points and a win.