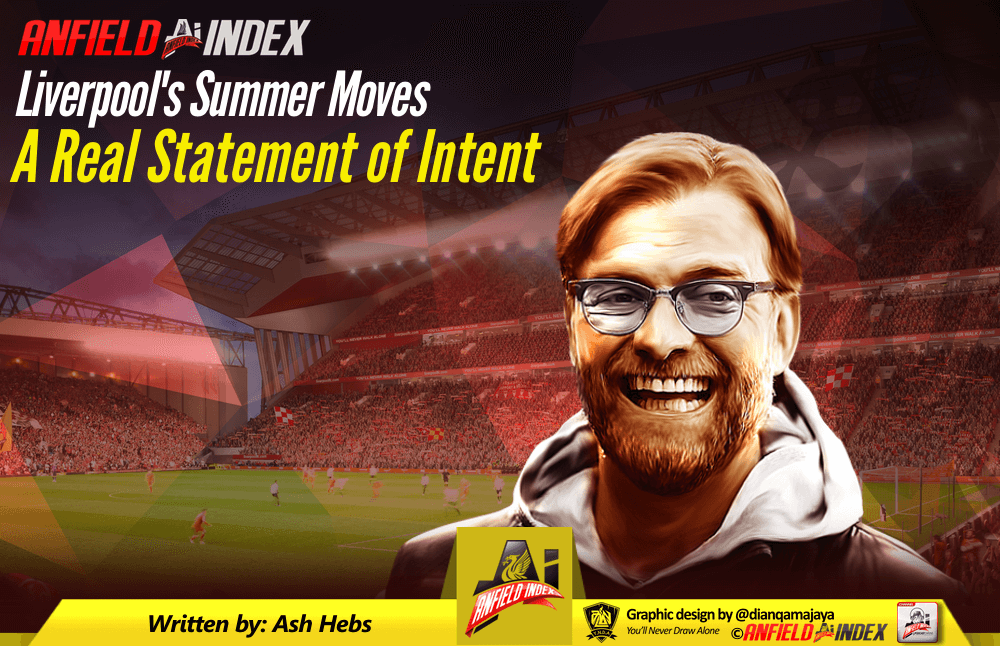 Liverpool's Summer Moves a Real Statement of Intent
Whilst the World Cup rumbles on in the background, like me you probably can't wait until it's over to see what moves the club makes, in what will remain of the transfer window. Don't get me wrong I enjoy the World Cup, but it's still the starter before the main course that is the Premier League season.
Raising our transfer market game
What makes this summer's transfer window so exciting is the potential that lies in wait. It's fair to say that many a Liverpool fan was left totally underwhelmed after last summer and the January window. So many names linked, some of whom arrived and some who didn't.
Months later we now have Naby Keita coming on board. The superlatives around Naby Keita are well known. Virgil Van Dijk. Enough said. The Dutchman is already making waves in our back line. Fabinho, our first proper number 6 since Mascherano, was brought in just before the World Cup with incredibly astute business and speed.

The spine of the team is, with the probable exception of the goalkeeper, as good as it gets. Our latest signing is a beast of a player. The Brazilian from Monaco represents the quintessential modern-day defensive midfielder; adept on the ball, with height, power and strength allied with an ability to drive forward when necessary.
The icing on the midfield cake was so close. Nabil Fekir was within an inch of becoming a Liverpool player. However, understandable caution was exercised by the club's medical team in light of an underlying niggle. A niggle that could be detrimental to both player and his respective future club.
Managing risk
Make no mistake, as good a player as Fekir is, there is a huge risk spending £50-60m on a player who could break down and be out longer term. Particularly when there are so many players at the club already susceptible to injuries. The likes of Lallana, Ox and Henderson all spring to mind.
I've been critical of Michael Edwards in the past but I am delighted to see him raise his game with his signings under Klopp. In improving a good but upgradeable midfield, Klopp is building a side genuinely capable of challenging for the title. The club's transfer moves are poised to knock our rivals out the park.
Both Klopp and Edwards are showing they deserve the fans' trust. Should the Fekir deal not be revived we can be sure that these guys aren't settling for mediocrity. If they cannot bring in the best players money can realistically buy, they are happy to play the waiting game.
They will look only to the best options and alternatives. Players that will be in for the longer term project. Not just players that will bring a small, or next to no improvement, on the players currently on the books.
Taking it to the next level
That being said, Klopp knows he's building a team that could be very special. The encouragement we should take is that if there is a player out there that he feels he can sign to improve this team, he will be looking to buy. He has the resources available to him.
Whatever happens for the remainder of this summer, it's fair to say the tide is definitely turning on Merseyside. For too long a sleeping giant in the Premier League era, the Red giant is awakening. Let's relax and trust Klopp and his team to get this club back on its perch.