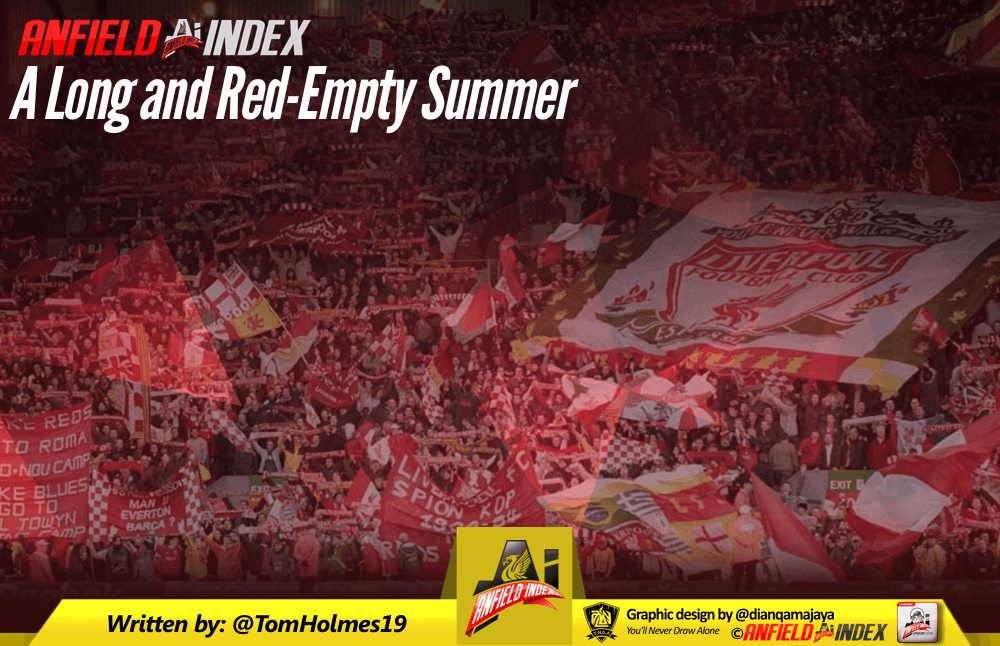 A Long and Red-Empty Summer

It's only been four weeks since Liverpool lost the Champions League final, and yet I miss football. I miss Mo Salah and Sadio Mané and Bobby Firmino all playing together and not trudging through games for their international sides. I miss big Virgil bossing the defence. I miss the Scottish Roberto Carlos. I miss Liverpool.
At first, you almost feel relieved. A weekend off. A chance to breathe. A few weeks of being able to plan your social life – your entire life – without having to take a glance at the fixture list. A stress-free, challenge-free, low blood pressure, reasonable heart-rate weekend. Not having to get angry at Dejan Lovren for a month really does wonders for your mood.
But it all feels very hollow, doesn't it? It starts to get boring very quickly. You start watching compilations on YouTube, you start reading transfer rumours. Transfer rumours are very good to keep the brain churning, especially if it's a good player, but it's not the same is it? You can debate the merits of Xherdan Shaqiri until the cows come home, or speculate on the exact status of the ligaments in Nabil Fekir's knee, but it doesn't beat the feeling of Alex Oxlade-Chamberlain pumping one in from 30 yards against Man City.
You start watching other sports to fill the void. And watching England put 480 past Australia is scintillating but none of the lads you love are there and they're not dressed in Liverpool red. F1 is good fun but it's a different kettle of fish entirely. And rugby…well it's just rugby isn't it. They kick it over the posts inside of under them.
This year is better than most to be fair. Because we've got the World Cup, the greatest tournament on earth. And it definitely helps. Especially when the Reds are there. Maybe I'd feel differently if Mo Salah's magic had helped Egypt get through the groups, or Bobby Firmino wasn't benched for Gabriel Jesus. But right now there's very little LFC magic to celebrate.
The other problem with the World Cup is that it's all the time. It's great having football on all day every day, but I'm missing over half of the games and when you watch so much football you tend to get desensitised. You can appreciate a good goal, you can wake up when someone makes a great save, but you never really feel it. It isn't really football.
It must be different depending on which country you follow, of course, I appreciate not every international team inspires the same level of emotion as England. But even signing "It's Coming Home" every day for a month hasn't changed anything. My go-to hum is still "Allez, Allez, Allez", interspersed with the occasional bout of "Mo Salah, Mo Salah".
The truth is that four weeks feels like a lifetime. And the remaining two months will feel even longer. Pre-season shall be great fun of course, but again it won't quite be the same. You can appreciate Danny Ings kicking his last football for Liverpool, enjoy watching young lads that you won't see for another 12 months, and get the joy of watching Virgil van Dijk boss around a defence including Conor Masterson for half an hour. But I'm not sure a 2-0 win over Tranmere quite matches up to that opening day feeling.
Does the summer always feel this long? Last summer seemed to fly by in the end. But here we are, still in June, still two months away from the Premier League and still ages away from seeing Liverpool back in action. I want to see Naby Keita kick a ball, I want to see the fab three work their magic, I even want to see Lovren fall over and gift someone a penalty, just to feel that inexplicable, unbelievable emotion that only football can produce.
I really, really miss the mighty Reds. Maybe the quality of football at the World Cup isn't high enough, maybe it just needs more Bobby Firmino or maybe it's just a lack of Klopp. Maybe it's the hyperbole. After all, the summer is all talk, talk, talk until the football finally takes over. I'm bored with the conversation and it's only June.
So for now, I suppose I'll have to watch some more football, plan my weekends in advance, watch clips of Bobby Firmino no-look goals and count down the days until 11th August and West Ham on my calendar.
Enjoy the summer, but I'm finding it hard to without Liverpool Football Club.