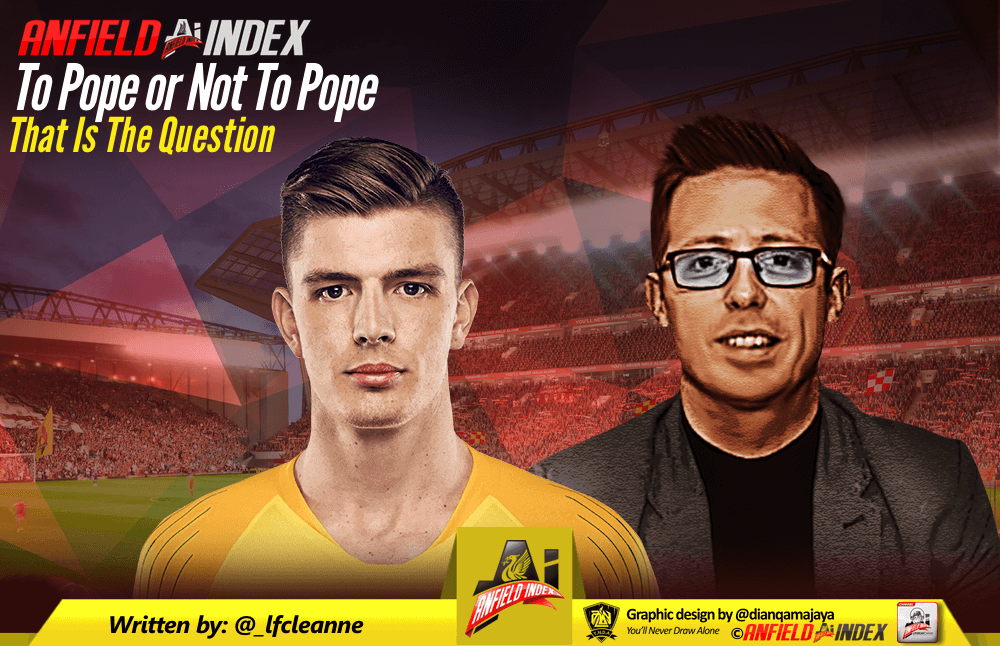 To Pope or Not To Pope, That Is The Question
A knock to the head from Sergio Ramos saw Loris Karius suffer a concussion in the Champions League final, leading to two costly errors in between the sticks and ending any hopes of Liverpool taking home No.6. Thus, any goalkeeper links must be taken with a pinch of salt; Karius' errors has fuelled the idea Klopp could be eyeing a new No.1 for the upcoming campaign.
It's no surprise that Liverpool have been linked to pretty much ever goalkeeper in the land, then. There's been Alisson, Oblak and Jack Butland to name a few, but the most recent player to be tipped for a summer switch to Anfield is Burnley's Nick Pope. 
So the burning question is, should Liverpool pursue him?

Pope has enjoyed quite the rise, appearing in the Conference South, Conference Premier, League Two and Championship before becoming Burnley's No.1 and a full international in the space of just seven years, making a much-deserved debut for England against Costa Rica.
The Englishman enjoyed a stellar season in 2017/18, helping guide Burnley to a 7th placed finish and a resulting Europa League campaign. Add to that the accolade of being on the plane for England's World Cup venture and it's been a year to remember for the 26-year-old.
His form since replacing the injured Tom Heaton as first choice goalkeeper in September has been exemplary. A goalkeeper that earned rave reviews in 2016/17, Heaton made 143 saves and recorded 10 clean sheets last season, appearing to be a mainstay in Dyche's side. However, the injury opened a gateway for Pope – one he's not looked back on since.
The Burnley No.1 made 35 league appearances in 2017/18, making an average 2.57 saves per game, bettering Mignolet (1.43) and Karius (1.47) in a busy campaign between the sticks. Of course, a goalkeeper can make a plethora of saves but still concede a high number of goals. Thus, looking at saves per goals ratio statistics are far more useful.
Mignolet's saves per goal ratio was 0.95 in his 14 league appearances, averaging less than one save between each goal he conceded. Meanwhile, Karius recorded an average of 2 saves per goal, a far healthier statistic but one still inferior to Pope's 2.73 average.
The ability to come and claim crosses under pressure is a key skill for goalkeepers and another category Pope passes with flying colours. Authoritative in his area, the 26-year-old deals well with crosses into the box, a trait many a Liverpool 'keeper has failed to show. An average claim success of 94% makes for much better reading than Mignolet's 85% or Karius' 87%. What makes it all the more impressive though, is that Pope holds a higher percentage than David De Gea (86%) or Alisson (90%). Of course, I'm not saying he's therefore in any way comparable to the quality of the aforementioned players but it does reflect his strength at claiming aerial balls.
The one area Pope falls down on in his distribution. Given Klopp's desire to see Liverpool play out the back, an ability to find a teammate from a goal kick is essential. Thus, a success rate of just 45% raises doubts about whether Pope can fit into the demands of what Klopp requires – see Karius' 72% success rate for example.
Likewise, there'll be some fans who've already set their hearts on Liverpool signing a world-class goalkeeper this summer. Alisson seems destined for a move to Real Madrid but having been linked with a move for Jan Oblak, it might be somewhat of an anti-climax to sign the Burnley man. It should also be noted that Karius had a pretty solid season himself prior to the Champions League final. Having been given a run of games in the side, the German showed plenty of progress, showcasing the talent that saw him earn such rave reviews in the Bundesliga. Casting him off too soon could be a mistake.
According to The Mirror, Pope would cost approximately £18million this summer, hardly an extortionate fee considering the increasingly inflated transfer market. A disciplined and highly impressive season at Burnley deserves recognition and it's clear to see just why he's being linked with a move to the top six.
T0 Pope or not to Pope, that is the question.
Stats used in article were obtained from Squawka.