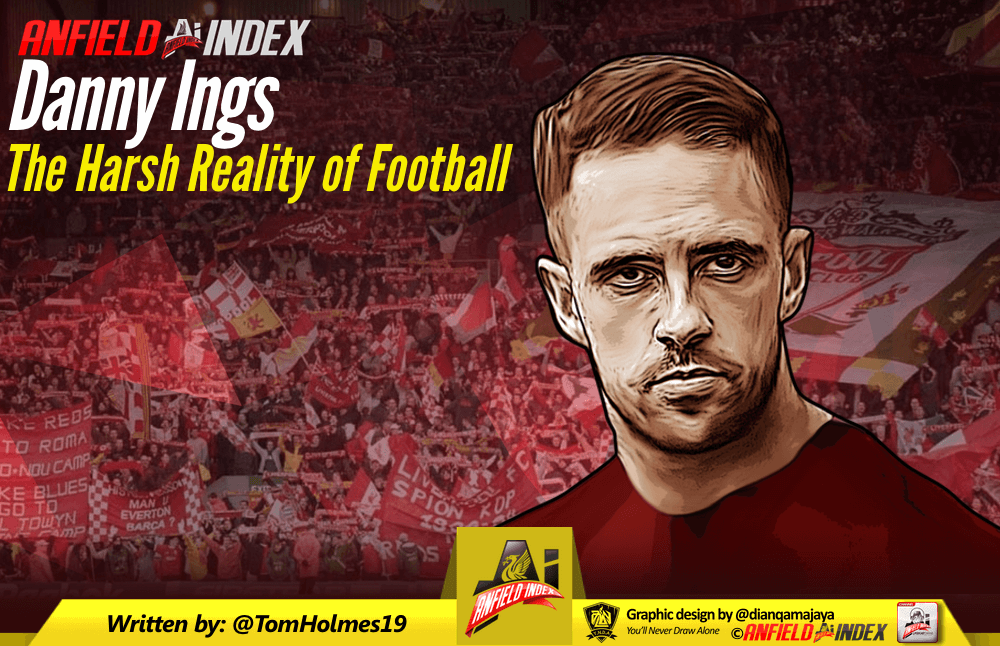 Danny Ings - The Harsh Reality of Football
Football can be a cruel sport.
It's worth remembering that when Danny Ings signed for Liverpool, he was just 22 years old, although he would turn 23 before the season began. He was fresh off two strong seasons with Burnley and full of promise. That promise looked as though it might begin to blossom under Brendan Rodgers, as a troubled start to Liverpool's season saw Ings work his way into a starting position and score a couple of goals – the last of which came in the Merseyside Derby that sealed Rodgers' fate.
It's genuinely impossible to say whether or not Ings may have flourished under Jürgen Klopp. Many would instinctively argue that he was never of the requisite quality, but then many would have said the same of some of Liverpool's other players at the time. Whether or not Klopp could have moulded the young and talented Ings into a number nine to challenge Roberto Firmino is something we will never know, although we can suspect otherwise.

Nevertheless, it's irrelevant. Ings did his ACL and only picked up a substitute cameo on the final day of the season – his first Liverpool season completely wrecked by injury. And if his first year at the club was bad, his second was somehow worse – more knee damage and the rest of the season on the sidelines again. By the time Ings was ready to play a competitive game for Liverpool, it was 17-18, and the landscape had completely changed.
The painful fact for Ings is that the football team he joined in 2015 was one he could have had the opportunity to excel in. To this day Klopp remains a fan of the player, particularly of his desire and work-rate, and the squad when Klopp took over was much weaker than it was now. From a Liverpool perspective, it's definitely a positive sign that Danny Ings the player in 2018, now 25 going on 26, has no future at the club – it means that they've moved beyond him.
Interestingly, Klopp still feels that there is a role for Ings at the club, potentially as a backup allowing Solanke to go on loan and Origi and Sturridge to be sold. Klopp gave Ings plenty of cameo appearances in 2017-18, but his opportunities were limited and he is at the point in his career where it's now or never. Sitting on the bench at a big club, especially one where he clearly isn't going to break into the first team unless there's a string of serious injuries does him no favours, and Ings has never been one to simply collect a paycheque.
The consensus then, despite Klopp's opinion that Ings has a role to play, is that the time has come for Ings to move on, and hopefully to play regular football somewhere that suits him. I remain a big fan of Danny Ings, both as a man and as a player. His desperation to be fit, healthy and a part of this Liverpool side is admirable, and you can't fault his previous determination to break into the team, nor his decision now to move on. As a player, he's a more-than-decent finisher, a hard-worker and technically strong, but he's not necessarily a fit for this system and not of the required quality to support or supplant Bobby Firmino.
So Ings is set for an amicable departure to a mid-table Premier League club, where hopefully he can reignite his career. He's a player who deserves some success at last, because sadly his tale at Liverpool is one completely destroyed by two nasty, ravaging injuries.
That, sadly, is the way that football is. Alex Oxlade-Chamberlain is another example of an extremely talented player whose career has limped to a standstill every time it's threatened to get going. Daniel Sturridge had what it took to be one of the best strikers Liverpool had until he was broken by Hodgson. Time and again, football shows that it is a demanding, brutal and at times heart-breaking sport and Danny Ings is no exception.
None of this is to say Ings was the next Mo Salah, robbed of any opportunity to be that, but the truth is that we'll never know where his potential would have led him. And in retrospect, it's little more than a shame. Danny Ings might not be the most prominent example, even in the current squad of the toll that injuries can take on a player's career – but that doesn't mean he didn't deserve better.
Nevertheless, it's onwards and hopefully upwards for him – and onwards and upwards for Liverpool. If Ings can get decent game time somewhere else, Liverpool can get a few million quid and a better backup striker, and everyone can finally move on.