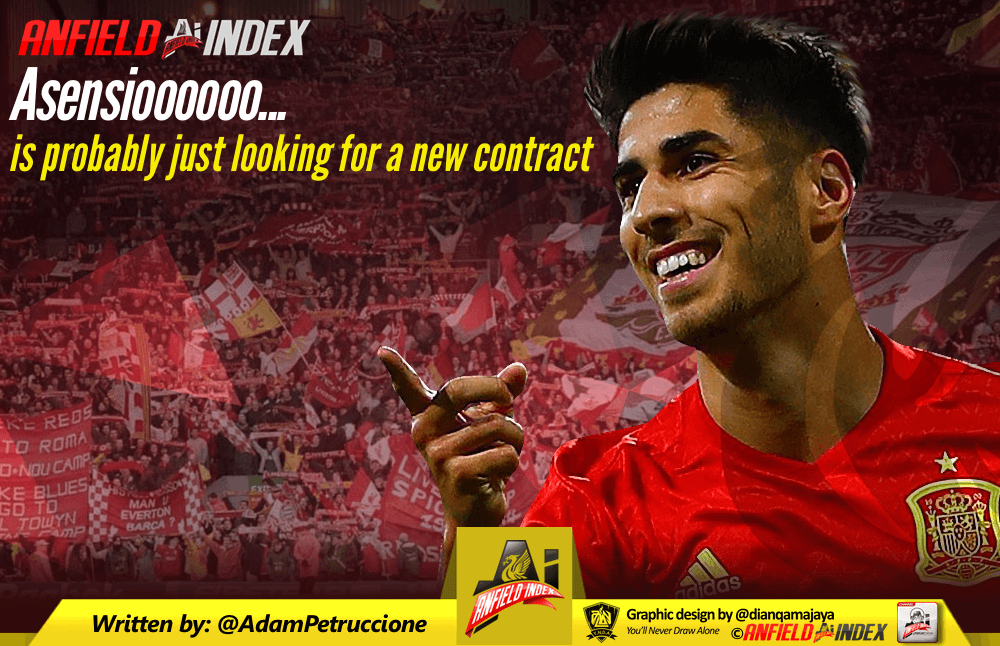 Asensioooooo... is probably just looking for a new contract
Picking up the paper Wednesday morning in Madrid, the headline made me spit out my coffee… OK, tinto verano. "180 Milliones por Asensio," read the top of the page. Unfortunately underneath that it read "MARCA," which is not the most reliable publication in the world for transfer news. It falls somewhere above Don Balon and below your Uber driver's twitter feed on the reliability scale.
Liverpool? This is not the moment to talk about this. – Marco Asensio
Marco Asensio is deflecting talk about a massive transfer until after the World Cup. To translate that from Spanish to English to Negotiation 101, Asensio is more than likely just trying to force Real Madrid to show him the money. With a new manager in the Spanish capital, Asensio clearly wants his future sorted. A long-term, big money deal could secure things for Asensio while blocking the path for the potential transfer of Neymar or Eden Hazard.

On Asensio. Liverpool have not made an offer and have no intention on making one. Of course they see their huge potential but no indication Real want to sell (they don't) or him wants to leave (he doesn't) pic.twitter.com/UNcEwT6keY

— Guillem Balague (@GuillemBalague) June 26, 2018
Like many of the potential deals making the rounds during the World Cup, a whopper of a deal for Asensio is unlikely, but once a player starts putting pressure on a club, there is always a chance that their bluff is called. If that happens, are Liverpool ready to trigger the Spaniard's release clause?
€180 million is nothing to sneeze at, but would the Reds even ponder a deal like that? Asensio would fill that Coutinho sized hole better perhaps than any other young player out there. He plays on the left side, in either Mané's current role as the creator from the flank, or he can play as the 'advanced-eight' arriving late into the box, complimenting the front three. The club considered a record transfer for Lemar a year ago for the exact same role, eventually pulling out as the Monaco man's form fell off.
Marco Asensio vs Nabil Fekir via https://t.co/ALtPGzhvEe: pic.twitter.com/YCfrJL2fXr

— Adam Petruccione (@AdamPetruccione) June 27, 2018
He'll turn 23 in January, which seems to be a sweet spot for Edwards & Co as they scour the earth for players on the precipice of their prime. Despite having to cede space to some of the biggest names in the game, Asensio has tallied a goal or an assist every 146 minutes in the past year. His per 90 analytics even hold up well when compared with Nabil Fekir, and that's a rarity. Fekir is two years Asensio's senior and may or may not have a balky knee, but it is a fact that he had a major surgery and has a special training regiment regardless.
"The money that is available is 250 million (including sales)… The club has turned overall revenue in excess of 450 million, that's some 90 million more than its previous record (2015/16)… The club has never had more money to spend." – Mo Chatra (Anfield Index – AIPro Podcast)
From €45 million to €180 million is a helluva jump, but the money is there for Liverpool. Anfield Index's Mo Chatra estimated on Tuesday that Liverpool should have roughly £250 million pounds to spend, and unless Oblak or Alisson is about to walk through that door, Edwards will need to start hanging out with Maradona to be able to blow through all that dough over the course of the next two months.
A majority of Asensio's starts came from the left of the midfield, playing off of Cristiano Ronaldo, Benzema and Bale/Lucas Vasquez, so he would be able to hit the ground running at Anfield rather than having to be taught to play deeper like many of the Reds' other potential targets. His extraordinary acceleration sets him apart on both ends of the pitch, often doing the running and pressing for the bigger names at Real. Going forward he gets to the byline with ease, comfortably setting up onrushing attackers from the left edge. When keeping the ball, he has a knack for long-range efforts, something else Liverpool is looking to replace since Coutinho left town.
Another forgotten detail that's not being mentioned is that Real Madrid are pumping serious money into the top Brazilian prospects; Vinícius Júnior and Rodrygo, while on the hunt for Paqueta. Those deals would total €150 million for the trio and if they do indeed beat Liverpool and City to Paqueta, things will get crowded in the coming years in Real's attack. Asensio's entourage must be watching Real's actions closely to decide where his future lies.
As Liverpool supporters know, we tend to appreciate the big foreign signing more than those who come through our own academy. In the same way, Asensio could very well be overlooked in Madrid, despite his obvious potential.
If Real Madrid does get Asensio to sign a big extension, perhaps that pushes Lucas Paqueta to Merseyside. It wouldn't be a bad strategy for Michael Edwards to compete with Real Madrid for signings while holding out a hand for their current players, offering a soft landing. Should we lose out on the chase for Alisson, we could do a lot worse than Keylor Navas as an alternative. If Real sneaks in and signs Fekir, Klopp should be standing in Mateo Kovacic's driveway.
Ultimately, is this mega-deal going to happen? It's clearly way down on the probability scale, as is Paqueta, Oblak, Koulibaly and so many others on many of our wish lists. The key here is that Asensio would be a very clean fit in terms of his age, his talent, the particular set of skills that he brings and his experience at a young age. If Liverpool were to muster up a massive deal for any player in Europe, Asensio would have to be near the top of the list.
As the player himself says, we'll just have to stay tuned until the end of the World Cup.