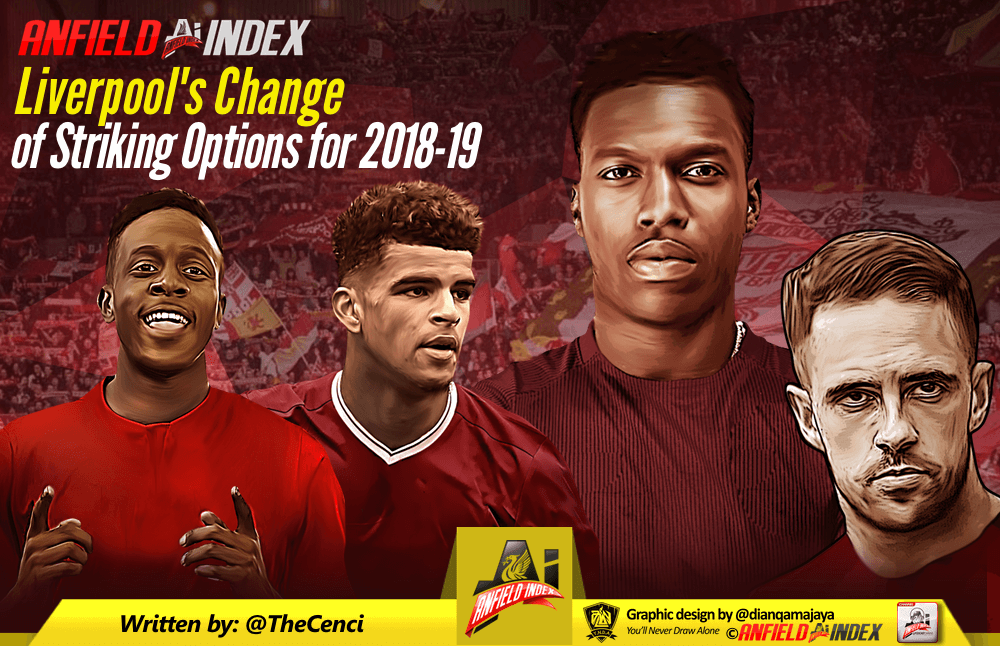 Liverpool's Change of Striking Options for 2018-19
With the World Cup in full swing, it's been wonderfully quiet on the LFC front. Indeed, if the club needed to negotiate a bad story through a usually vigilant media, it could do no better than to do this of all months. The footballing world is caught up in Diego Maradona, VAR and Chris Sutton's constant tone of confusion and disappointment.
But one thing has come out this week. Danny Ings has announced, having received no guarantees about his first-team chances over the upcoming campaign, that he's off to pastures new. Tottenham are said to be interested which will no doubt delight the White Hart Lane faithful.
Ings is a fine player and one who is capable and keen to leg it around defenders in the Jurgen Klopp tradition, but his body has let him down. This is a theme a few of our strikers.

Two huge injuries have not only seen him drop down the pecking order, but also out of the minds of many Reds. He's been relegated to the Dom Solanke role, that of rare appearances in abandoned Cup competitions and the odd ten minutes when Firmino needs to be rested. His stock has dropped through no fault of his own.
Ings signed in the summer of 2015 during the days when Brendan Rodgers' days were numbered following the disastrous 2014-15 season. Danny's fee needed to be set by a tribunal as he was under 24. With their usual swiftness and vivacity, the Professional Football Compensation Committee took just ten months to come up with a figure of £6.5m plus an additional £1.5m in performance-related bonuses. That'll be £6.5m then.
Burnley will also receive 20% of whatever his fee will be. Bet they can't wait.
Liverpool have had an odd relationship with their strikers over the past few years. Rodgers did all he could to tell the world that Fabio Borini was awful – refusing to play him during an injury crisis, including a paucity of goal-scoring options in a Wembley cup semi-final etc. -and then turned down unbelievable offers from other clubs which involved actual money. Nowadays, it's slightly different though no less curious.
I can't remember such a drop off in quality from the starters to the backup players. Ings, Solanke and the (perma-knacked) Sturridge are as far away from Mane, Firmino and Salah as I am to being registered as a wildcard at Wimbledon. I can only pity Danny for his showdown with the manager, asking if he had any chance of him usurping Roberto in the forward line hierarchy.
This isn't his fault, of course. If anything it's to our credit that we've arrived at a point where the front three are far and away from the days of Benteke, Ings, Sturridge and Balotelli. It's just that there's little scope for anyone in the second string going any further.
Today there was speculation that Klopp is having a good look at Divock Origi before deciding on his future. The same goes there. Divvy is a decent enough player, but is he a stand-in for the current front three? Not even close. Liverpool should make the backup players as good as, or at least a stone's throw away from, the starters.
Man United had the right idea in their 1999 treble-winning side when the worst of their four strikers was Teddy Sheringham, who sat behind Cole, Yorke and Solskjaer. That's a proper selection.
It looks like this is what Klopp is aiming to do what with Sturridge, Ings and Origi likely to leave the club. It also seems fair to those players, all of whom have scored important goals for the club.
The biggest tragedy is the other Daniel. Sturridge should be remembered for scoring the winning the goal in a Europa League final, but fate got in the way. He should have also snaffled a League title-winning medal back in 2014 too.
On his day, Sturridge is one of the best strikers in the land. There's no hyperbole in that statement. His performances from 2013-2014 were breath-taking. He was smashing records from the start, being the first player to score in his first three games for the Reds since the great Ray Kennedy in 1974-75.
Many are keen to accuse him of laziness or weak-mindedness – notably his then captain in his autobiography – but better, more successful players have protected themselves for injuries in the past and if you think you're one tweak from another year out of the game then you can be forgiven for a degree of reluctance.
The club are reputed to be asking for a figure approaching for £15m for the 28-year-old. Lord knows what a fully fit Sturridge would fetch.
As for Solanke, he had a troubled campaign. Very slow in the home derby and guilty of missing some easy chances, it all looked pretty grim for the youngster who played 20 times for the Reds without scoring before ending that run with a screamer on the final day of the season against Brighton. Hopefully, that will get the monkey off his back and he can relax into a much better career. He's still likely to be the fourth choice though.
Replacements are likely, given that the manager seems happy with his centre-backs and Fabinho and Keita have bolstered the midfield in the absence of Coutinho and Can. Let's hope that they purchase someone nearer to the first team than the youth team.