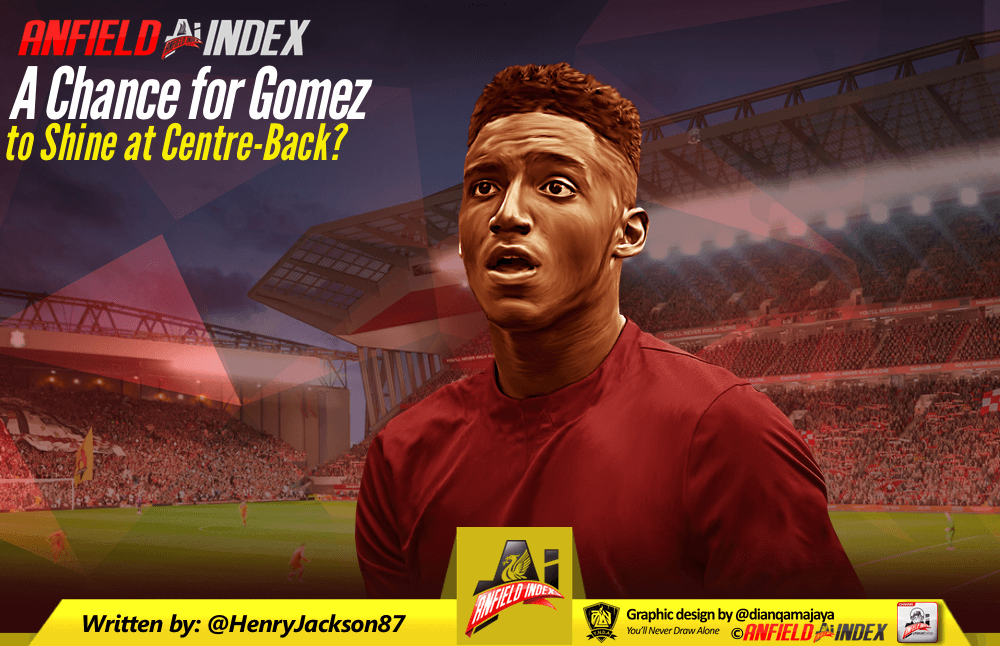 A Chance for Gomez to Shine at Centre-Back?

Kiev only feels like yesterday but Liverpool are almost back in pre-season training.
The World Cup has been a lovely distraction from all things Reds – the tournament will still be going on during the first few friendlies, slightly bizarrely – but now it's time to switch on again.
Up the 'This Is Our Year' Reds!
There is going to be so much to consume in pre-season, from the performances of new pair Naby Keita and Fabinho to the response of Loris Karius after his Champions League final meltdown, but one man going under the radar is Joe Gomez.
It is easy to forget that the 21-year-old was Liverpool's first-choice right-back last season before Trent Alexander-Arnold usurped him, often looking a smooth, dependable figure who defended well and offered more going forward than he was given credit for.
Injuries hampered the second-half of his campaign, with his brief return between picking up an ankle problem and undergoing surgery uncalled for, in hindsight.
He looked way off the pace and it earned him unfair criticism, not least after the 2-2 draw away to West Brom in April.
Although Gomez has flourished at times as a full-back, it remains clear that he is a centre-back through and through.
Klopp alluded to as much last November, saying: "He's ready for it, but he can also play as a full-back. That's very good for us."
Centre-back is where Gomez shone growing up, it is the position Brendan Rodgers signed him to play in in 2015 – that didn't materialise, mind you – and it is the role he will almost certainly deploy as he matures as a footballer.
Had it not been for the injury hell he has gone through in the last three seasons his development would have been far more rapid, which can easily be forgotten.
Gomez barely played for the first two seasons of Klopp's reign – 10 times, to be exact – following a cruciate ligament injury and an Achilles problem, but he has everything in his locker to become a formidable central defender.
He possesses blistering pace, has quality on the ball and current shortcomings such as positional sense and concentration will only improve over time.
The heart of Liverpool's defence is a contentious talking point, to say the least, with so many of the opinion that reinforcements are needed in the transfer window.
Supporters are tired of the Reds starting seasons with clear weaknesses in the squad, ultimately costing them in their quest for a maiden Premier League title.
When the money is there for the problem to be addressed it is understandable why some get so frustrated by the situation, but Klopp isn't rushing to change his personnel.
Virgil van Dijk is a special player who any team in world football would love to have, but the rest of the centre-backs split opinion hugely.
Dejan Lovren has enjoyed one of the best spells of his career in the last three or four months, proving to be Liverpool's star man in the Champions League final and impressing for Croatia at the World Cup.
The fact remains that a disaster of some kind is invariably around the corner from the likeable 28-year-old, however, so it is hard to rely on him every week. Injuries are an issue, too.
Joel Matip looked like a top signing in the early months of 2016/17, but he has gone backwards in the last 12 months and is another who is injury-prone.
Even Lovren's biggest critics – there are a lot of them – would struggle to deny that he is currently a better option than Matip, with the towering Cameroonian proving far too timid and unpredictable last season.
He has all the attributes to be an ideal partner for Van Dijk, apart from an apparent hunger and ability to find the correct level on a regular basis.
Ragnar Klavan is something of a cult hero but he needs to be third or fourth-choice now. He is almost 33 and is only an adequate option if used sparingly.
With Lovren still in Russia and Matip on his way back from his aforementioned thigh injury, pre-season is a great opportunity for Gomez to shine and put pressure on his older teammates.
It makes total sense for Klopp to give him an extended run there, and if he impresses, the Liverpool manager may feel even less desperate to bring in another centre-back, for right or wrong.
He will always be an advocate of youth, which has worked in Gomez's favour already and will continue to do so, and the youngster should be chomping at the bit to make his mark.
Of course,  Gomez may fail to impress during pre-season and show that he is not yet ready, but it would be criminal not to trial him there, at least.
He has the potential to start for club and country for many years – let's not forget he may well have played for England this summer were it not for injury – and he could be the long-term solution alongside Van Dijk.
Pre-season can easily make us go overboard about a player, so there shouldn't be too much hype if Gomez does enjoy a productive summer, but we should be willing him on.
If he and Van Dijk can strike up something of a partnership, you wouldn't rule out seeing it more once the Premier League season gets underway.
Hopefully, we see the duo taking to the field together against Chester FC on July 7th.