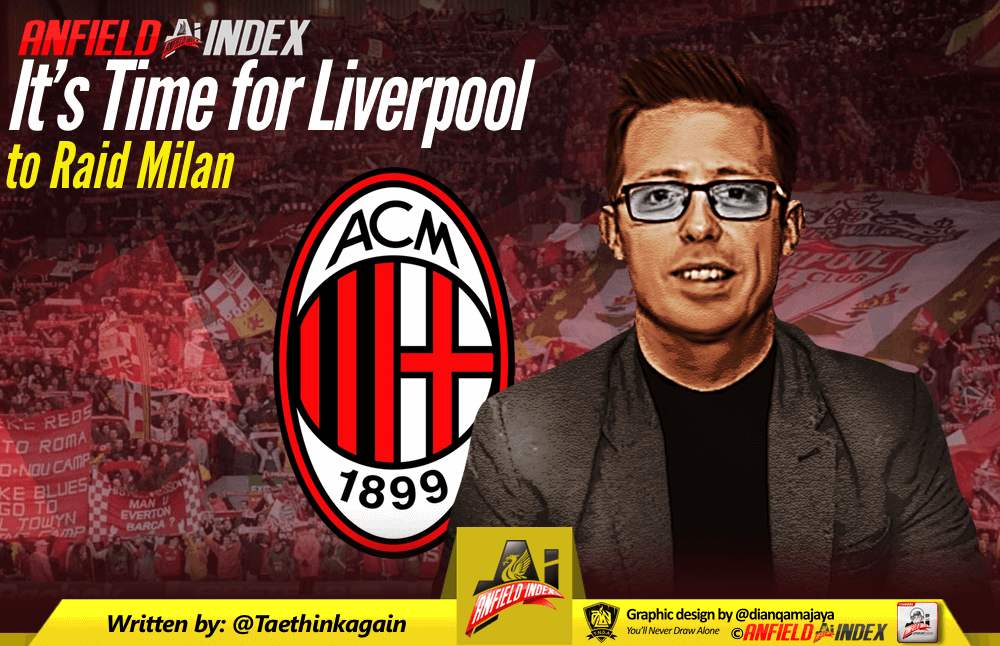 It's Time for Liverpool to Raid Milan
When the news broke this week that Italian giants AC Milan would be banned from European play, it further cemented the recent decline of one of football's greatest clubs. The club that offered so many glorious memories from the past, is now a shell of itself and the outlook of recovery may be even worse. The club couldn't curb its losses prior to the 2016-2017 campaign and have made their situation even worse by spending over €150 million in new signings during the 2017 window. That plan, the envy of so many during last summer's transfer window, backfired terribly and the side could not crack the top four in a chaotic Serie A season. As the saying goes, however, in the middle of difficulty lies opportunity, and in this case, there is the opportunity for LFC to improve significantly. AC Milan's finances are such that if Liverpool have a real interest in several players and make significant offers, the San Siro side will have a very difficult time fending off the potential revenue as they fight for survival. AC Milan will most likely not see any real potential influx in finances until the 2020-2021 season, given their European ban and squad turnover that will surely occur and reduce the likelihood of a top-six finish for 2018-2019. Liverpool, then, should be focused on two players from AC Milan's current squad for instant improvement.
First, the position of most conversation this summer, the goalkeeper. The sadness felt in late May in Kiev will not subside for some time, and therefore the performance of Loris Karius will continue to be examined. It's fair to point out, however, that one of two things happened to Karius in the Champions League debacle. The first option is that Karius was concussed and therefore injured. If this is the case, it's hard to gauge how he should of, or could of, played during that match. Karius, however, had not had similar errors or questions prior to Kiev. The second thing that may have happened, is that he simply bottled the moment. If that's the case, LFC are forced to find a replacement of greater talent who they are confident won't cave in a similar moment. That part will be difficult, as it could be argued that the Champions League Final is the second or third biggest single game a player could participate in during their career. As David de Gea has proved during the World Cup, bad games can and do happen on the largest of stages, without predictability.
With that said, though, Gianluigi Donnarumma is an absolute beast of a player. At just 19 years of age, Donnarumma has made over 100 domestic appearances with AC Milan and will be the first choice for the Azzurri taking over Gigi Buffon as the number one. Donnarumma offers characteristics in the goal for Liverpool that have not been seen in some time. His frame is massive, he's both tall and strong. At 1.96m in height, Donnarumma eats up a huge amount of space in the goal.  What makes Donnarumma clearly dominating, however, is when you combine his height and weight with his athleticism. Donnarumma's reactions, ability to come forward to cut space, diving, and vertical jump, are all things of beauty. Donnarumma's strength is by far his most impressive feature, though, and Liverpool has the opportunity to obtain a player that never gets overpowered or dominated physically. With Donnarumma, the Reds wouldn't be getting just a goalkeeper, the would be getting and 11th athlete on the pitch who could serve to dominate the box and control the space in and around the goal further stretching the defence. At 19, with a world of opportunity ahead of him, Liverpool should swiftly and eagerly offer AC Milan a fee in excess of the reported £50 million asking price for the services of Donnarumma.

Second in the pursuit of AC Milan players should be Leonardo Bonucci. Bonucci arguably serves the far bigger need as the ideal centre-half partner for Virgil van Dijk.  Van Dijk's arrival transformed and reinvigorated the Liverpool side when he joined in January, but performances on the right side of the centre of defence after his arrival demonstrated that the position is still in critical need of enhancement. Bonucci is the ultimate warrior on central defence and would be a massive upgrade from any other CB on the current LFC roster. Bonucci's veteran status means he is rarely scattered or panicked during offence attacks from opposing teams. Additionally, he has played in some of the biggest matches a footballer can hope for in his career, so his leadership would be evident from the onset. He has a magical touch on the ball and defends with authority and directness when the backline is pressed by the attack. His placement on the right side would free Van Dijk up from his need to cover both positions at times when his partners have left him an island to defend and hold the entire line. If Liverpool have true title hope for the 2018-2019 season, Bonucci we be a tremendous boost. His value has declined slightly since the 2016-2017 campaign that saw his work with Giorgio Chiellini dominate a number of European sides. If Liverpool can nab Bonnucci for under €40 million, then their central defence would be sorted for the next two seasons at a minimum while Joël Matip and Joe Gomez can support more fully as squad defenders and grow as players.
For European football, the decline of AC Milan is not a welcome sight, but Serie A as a whole is still trying to find their footing in the emerging finances of modern football and the Italian economy. Milan's loss, could, and should, be the gain of Liverpool. The possibility exists of Liverpool securing two critical additions and pushing the club closer to EPL glory. Liverpool won't be the only club looking at these two additions, however, so the transfer sprint following the World Cup for signatures needs to be won by Michael Edwards, especially when raiding of Milan occurs.