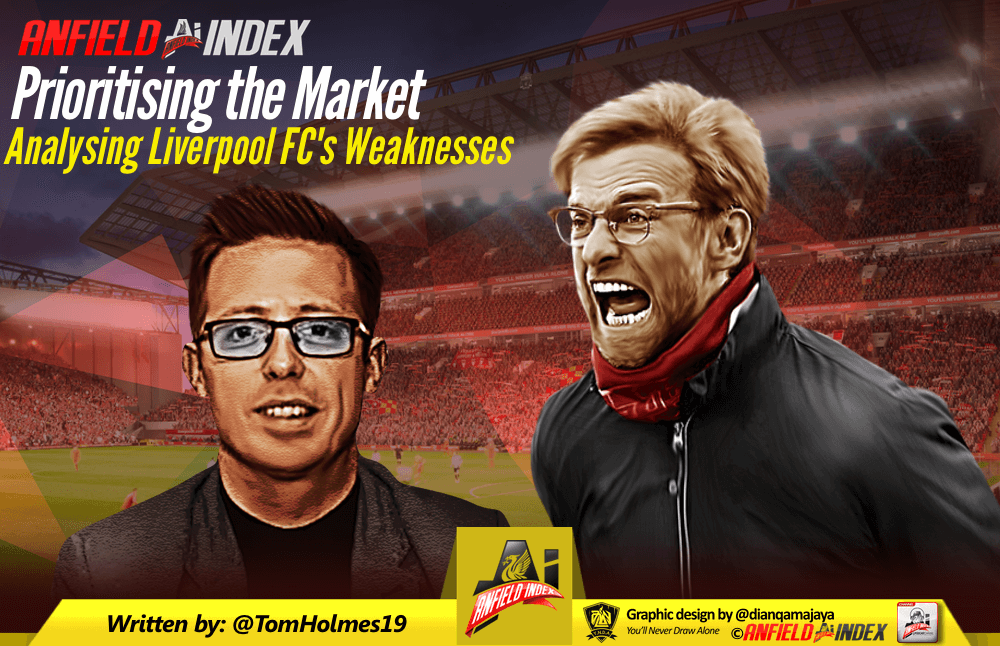 Prioritising the Market - Analysing Liverpool FC's Weaknesses

So there's a consensus amongst Liverpool fans about which positions the club will look to – and must – strengthen this season. The five positions that need to be addressed – or at least considered – this summer were: goalkeeper, centre-back, defensive-midfield, attacking-midfield and back-up winger. Essentially, we're looking to replace Karius, either upgrade on Lovren or provide another option to rotate with him, replace Emre Can, replace Phil Coutinho, and provide some support to Mo Salah and Bobby Firmino so that they aren't playing 5 million minutes a season.
But Liverpool don't have an infinite budget. In an ideal world, we would be able to spend £100m on each of these positions, but this is reality and not football manager, so we have to prioritise. This, of course, is one of the main arguments of signing Xherdan Shaqiri – that his price tag allows us to look at other areas of the squad that need to be dealt with.
Liverpool have, of course, made one good signing already this window – bringing in Monaco defensive midfielder Fabinho. This ticks one of the five boxes, meaning that Liverpool only have potentially four more areas to address in the window. And with the situation going a bit quiet after Nabil Fekir's signing broke down – at least for the moment – this seemed like a good time to explore which of these areas of the squad we need to focus on and prioritise. I've collected some numbers on each position and will try to draw some meaningful conclusions about which positions are most important – based on that data but also on my own thoughts.
Goalkeeper 
Beginning then, with Loris Karius. A lot of uproar has occurred in the weeks following the Champions League final, and the subsequent news of the concussion that Karius had suffered during the game. Since then, through various discussions, the conclusion that I and many fellow Liverpool fans have come to is that Karius is not a bad keeper, but not an elite one either. If Liverpool can sign a potentially elite keeper like Alisson or Oblak then that should be a priority, but if they can't then there's no point buying someone like Jack Butland.
So does that opinion stack up to scrutiny? And if it does, then how important is it that Liverpool bite the bullet and spend a lot of money on a keeper like Alisson or Oblak? Those are the questions this first part of the article will address.
Karius then, this season Karius and Mignolet played 19 games each in the PL, with Karius conceding 14 goals and Mignolet 24. In terms of expected goals, Liverpool faced shots equivalent to 21.07 xG with Mignolet in goal – meaning Migs concedes 1.14 goals per expected goal. And with Karius in goal, the Reds conceded 14.67 xG  – 0.95 goals conceded per xG.
So Karius is a better keeper than Mignolet. And at 0.95 goals per xG he's conceding less than the average keeper might be expected to – barely. However, some would justifiably argue that Karius' role is not solely in preventing xG turning into goals, but also reducing the xG in the first place. Examples of this include conceding penalties, dealing with crosses, coming quickly off of his line, and of course having a calming and controlling influence on the defence.
However, the headline number there is 0.95, which is good. To put that into context, only five teams conceded fewer goals than expected goals – Man United and Burnley the obvious names with De Gea and Pope the clear outliers in every goalkeeping conversation in terms of metrics. The other three teams were Swansea, Bournemouth and Newcastle – despite the latter experimenting with two or three keepers, generally to good results.
So how does it compare with Karius' other seasons, and how does it compare with other elite and non-elite keepers.
Karius played ten games at Liverpool last season when it was clear he was struggling – conceding 12 goals in those ten games from an xG of 8.89. That's a ratio of 1.35 goals conceded per xG although the sample size is too small to seriously assess.
Looking then at Karius' peak, his two full seasons at Mainz, and we can get an idea of where we might expect him to end up. His first season at Mainz saw him concede 47 goals from 48.11 xG, a ratio of 0.98 goals per xG, similar to this season. However, he improved in his second season, conceding just 42 from an xG of 47.27 – a ratio of 0.89.
Taking all factors into consideration then, we can say that Karius is a keeper who will concede perhaps nine goals for every ten expected goals if he is able to muster a full season with Liverpool where he is near his best. As such, we might expect that if Liverpool's xGA remains about 35/36, as it has for the last three seasons, with Karius in goal we could expect to concede around 32/33 goals.
But in terms of spending money, Liverpool could hugely improve this. Alisson at Roma has had a stellar season, in which he conceded just 0.75 goals per expected goal, which is 0.2 goals per xG better than Karius. This takes us to around the 27 mark over a full season. But Oblak is even better – he conceded just 0.63 goals per xG this season which is frankly insane. That works out at 22 goals conceded per season under our current xG numbers. That's title-winning.
As for the other names mentioned, briefly – Butland's xG to goals ratio is near enough dead level at Stoke this season, so I'd suggest he's probably not worth a £30m upgrade on Karius, whilst Strakosha's numbers at Lazio are Mignolet levels this season – 1.15 goals per xG conceded.
Of course, numbers aren't everything. Oblak would face different types of chances playing for Liverpool than under a more defensive system at Atletico, and playing in the Premier League can give different challenges to goalkeepers that could mean higher xGs conceded. Moreover, strikers in La Liga tend to be less clinical than the Premier League – scoring six goals more than the PL despite having fifty higher expected goals.
Nevertheless, even if the data isn't perfect, it clearly indicates a significant improvement on Karius – a difference of potentially over ten goals conceded per season or about a third. However, one could argue that reducing the chances we concede has the same effect as buying a keeper who saves more chances. Which moves me onto the interlocked point. It's impossible to assess how important a goalkeeper is in the transfer market without looking at what's in front of him.
Defence 
Liverpool have essentially three first-choice centre-backs right now. Gomez doesn't have a statistically significant number of minutes playing there (although nor does Virgil for us if we're being honest), and Klavan is far down the pecking order. So let's look at Lovren, Matip and VVD. Are they good enough?
Lovren then has been at Liverpool four seasons, starting 97 games for the club. In those games, Liverpool have conceded 110 goals, which is 1.13 goals per game. Or 43 goals a season. In other words, yikes. However, he has had Simon Mignolet behind him in goal for the majority of that, and sometimes it's been even worse than that (Bogdan anyone). So perhaps it's fairer to assess his xG, which is 95.12 across those four seasons, or 0.98 expected goals per game – or a 37 goal season.
The interesting thing with Lovren is that he's had a lot of different partners in that time – Sakho, Skrtel, Toure, Matip, Klavan, Lucas and finally VVD. And yet the xG per game with Lovren in the side has remained remarkably consistent season on season. 23.72 from 22 starts in Brodge's final year (and let's face it – we were shit). But under Klopp, it's been hovering around the same level. 20.86 from 22 starts in 15-16 (0.95xG per game), 27.32 from 29 in 16-17 (0.94) and finally 23.22 from 24 this season (0.97).
So we can gauge Lovren's level, it's pretty much the level that has ensured we concede about 35 xG per season under Klopp. Joel Matip has started 49 games across the last two seasons under Klopp and his numbers are strikingly similar. Liverpool have conceded a goal a game with Matip in the starting line-up, and have conceded 48.21 expected goals in games where Matip has started
However, there's evidence that that number is going to drop over the next season, regardless of which of these two partners VVD. Because, well VVD. Whilst it's extremely difficult to judge the exact impact, given that he's only started 14 league games for LFC and his Southampton numbers aren't comparable because he was starting for well, Southampton, his xG data at LFC is promising. The Reds have conceded just ten goals and just 11.89 xG from his 14 starts, at 0.71 and 0.85 respectively.
As mentioned, the Reds have conceded just 14.67 from Karius' 19 starts, the majority of which are in the back half of the season, indicating that there has been a genuinely significant shift in the Reds' defence, with the arrival of VVD and the integration of Karius clear factors in this – as well as the form of the likes of Robbo and Trent.
If Liverpool can get their xG conceded, bolstered by Fabinho down to that VVD average of 0.85 expected goals per season, then that would mean 32.3 expected goals conceded in a season, which if Karius carries on somewhere near his peak, would probably mean about 29/30 goals conceded.
However, this suggests that with our current defence and goalkeeper, we might expect a peak performance of 30 goals conceded per season. Yet, with Karius' confidence potentially all over the place, there's no guarantee that the German will be able to get close to his peak next season. Likewise, those numbers are assuming that VVD gets to play with a set partner for long periods of the season, and indeed that VVD himself plays almost every game.
And this leads to arguably the biggest issue. Over the last three seasons, Van Dijk has started 80 league games, Lovren 75 and Matip 83. So our central defenders all average 26 league starts over the last three seasons, and there's no doubt that the chopping and changing that Klopp has been forced into at centre-back has contributed to a level of sloppiness and miscommunication in our back-line.
So from a fitness perspective, Liverpool could certainly use another fit and firing central defender to bolster the ranks.
Attacking Midfield
Okay so attacking midfield. We're all linked with the shiny and new Nabil Fekir, who is dead, dead good at football and not overly expensive. Fekir is the sort of player that makes a list like this kind of redundant in the same way that Oblak does. Oblak is a monster, buy him, who gives a shit how good Karius is. In the same way, Fekir's data indicates that he is a must-buy anyway, especially at £50m. The only unknown is his knee situation.
All of that said, do Liverpool really need a Phil Coutinho replacement?
Okay, so I crunched the numbers after Phil left, looking at the final 18 games of the league season. In those games, Liverpool created 1.90 expected goals per game, scoring 2.11 goals per game. In the first twenty games, however, the Reds created 2.16 expected goals per game, scoring exactly 2.30 goals per game, an improvement in both categories, but only a minor one.
Moreover, the goals were much less evenly distributed in the front half of the season. The Reds failed to score two goals in 14 games in 17-18, dropping points in 13 of them, with their only 1-0 win coming early on against Crystal Palace. Nine of those games came in the first half of the season, with Phil starting six of them. Whilst the front three all started more of those games – Sadio 9, Bobby 10 and Mo 12, Phil's minutes proportionally yielded a higher rate of failure to score at least a couple of goals – the Reds missed out on two goals in 46% of Phil's starts, compared to 32% for Sadio, 31% for Bobby and 35% for Mo.
So to look at those games in more detail then, Liverpool's so-called Fab Four started 37 times between them in the 14 games, or 2.64 per game, meaning that more often than not, Liverpool would have had at least two of them on the pitch, even with Phil missing most of the season.
So was creativity an issue? The numbers again suggest, not really. Of the 14 games, the Reds created less than one expected goal on five occasions – against Chelsea, United, Spurs, Everton and City, all away. Moreover, on each of the other nine occasions, they created at least 1.5 xG, creating over two expected goals on five occasions.
So what does this tell us? Honestly, it tells us that we've got shit luck and standard deviation is a bitch. We're scoring as many as we should be, we're creating enough consistently to score the goals and frankly, you can't always put the ball in the back of the net when you want to. Beating Swansea 5-0 with 3.06 xG and then losing to them 1-0 with 2.20 expected goals is just part of football. The only ways to mitigate against that kind of bad luck are to bring in more elite finishers, create a simply insane amount of chances, get a better defence to compensate, or get luckier.
Man City, Real Madrid and Barcelona all created over 90 expected goals, with PSG only just below 90. Compared to Liverpool's 77.5 (which is still the fifth best in Europe to be fair) then, it remains clear that there is still work to do for Liverpool to become the best attacking side in Europe, even if their front three is as good as anyone else's.
So how much do the Reds need an attacking midfielder in order to improve their attack? Well, it's clear that if we want to be the best-attacking side in Europe and be a title-winning side, then we need someone who can add goals from midfield – with Alex Oxlade-Chamberlain's five goals last season the fourth highest of the current squad now that Can and Coutinho have left. Moreover, we need more creativity from midfield, with Ox again the standout midfielder in terms of creativity. Not a good sign when he's out for the foreseeable future.
Luckily, Fekir managed 18 goals and eight assists for Lyon last season, with his goals and dribbling surpassing Coutinho's numbers. Whilst Fekir isn't necessarily as creative as Coutinho, or even possibly Ox, adding his numbers to midfield would make a huge difference.
Backup Wide Forward
As we hit the 2500 word limit I am conscious of time. So briefly on the importance of a backup wide forward. Mo Salah and Bobby Firmino both clocked comfortably over 4000 minutes last season – the equivalent of over 45 games of football. Sadio Mané also clocked over 3500, meaning that of the 15,400 minutes available in the front three spots, these lads played over 11,500 minutes of it. So we're looking at 75% of the available minutes.
So that's an issue that needs to be addressed. Danny Ings, Dominic Solanke and Danny Sturridge played 1500 minutes between them, scoring five goals in that time. Coutinho and Ox clocked 1500 and 2000 minutes respectively in the midfield and across the front three, but it's expected that an attacking midfielder will come in to compensate for those minutes, as well as Keita.
So we will have roughly between 4500 and 5000 minutes per position to allocate next season. Expecting Sadio, Bobby and Mo to clock roughly 3000-3500 is reasonable, which leaves roughly 1500 minutes per position, or 4500 minutes to be made up. An AM will maybe take one of those three slots of 1500, leaving him another 2000 minutes in the midfield. Again, this is rough estimation but the point is that we're going to need another person's worth of minutes.
We need someone to come into the team and contribute. And we need someone who isn't going to be a drop off to the level of Ings, Solanke or Sturridge. I mentioned earlier that Liverpool scored less than twice in 46% of Phil's games, and around 33% of the front three's. Well, that number is eight out of thirteen when at least one of Solanke, Ings and Sturridge starts (two of three for Ings, two of five for Dom and four of five for Studge) or 62%. Again, smaller sample sizes, but a clear demonstration we need some support.
The question here is one of money vs talent. Someone like Xherdan Shaqiri has been suggested, but at over 380 minutes per goal and over 200 mins per goal or assist this season – the best in his career so far – it's unclear whether he has what it takes. But spending just £15m or so on him would free up spending in other areas. Conversely, someone like Christian Pulisic would cost maybe five times that but is young enough that his lack of output is offset by his enormous potential.
In the middle, there's someone like Thauvin, who is fresh off the back of a 135 minutes per goal and 90 mins per goal or assist season but would probably cost £60m or so and has just hit his peak. But again, spending potentially over £100m on Fekir and one other attacker could leave the defence understaffed.
The Verdict
Where is the balance struck? Where should Liverpool's priorities lie? One final set of numbers for you. As mentioned above, Liverpool failed to score at least twice in 14 games, dropping points in 13 of them. The Reds also conceded at least twice in nine games this season, dropping points in seven of those. They failed to score twice and conceded twice in three games – away at Man City, United and Spurs.
So of the seventeen games where the Reds dropped points, arguably ten of those could be placed primarily on the attack, arguably four on the defence, and then three on both. That's a rough estimation, assuming any game where we conceded two goals, scored twice and dropped points is a result is bad defending, and any game where we failed to score two but conceded less than two and dropped points is the fault of the attack. This is again a rough outline, but it works.
As mentioned, the Reds are between 10 and 15 expected goals short of the top sides in Europe. And expecting to concede about 30-35 goals doesn't really offset this problem either. In short, the Reds do still need to prioritise both attack and defence.
My conclusion would be that if the Reds can't buy Fekir, they do need to spend big on either an attacking midfielder or a backup winger for the front three to allow a formation shift of sorts at times. Moreover, we need to spend big on the defence, biting the bullet and either buying a partner for Van Dijk of his quality to reduce the pressure on Karius by a significant margin, or by reducing the need for that by simply buying a keeper good enough to soak up our current, reasonable defensive levels.
We need one big name in attack and one big name in defence. But we definitely need to buy both a central defender and a winger in my opinion, even if both are rotation options. The fitness issues in defence, coupled with the reliance on the front three breaking their backs in terms of minutes up front, means that we do need an extra body in both areas. If we buy an attacking midfielder (like Fekir) capable of significantly improving our output, then we can afford to sacrifice output to save money in attack. And likewise, if we buy a world class goalie, then we can afford to scrimp in central defence. Or we can buy a big name defender, which eliminates the need to spend any money on a goalie.
To summarise: spend big on defence and spend big on the attack. The time is now Jürgen.