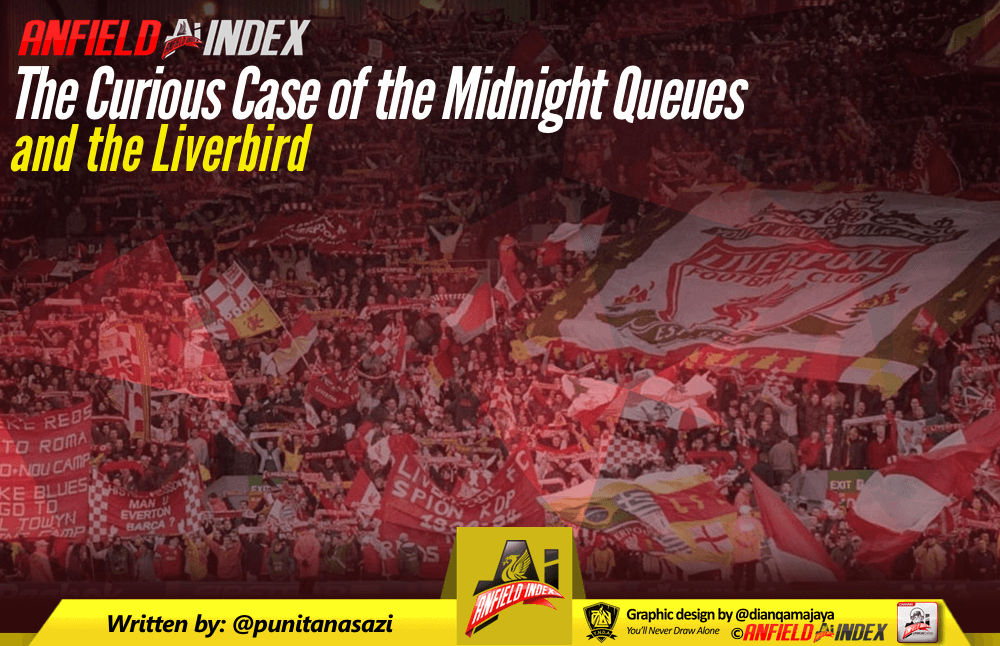 The Curious Case of the Midnight Queues and the Liverbird
It's 10:30 pm on a Saturday night. The usually busy venue of The Stables in the Andheri area of Mumbai seems to have an unusually large crowd outside. Look closer and most of the people outside seem to be wearing red. In fact, most of the people outside seem to be young men wearing red, carrying scarfs and what seems like banners
These young men and some women have gathered here tonight to support their team. No, not Mumbai City FC, or even another Indian football team. They are standing in line, 2 hours before kick-off, in order to get in and watch the team burned into their souls, Liverpool Football Club
As if on cue, some of the supporters spontaneously break out into the glorious anthem, the soundtrack to LFC's run to the Champions League final, Allez Allez Allez. More join in, and soon the song is the only thing you can hear and every other sound is drowned out. Remember, still 2 hours to go for kick-off
People keep streaming in, quite a few without passes for the screening, which were sold out a week in advance. 1000+ passes and still so many didn't get their hands on even one. My phone has been constantly going off for the past few days with messages and calls from people trying to get their hands on these passes. I have even been offered a premium on the face value if I can arrange some for a few acquaintances. Absurd! Why would people be willing to pay extra to watch the match on a TV screen (albeit a giant one)??
These crazy people aren't here for the match, well they are in a way. They aren't here for the big screen, most will end up watching on the small TVs at the bar counters or in other nooks and crannies around the venue. They aren't even here for the beer and food! What they are here for is to sing, to chant, to jump up in joy and groan in setbacks, together, collectively, alongside people with whom they share maybe just one thing in common, their undying love for Liverpool Football Club
So how did this absurdity happen? It all started in the year 2008 when a bunch of people got together and formed what was then known as Liverpool Mumbai Supporters Club or LMSC for short. Their only agenda, to get together and watch their favourite team play. Soon they were joined by more people wanting the same, and suddenly LMSC needed to organise match screenings to avoid the chaos of a large bunch of people showing up to a venue without any reservations etc
Official recognition from LFC followed in 2013, and then there was no looking back. LMSC was rechristened to LFC Mumbai, they had to scale up, form a team to help organise the screenings and grow the supporters base as much as they can. Not an easy task, as most of the active football viewers in India have never seen LFC win a significant trophy other than the 2005 Champions League.
The easy availability of football viewing in India happened to coincide perfectly with the start of the SAF era, a time when that team from down the M62 happened to dominate English and European football, completely. This was followed by the oil money powered rise of Chelsea and Man City. And yet, despite not having too many major successes to it's credit and nearly going bankrupt under the Hicks & Gillet regime, the supporters' club kept growing. I have always believed in the old cliché, "you don't choose a football club, the football club chooses you" and for thousands of us across the city, this seemed to be the case. Otherwise, why would any sane, rational human being choose to support a football club that has given us more heartache than triumph? Where false dawns are followed immediately by imminent collapses into obscurity. We, really do not have any geographical ties to the club either.
Despite this, LFC Mumbai is now the 2nd largest supporters' club in the country with the highest average attendance for screenings. Our screenings are legendary. Ian Rush, who happened to be in the city for other commitments, ended up seeing a derby match with us. He sat down with Peter Reid to enjoy a drink or two and watch the match but by half-time we had him jumping and chanting with us, for the rest of the evening. One of our proudest moments was when he mentioned our atmosphere to another supporters' club as an example of what an official screening should be like
We are loud and constant. We sing traditional anthems from Fields of Anfield Road to Allez Allez Allez. We chant for players current and past. Dalglish, Salah, Henderson and the great Stevie G, all have their chants sung loudly and proudly. BUT we also have our own local HINDI chants for everyone. We make it funny, and witty and relatable.
So once again, why were all those people lining up outside the venue 2 hours before kick-off? Simple. They all wanted to do what we are famous for doing. To create an atmosphere, something that you would never experience anywhere else, bar Anfield in the Kop, and for most of the people there that night, this is as close as they will ever get to that dream destination.
So they come, at midnight, to watch the famous REDS play, and they sing and chant till their throats give out, cause whatever the result, the atmosphere and support must never waver.