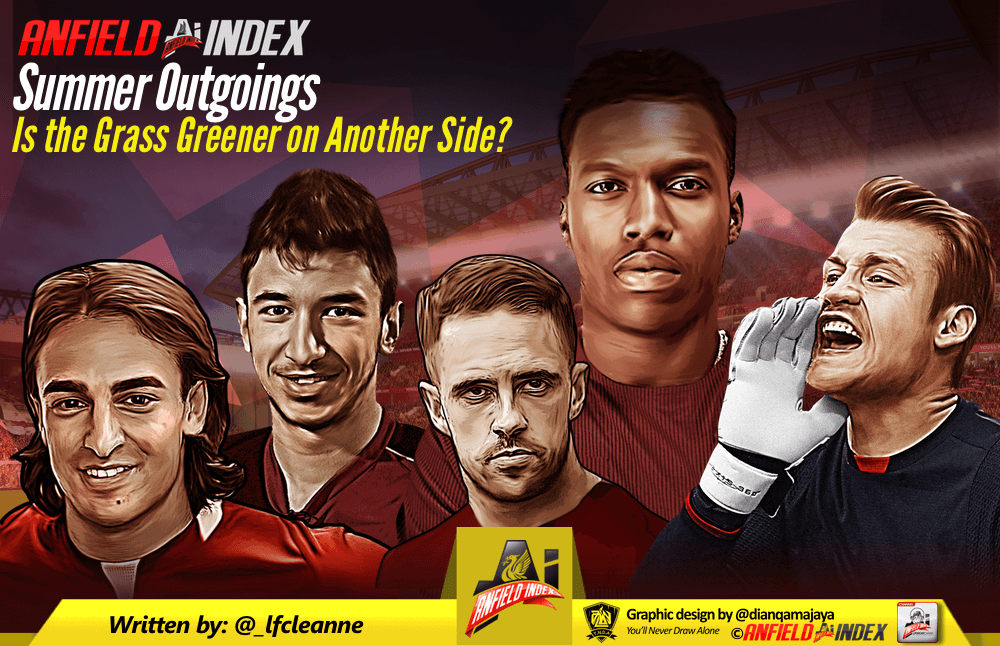 Summer Outgoings: Is the Grass Greener on Another Side?
With the summer transfer window now in full swing, albeit inhibited by the ongoing and increasingly exhilarating World Cup, there could be change afoot for some Liverpool players.
Fabinho and Naby Keita have now officially joined the club, marking a new era as far as Jurgen Klopp's midfield is concerned. Meanwhile, a move for Lyon's Nabil Fekir was stopped dead in it's tracks despite a medical and possible interview taking place. Thus, much of the fanbase are fixated on who else could do the infamous Melwood lean; could Fekir still end up on Merseyside? Will Klopp opt for an alternative? How about a centre-back partner for Van Dijk? Or a world-class goalkeeper?
Yet, there's another angle of the summer that remains relatively unexplored – the outgoings. New arrivals will put some pressure on fringe players, sparking debate about just who could flee the nest before the window shuts. Some names are obvious, others intriguing, but rest assured, Klopp will continue to weed out the dead wood as he embarks on moulding a title challenging side.

The good news? There is far little dead wood than in previous years.
Daniel Sturridge
It's been a long time coming, but Daniel Sturridge will surely leave Liverpool. The 28-year-old has fallen down the pecking order in recent years, with Roberto Firmino operating as Klopp's main attacking threat and subsequently restricting Sturridge to just 431 minutes in the Premier League.
The start of his career at the club was exhilarating, reaching ten goals quicker than any other player in Liverpool's history inside just 13 games. Sturridge continued an accelerated growth, blossoming as a central striker after a show of faith from Brendan Rodgers. 22 league goals in the 2013/14 campaign would be bettered only by teammate Luis Suarez, allowing us to soak up his iconic celebration.
A string of injuries halted his momentum, inhibiting him from fulfilling the energetic style Klopp demands. The West Brom loan move wasn't exactly a success either, leaving Sturridge desperate to get back onto the pitch and gain a fresh start next season.
He may not be the player he once was, but he certainly still knows where the goal is. A sad end to what was a once blistering player.
Simon Mignolet
It remains to be seen what happens with Loris Karius and his current role as the club's No.1, but rest assured it wont be Mignolet filling his boots.
The Belgian is another clear tip for a move away having fallen out of favour with Jurgen Klopp after an alleged disagreement over the manager's decision to chop and change between his two goalkeepers last season. Having failed to feature since New Year's Day, Mignolet has himself admitted he'd be open to a summer switch upon his return from Russia, hoping to grab more game time to ensure his international career won't be affected.
Mignolet achieved a saves per goal ratio of 0.95 in his 14 league appearances last season, thereby averaging less than one save between each goal conceded while Karius recorded an average of 2 saves per goal.
Thus, while Liverpool could potentially be in the market for another goalkeeper, it looks for all the world like they'll be shipping one out too. Probably the right move for the club and player – Lazio have already been linked to Mignolet who will fetch a decent fee while simultaneously putting an end to what can only be described as a rollercoaster of a career at Anfield.
Danny Ings
He may not be up there with the best players to ever put the shirt on, but there was something to love about Danny Ings.
Battling back from the brink following two serious knee injuries in 2015 and 2016/17 respectively, Ings has found opportunities hard to come by such is the form of Roberto Firmino, making just 14 league appearances over the past three campaigns.
Klopp's clearly a huge fan, with the Englishman embodying his high press, high-intensity style and harassing defenders into mistakes. But, Ings has made it perfectly clear he wants to go in search of regular first-team action and he deserves such a chance to start afresh to get his career back on track.
Rest assured there'll be plenty of clubs interested – Burnley for one.
We'll always have that goal against The Ev, Danny.
Marko Grujic
Grujic is an interesting one. He's a player who has clearly got the admiration of his manager but the recent arrivals of Keita and Fabinho have only heightened the competition for places in midfield, posing the question – just where does the Serbian fit in?
At the present moment, provided a move for Fekir doesn't come to the fore after the close of the World Cup, Jordan Henderson, James Milner, Georginio Wijnaldum and Oxlade-Chamberlain will all be vying for one spot in the starting eleven, with the others providing strength in depth.
Grujic is therefore in a rather precarious position. An impressive loan spell in the Championship was evidence of what he is capable of providing, smashing into the tackle while showing good composure on the ball. Likewise, such a physical build would put him in good stead for a role in Klopp's team.
It's hard to see where Marko picks up the required minutes to maintain his development meaning a loan move would be the most viable option but at 22-years-old he's very much in the bracket of now or never. Who's to say what Liverpool's midfield will look like in a year or so's time – Grujic could well face more competition than now.
Lazio and Cardiff are among those interested so he's certainly got a decision to move. Only Klopp will know just how highly he rates him.
Lazar Markovic
Liverpool *must* rid of Markovic – he's the very definition of deadwood.
Few would've predicted just how poorly a move for the wide man would turn out. Highly rated as a £20million asset from the age of 23, Markovic had the pace and power to offer something to Liverpool. Add to that a wealth of experience far superior than his age would suggest and the story becomes all the more bemusing.
In his defence, Markovic hasn't played a competitive game for Liverpool since midway through 2015 and even that was just a six-minute runout against QPR. Back to back loan spells to Sporting Lisbon and Hull City failed to provide better fortunes with minimal appearances met by minimal impact down the flank.
The saving grace for Liverpool is that he's attracting interest from abroad in Lokomotiv and Spartak, thus making any attempts to offload him this summer that bit easier. One of the worst signings the club have ever made, Klopp must cash in on him as soon as possible and get suitable backup to the front three elsewhere.
Adam Bogdan
I couldn't really do an article about offloading players without mentioning the man himself. For some reason, unknown to us all, Adam Bogdan remains a Liverpool player.
A weird transfer to begin with, there's surely no way the ginger 'keeper sticks around much longer. Klopp will want to weed down his side as he looks to replace quantity with quality and create a formidable outfit.
Liverpool have got a lot less to rid of this summer than in prior years, but there are still avenues to explore should Klopp want to raise some extra revenue as he eyes further recruits.
Some of the names I'll be sad to see go, others not so much.