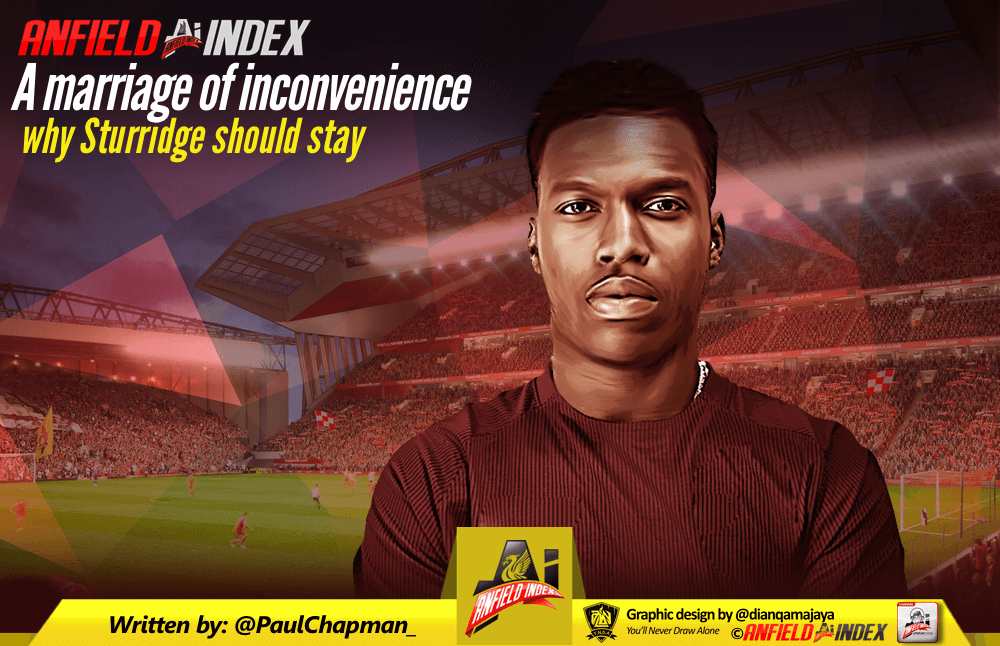 A marriage of inconvenience, why Sturridge should stay
After an exceptionally bizarre opening goal for Real Madrid in the Champions League Final, Liverpool were sent into ecstasy upon Sadio Mane's equalizer.
Madrid turned to their bench and tapped Gareth Bale who then scored a worldie, and followed that with a second that was as puzzling as Madrid's first.
Liverpool looked down their bench and saw … Dominic Solanke? A willing but rust-ridden Adam Lallana had already been summoned early on for the injured Mohammed Salah and that in itself had turned the game on its head and given Madrid far more licence to attack.

So, what's the answer for next season should Liverpool find themselves in a similar position in a must-win match? Should Salah, Mane or Roberto Firminho get hurt or get suspended, what's plan B in those games you can't afford to lose? Rhian Brewster? Ben Woodburn? Divock Origi?
So, ladies and gentlemen, let me introduce you to Daniel Sturridge. OK, stop laughing. No, seriously, I said stop.
Liverpool are in desperate need of top attacking quality late in games. I had honestly written off Sturridge at the start of last season, it was clear he was never going to usurp Firminho as the central striker for Jurgen Klopp.
Sending him out on loan in January for him to salvage any shot at going to Russia with England this summer could not have ended more predictably. Without even playing a full game for West Brom, Sturridge's body failed him spectacularly. Again. And now he lies on the scrap heap with talk of a cut-price 15 million pounds being considered too high.
Seriously?
Alexandre Lacazette cost 58 million, Alvaro Morata 58 million also, Diego Costa 49 million. Sturridge, with dodgy legs, hips, calves, can't even flirt with half that price today. But early in the next season, in a tight game, late with one chance falling at someone's feet, would you not take a fit Sturridge over them? How about over Origi, Brewster or Solanke?
Look, it's clear his long-term future if he has one, is not at Anfield. It's also clear you're not going to get anyone willing to give you close to market value for him.
And yes, the odds are, in those tight games when you need a goal Sturridge may just as well be on Liverpool's training table than on the bench.
As such the option can't be just Sturridge. You still have to scour the market and hope to bring in other options with attacking class to change a game late on. There's also promises of opportunity and first-team development for Brewster and Woodburn that must be considered. But as an insurance policy, when you're never going to collect a fair market value for Sturridge is it not the best option to hang on to him, cross your fingers and hope to rebuild his career and value in Liverpool with impact substitution appearances?
In the last two seasons, he's only made 35 appearances, 20 of them as a sub. Last season he only scored twice, but if you go back three seasons he scored 8 goals in only 14 appearances. While he has stumbled through the last three years, I can't help but think of the goal in the Europa League final against Sevilla and the winner against West Ham in 2017 as examples of his finishing class.
It's been sad to watch his demise, which in all earnestness started in September of 2014 when it appeared as if his body was taxed too much on national team duty with England under the stewardship of Roy Hodgson. (Apologies for that reference, I shuddered just typing it. Paul Konchesky's mum says hi.)
I know the collective Liverpool support has mentally moved on from Sturridge, and he's probably moved on from Liverpool. But what are the options?
For Liverpool, a fee of 8-10 million to get him off the books and then scrounge around for a class finisher who will be happy sitting behind Mane, Salah and Firmino? For Sturridge, the promise of a regular starting spot in Turkey? Is that going to satisfy either party?
He's still only 28 years old, has a year left on his deal that certainly still comes with a hefty wage bill. There's still another chapter, perhaps it's an epilogue, to be written in Sturridge's Liverpool story if it's amenable to both parties. But I don't see what value Liverpool will get, and who's available to replace that kind of class and impact off the bench.
And if they both decide to give it a go one more time, and the inevitable injury crops up when Liverpool need him most, we can always just blame Hodgson again.