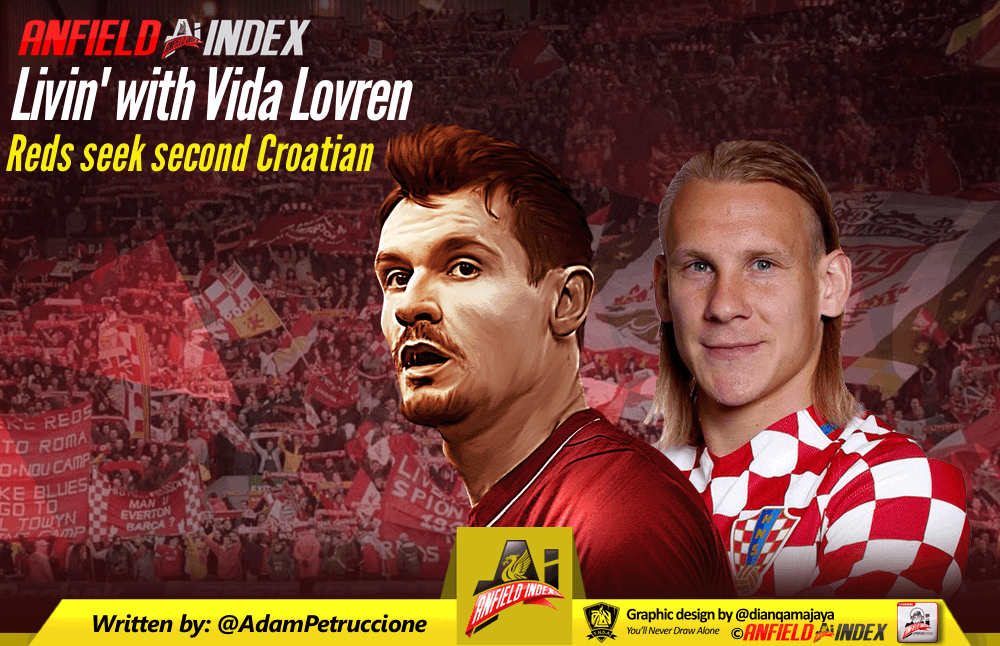 Livin' with Vida Lovren - Reds seek second Croatian

Liverpool has several up and down performers, but their most mercurial has been on a helluva high since the calendars turned to 2018. The World Cup has been no exception, as Croatia have made the elite eight, allowing only two goals in four matches.
Dejan Lovren's stock has risen so high apparently that Liverpool have begun to consider transfer deals for anyone in his radius. According to reports out of Turkey, Lovren's back line buddy, Domagoj Vida has been the subject of a 15m bid from the Reds.
"Everton and Liverpool have made an offer for Vida. £12m has been proposed but Besiktas will not consider a bid below £18m." – Turkish Journalist Turgay Demir via A Spor Radio
WHY IT WILL HAPPEN
The 29-year-old patrols the back for Besiktas when he's not playing for the Croatian national team. He would fulfil the long-vacant ponytail demographic for the Reds which is far more important than any statistical column. Like Klopp's other defensive additions, Vida earns his salary in the air, averaging 3 duels won in the Europa League, 2.6 in the Turkish Super Lig and 2.3 in the World Cup. Aside from his aerial prowess, he fits the profile in that he is a strong passer and has the ability to play across the back.
The sporting director cemetery is laden with headstones that read "bought players based on World Cup performance." With that said, Croatia have dominated, allowing only two goals in four matches thus far. Something is working with the Lovren/Vida partnership against some very strong competition.
Transfer News: LIVERPOOL submit €15m bid for defender Domagoj Vida, Interest also shown by rivals Everton. ( Via – Turgay Demir ) #LFC pic.twitter.com/SigPuFSsAZ

— Liverpool FC transfer News (@LiverpoolFCtra1) July 2, 2018
WHY IT WON'T HAPPEN
Domagoj Vida just moved from Dynamo Kyiv to Besiktas in the January window. Having barely unpacked his bags in Istanbul, would he or the club really be interested in moving him on? He was red-carded 16 minutes into his Champions League debut for the Turkish giants against Bayern, a match which they ended up losing 5-0. Did that scorch his relationship with the Besiktas supporters?
Vida turns 30 in April, so this would clearly be a move for a squad player that would perhaps push Ragnar Klavan out of the team. If the target were a supremely durable defender a move like that might make sense given the injury history of each of the Liverpool centre-backs. However, Vida only made 104 appearances over six seasons, most recently missing six weeks with a muscle injury in November.
The injury data out of Ukraine and Turkey isn't crystal clear, but the appearance numbers are there for everyone to see. If he wasn't picked every time for Kyiv, one would hope it was because of injury, otherwise, why are the Reds considering him in the first place?
Everton are also rumoured to be trying for Vida's signature, but how much are blue tears really worth? Are we even bothered anymore, really?
CONCLUSION
Domagoj Vida is clearly working well with Lovren in a Croatian side that has a clear path to the World Cup finals (sorry England). However, Ragnar Klavan has performed well when called upon in a reserve role for Liverpool. Shuffling that deck would seem to be a waste of recruiting energy. Replacing Matip for a more reliable defender who could play across the back and develop with us would seem a far more efficient use of Liverpool's time, energy and money.