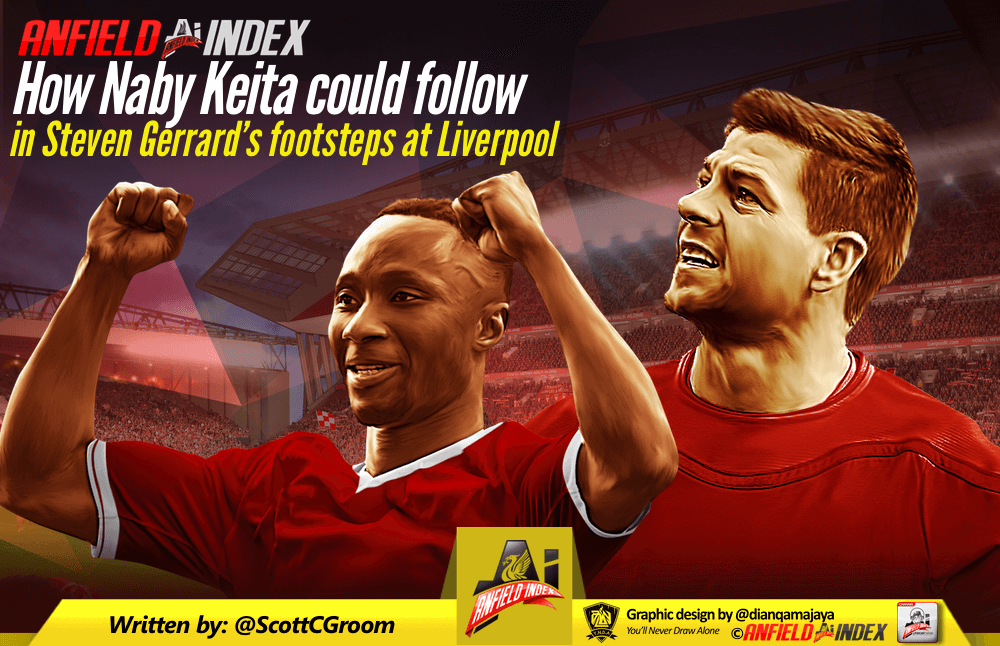 How Naby Keita could follow in Steven Gerrard's footsteps at Liverpool
After 10 months and three days, Liverpool fans finally get the chance to see more and more of Naby Keita as he officially starts life as a Red.
The combative Guinean international is today taking part in his first full day at Liverpool's Melwood training facility along with the rest of the squad who are available to report to pre-season training.
Fabinho, the second of two central midfield additions to the squad this summer, was alongside Keita in reporting for duty, further whetting the appetite of Kopites everywhere ahead of the new season in August.

Keita's arrival on Merseyside has been much-anticipated since he agreed to join Jürgen Klopp's side last August, and now he's here and has been handed the iconic number eight shirt, excitement has hit fever-pitch.
Steven Gerrard himself handed Keita his old shirt number, which has been vacant since the legendary skipper departed for his American adventure with LA Galaxy back in 2017. Inheriting Gerrard's old shirt is a big statement in itself from Keita, and he'll no doubt be hoping to draw on some of its legend to help propel him to dizzying heights during his time with Liverpool – but it's not just in his shirt numbers that the similarities to Gerrard end.
Those similarities are perhaps easiest drawn between Naby and a young Steven Gerrard, as that's where the parallels between their games are evident.
It was evident with both players at an early age that they had potential to go on to become some of the most feared midfielders in world football. Raw, untamed and at times uncontrollable passion, dynamic, energetic and fearless in their play, there are a number of areas in which both have in abundance.
Gerrard's early Liverpool days saw him forge a reputation as a box-to-box midfielder who was as capable of scoring a beautiful goal as he was of scoring one himself – and someone who wasn't afraid to put his body on the line for his team while carrying out his defensive duties. The same can be said for Naby Keita.
One look even at his highlights reel on YouTube for the most basic of insights into his game and you will see him leaving multiple defenders for dead with his blistering runs from deep, followed by incisive through balls to assist teammates, or the continuation of his run resulting in him getting his name on the score sheet with finishes from both in and outside of the box.
Keita isn't opposed to getting stuck in, either; sometimes perhaps a little too enthusiastically. The 23-year-old clocked up seven yellows and two red cards in the Bundesliga last season, which while it isn't the worst disciplinary record ever isn't exactly the best either.
His combative style saw him give away on average of 1.9 fouls per game – which is streets ahead of the records of Henderson, Milner, Wijnaldum, Oxlade-Chamberlain and fellow new-boy Fabinho.
But who remembers a young Steven Gerrard, who would regularly push the referee's boundaries by steaming into full-blooded tackles and occasionally letting his enthusiasm and determination boil over. Remember that red card against Everton in 1999, and that infamous dismissal again United during his final season at Liverpool?
Both Keita and a youthful Gerrard have this fire, burning fiercely and often dangerously inside, the flames of which often lick and burn things that perhaps they shouldn't, but would you really want to see this desire extinguished from within? Would they be the same players that they are without it?
Arguably not, as this incessant desire and work rate defensively would not have meant that Keita wouldn't have outperformed all, aside from Fabinho, of those previously listed Liverpool midfielders in both interceptions and tackles per game.
Combine this with a central midfield who regularly breaks the lines of opponents' defences with his fast and direct runs which helped him to register five assists and 1.4 key passes per game in Germany's elite division last season. This influential midfielder is perhaps something Liverpool have truly been missing since Gerrard left, and in Keita, Klopp clearly sees huge potential to fill that number eight shirt with aplomb.
There's something in Naby Keita, as there was in a teenage Steven Gerrard, that Liverpool fans are right to be excited about. Something there in the furnace that is already impressive, but it is waiting. It's waiting for the hand of a master craftsman, a teacher, to mould it into something more, something magnificent.
Gerrard has Houllier and Benitez. Keita has Klopp. You're right to be very excited.