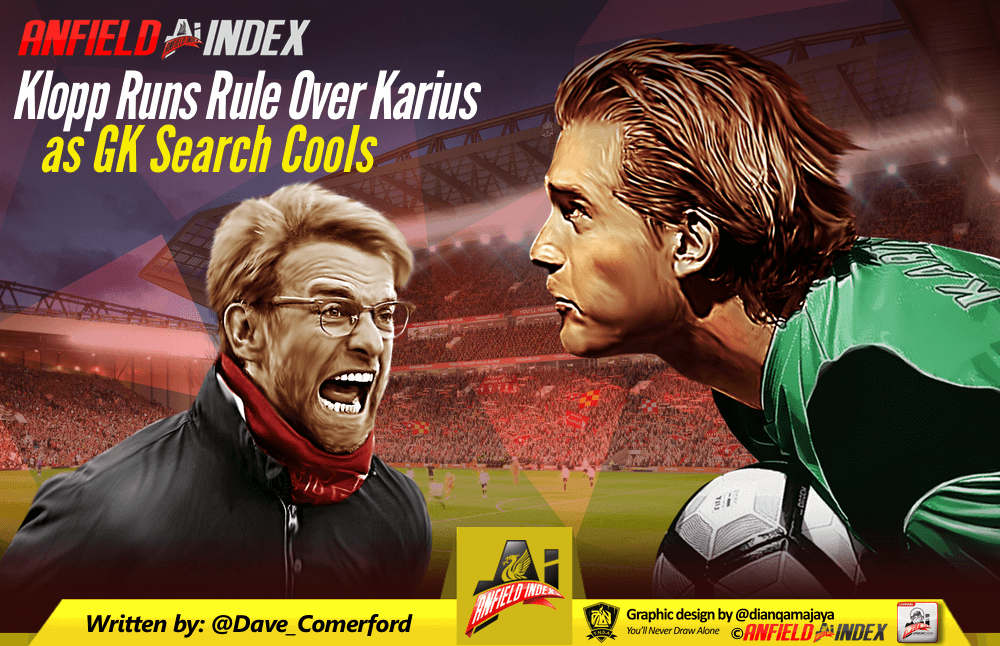 Klopp Runs Rule Over Karius as GK Search Cools
The World Cup in Russia is far from over but Liverpool's pre-season is officially underway. Jurgen Klopp is without his full complement at Melwood, but this week the process of guiding his new additions and delegating a squad role to each player will begin.
It will, of course, be key to integrate incomers Naby Keita and Fabinho, but Klopp's most important task this pre-season concerns his incumbent no. 1: he must make a rational and well-informed decision on the much-maligned Loris Karius.
We saw in the Champions League Final just how costly goalkeeping errors can be. The best goalkeepers win you a good number of points over the course of the season, but many of the others can be a ticking time bomb. It is absolutely essential to have stability between the sticks.

After the final, Klopp decided that he wanted a new, top-drawer goalkeeper, according to several reputable sources. The German soon discovered Karius was concussed, but that alone was not cause to press on unencumbered with doubt.
Karius' confidence surely hit rock-bottom in Kiev. You could see it in the heart-wrenching full-time scenes as offered supporters a tearful apology. If anything, it was more brutal to have it shattered again having carefully rebuilt it following his troublesome start to life at Anfield.
Moreover, we need someone we can depend on. Karius' performances were sufficiently solid (no more than that) in the lead-up to the final, but only for that period – a quarter of his overall time at Liverpool – was he at the required level. Klopp appeared to recognise the need to take no more chances, to guarantee that the persistent problem would not crop up again by picking up a hardened talent.
In typical Klopp fashion, it was a small shortlist, Alisson Becker and Jan Oblak. Two obstacles hold up the former – his preference to join Real Madrid and Liverpool's reluctance to pay what has been dubbed a 'Salah tax'. The latter was the dream option, but oddly the club aren't prepared to pay the price he was going always to cost. Any swoop for Oblak, then, looks out of the question even before you consider whether the player would want the move.
Pretty quickly, then, the search has been postponed, and maybe even called off. We are at an impasse. The club sources are using 'in the know' journalists as their mouthpiece, rubbishing any rumours which gather pace – moves for Nick Pope, Thomas Strakosha, Jasper Cillessen and, after a couple of eye-catching World Cup displays, Kasper Schmeichel has been swiftly ruled out. For now, there is a resounding sense that it's Alisson, Oblak or bust. We shouldn't, based on what we've seen in recent seasons, be surprised by that approach.
Even where any sort of speculation about a goalkeeper does appear, we have our favourite journalist "Bad News" James Pearce on hand to shut them down.
Told that #LFC have zero interest in Barcelona keeper Jasper Cillessen – despite the recent speculation.

— James Pearce (@JamesPearceEcho) July 3, 2018
For now, Klopp will be carefully assessing Karius. He probably won't be focusing on his saves in the various drills, but on his attitude, on whether he remains chastened by Kiev or whether he's turned his woes into renewed motivation. They'll almost certainly have an in-depth and difficult discussion.
Klopp is known as an exceptional judge of his players' mentalities, so what does he do if Karius is shaken beyond adequate repair? The 25-year-old felt as if he had cost his team the ultimate prize, and so he will need remarkable resilience to emerge stronger from a potentially career-defining setback.
Does Klopp do the unthinkable, by his standards, and compromise by seeking out a Plan C, promote Danny Ward or just to try to cope with Karius until another target becomes available? We know he's sympathetic to his players – he's so said himself and demonstrated it on numerous occasions. He is unlikely to be ruthless, even though it may be necessary.
It could be a real dilemma for the manager.
The bottom line is Liverpool should buy a new number one. Many of those who, somewhat admirably, back Karius passionately disagree. Pointing to the events of January-May as undeniable progress and putting Kiev down to concussion is certainly reasonable. He could put together a solid season if he remains top of the pecking order. Many, myself included, would not mind being made to look very foolish.
But there is agreement among a number of respected journalists that Liverpool definitely need a new shot-stopper if they have serious title aspirations. It isn't the final piece of the puzzle, but the top silverware will elude us if the long-term weakness is not addressed with conviction.
The three beatings we dealt runaway champions Manchester City last term should give us the confidence to lead a collective charge next season. This window is an opportunity which must be seized, particularly given the relative lack of significant financial concerns.
The concerns over Karius' mentality and his goalkeeping technique are significant, and it could be disastrous if that anxiety runs through the eleven and constrains the self-expression which makes the team tick.
Unless, as seems close to impossible, Karius seems to have put the events of Kiev behind him, Klopp should be prepared to be ruthless this time. He will soon learn, if he hasn't already, that compromise is necessary to win the Premier League.
That said, and this is important if Klopp backs Karius, we back Karius. There were clear signs of promise last season, a fact no-one could really refute.
It's a potentially fruitful gamble, but one that isn't really necessary. Karius could do a decent job for much of the season but if he makes another high-profile error, the incredulous rage will resurface, and this time it will fall upon both player and manager in equal measure.