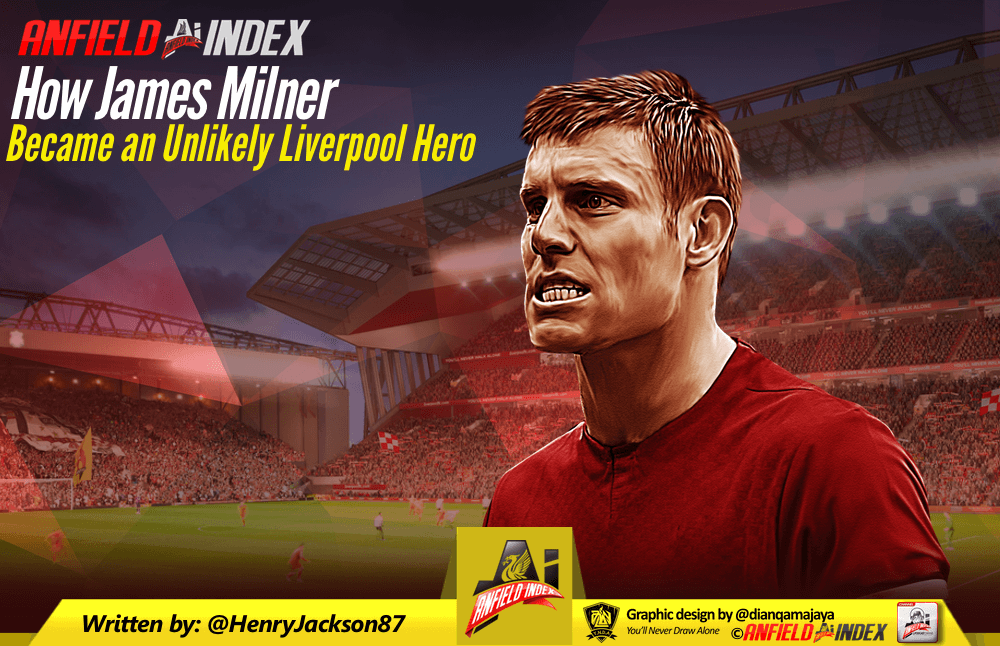 How James Milner Became an Unlikely Liverpool Hero
Monday saw Liverpool's non-World Cup players return to Melwood, with much of the pre-season focus on Naby Keita and Fabinho's first day with their new teammates.
Various photos and videos were released to give an idea of what the day entailed – Keita meeting Jurgen Klopp on the stairs and receiving a giant hug was a great moment – but one clip stood out more than anything.
James Milner, pouring with sweat and pacing around, surrounded by colleagues sat on the floor, was the only individual still going strong in the Lactate Threshold Test – a test of endurance with speed and intensity of running gradually increased.

His final double lap of the pitch – 800 metres in total – was run at 24 kilometres per hour, as he outlasted runner-up Adam Lallana and received a round of applause from those around him.
It is a remarkable show of fitness and dedication for any footballer – Milner won it last summer, too – but when you take into account his age, it is even more astounding.
The midfielder turns 33 at the very beginning of next year and has been playing at the top level since he was 16 years old. He has made over 40 appearances in 10 of his seasons as a professional, and 718 career appearances in total.
Milner is the same age as Wayne Rooney, with a similar amount of football under his belt, but look at the difference at their respective career trajectories.
It is now three years since Milner made the switch to Liverpool from Man City, and his reputation is only going from strength to strength.
He is your classic ' you only appreciate him when he plays for your club' type player, which is precisely why many weren't overjoyed to see him sign for the Reds on a free transfer in July 2015.
He had always been a popular figure wherever he had gone, though, from boyhood club Leeds United right the way through to a double Premier League title-winning spell at City.
Milner definitely wasn't an immediate success with the Reds and Brendan Rodgers struggled to get the best out of him in a central midfield role, prior to Klopp replacing him.
Similarly, the veteran rarely felt like a key figure throughout the rest of the 2015/16 campaign, despite sprinklings of influence in the march to the Europa League final.
The last couple of seasons have seen Milner truly prove his worth both on and off the pitch, becoming increasingly popular and valued at the same time.
The 2016/17 season controversially saw Klopp turn the former England international into an auxiliary left-back – a position Milner admitted he disliked, in a show of refreshing honesty.
He thrived in this new role for a fair chunk of the campaign, particularly before Christmas, before his legs grew heavy and it became clear Liverpool needed someone more natural in the position.
Last summer, the general consensus was that Milner would only have a minor role to play in 2017/18, with age catching up with him and the likes of Jordan Henderson, Emre Can, Gini Wijnaldum, Alex Oxlade-Chamberlain and Adam Lallana all stronger options in the middle of the park.
This has been the year that Milner truly became at Anfield hero, however, as his astonishing levels of fitness, consistency and intelligence helped Liverpool reach the Champions League final.
Some of his performances in Europe were exceptional – he was also good in the league, but less headline-grabbing – and his tally of nine assists ended up being the most by a player in the competition's 26-year history.
In a Liverpool squad littered with inexperience, Milner's nous shone through so much on big nights against Porto, City and Roma, and it was just an almighty shame he couldn't quite help get the Reds over the line in Kiev.
It was a season that felt similar to Gary McAllister's in 2000/01 in many ways, albeit without the three trophies to show for it come May.
He was a perfect role model and when the going got tough he raised his game and showed exactly why his career has enjoyed such longevity.
Away from the footballing side of things, it has also become clear that Milner is a completely misunderstood figure.
He has forever been labelled as a boring person, so much so that a parody Twitter account was dedicated to his apparent lack of personality, but this could not be further from the truth.
Milner's official Twitter page is the funniest Liverpool player account by far, with his dry sense of humour coming to the fore and showing a side to his character many never even knew existed.
Behind-the-scenes footage also shows that he is a prominent, witty member of the dressing room and it is evident that his teammates think the world of him.
I will happily admit that Miler has completely won me over, years after I used to bemoan England starting him in major tournaments and claiming he was "one of the most overrated players in the Premier League".
Only when he represents your side can you fully appreciate his worth, and he has been a superb signing the more time he has spent on Merseyside.
Milner's Lactate Threshold Test masterclass shows that he is raring to go ahead of what is hopefully another memorable season at Anfield.
There will be plenty once again claiming he won't feature much, especially with Keita and Fabinho joining the party, but watch him thrive and continue to be an invaluable member of the squad.
Liverpool have an absolute gem in Milner.