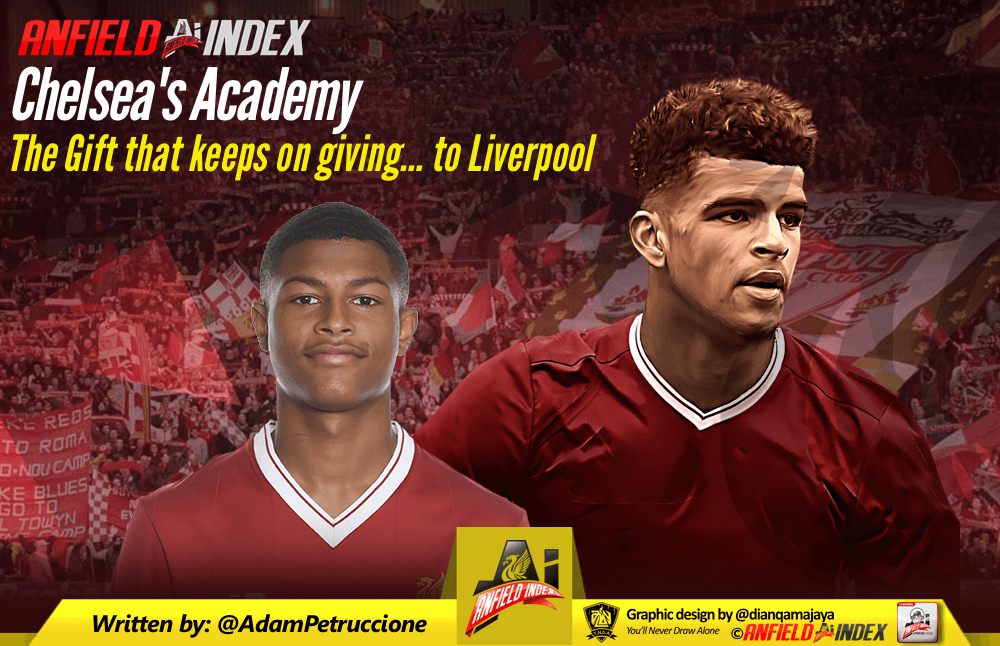 Chelsea's Academy: The Gift that keeps on giving… to Liverpool
Is it the red-headed stepchild, the rented mule, the red-headed mule…? Whatever analogy you choose, Liverpool keep going back window after window to raid Chelsea's academy for standout stars anxious for first-team opportunities.
The London club has been fantastic at recruiting and developing talent to a certain level and has, for all intents and purposes, a farm club in Vitesse that they can use to get players first-team appearances as a stepping stone to Stamford Bridge. On paper, the way Chelsea are set up should be a model for all of Europe's top clubs. In practice, however, they haven't been able to bring their top youth talent all the way through to the first-team. That hasn't been lost on their kid stars, and the Reds have been taking full advantage. Already having embarrassed the Blues by discovering gold in the discarded duo of Daniel Sturridge and Mo Salah, Liverpool has at the same time been pulling gems out of their youth ranks.
BREWSTER
In 2015, the Reds signed Rhian Brewster away from Chelsea. Even as a teenager, Brewster's father felt that Liverpool would offer chances that Chelsea would not. The young forward excelled from there to the point where Liverpool had to fight off an effort by Borussia Monchengladbach to sign him last week. Jurgen Klopp has offered assurances of first team minutes in 2018/19 as Brewster looks to work himself into one of the most talented front-lines in the world.

Klopp knows he has a gem on his hands in Brewster. Chelsea's loss is Liverpool's gain #LFC https://t.co/2l0nLr8NWs

— James Pearce (@JamesPearceEcho) October 25, 2017
SOLANKE
Last summer Liverpool snagged Dom Solanke ahead of his dominant performance in the U21 World Cup, taking home the Golden Ball as the tournaments outstanding player. Solanke's metrics were massive in every area except for his goal tally, leading many to assume that he needs a loan to refine his game. However, if Dom discovers his goalscoring boots again in the preseason he could be Firmino's primary back-up again in the fall even if other wide attackers are brought in.
DONE DEAL! Dominic Solanke completes Liverpool move after Chelsea deal ends: https://t.co/2O0avLUmMt pic.twitter.com/oC8c2zmuiV

— Sky Sports Premier League (@SkySportsPL) July 10, 2017
CHRISTIE-DAVIS
Fast forward to this week, and the Reds were caught sneaking another talent out of The Bridge's back door (can bridges have doors?) in the form of Isaac Christie-Davis. This time the target of Liverpool's thievery was a midfielder, mature for an academy product at 20 years of age, experienced at U23 level but never having made an appearance in the first team. Christie-Davis was on a one-year deal that he allowed to run down, facilitating his move to Merseyside.
Christie-Davies represented the Three Lions at the U16 and U17 levels, but having stagnated at Chelsea his national team appearances dried up as well. As a result, the youngster became Welsh as you do, and got the call for Wales' U21 squad for a June 3rd friendly against Georgia. He's a box-to-box midfielder who could fill the void left by Ovie Ejaria with his loan move to Rangers.
New Reds signing Isaac Christie-Davies on leaving Chelsea for Liverpool and why he has signed up to @CommonGoalOrg #LFC https://t.co/1JUinGc6aM

— James Pearce (@JamesPearceEcho) July 2, 2018
It isn't just the Chelsea Academy that Liverpool have been poaching. The Reds, coming off of a domestic Academy ban for some shady business involving the recruitment of a 13-year-old, have not held back at all, seeking out young talent in every hill and dale in England.
DUNCAN
If you've just read the headlines or know the general outline of the story regarding Bobby Duncan you probably aren't giving it much thought. Duncan is the cousin of Liverpool immortal, Steven Gerrard, giving the story the smell of nepotism at first sniff. Just a family favour for a club legend. However, Bobby Duncan is actually one of England's brightest stars, a 17-year-old forward who took great effort to pry from the clutches of Manchester City. He fought his way out of City's camp way back in August, but with the Manchester club holding his registration, Duncan couldn't play anywhere officially for all of that time. For a teenager, that is a serious move to sacrifice that much football to force himself to Melwood.
Manchester City put up that much of a fuss because there is real talent there. At U16 level, Duncan poured in 66 goals for City during the 15/16 season and scored a hat-trick for England's U16 side against Brazil, the first time an English player at any level has performed that feat.
Why was Stevie G's cousin ever wearing a kit other than Liverpool's? That's a mystery even Scooby Doo would have a tough time with, but he's ours now after agreeing to a £200,000 fee with City.
Who is new #LFC striker Bobby Duncan?
Everything you need to know about the first Englishman ever to score a hat-trick against Brazil. https://t.co/QF1LChYxPa

— James Pearce (@JamesPearceEcho) June 28, 2018
As long as our top-six rivals keep sending talent our way, Liverpool look well stocked for the future as they mount a major challenge in the present. All of these recent additions will end up either cracking the Reds' first team or turning a tidy profit for the club, down the road. With preseason upon us, we may get to see how well they measure up in the coming days.