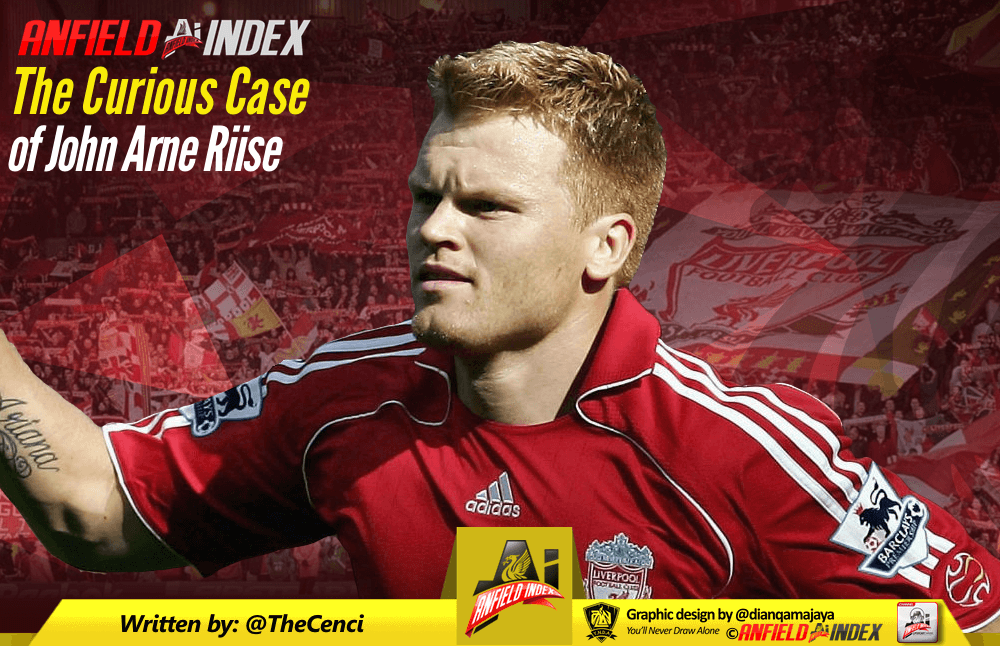 The Curious Case of John Arne Riise
Last week, Leanne Prescott, AnfieldIndex's impish commentator, and I had an email exchange about the changing role of the fullback. Her argument – and it's one I have no great issue with – is that the modern-day full-back spends as much time in the opponents half as his own.
Gone are the days when the average wide defender could sit back and keep an eye on opposing wingers. Steve Finnan, Alvaro Arbeloa and, latterly, Nathaniel Clyne would need to do more up the pitch to keep in vogue with the modern day incarnation. Andy Robertson, a tremendous tackler and possessed with sound positional sense, is much more in that mould and is an unmitigated success at Anfield. The Scot helps out in all three parts of the pitch.
That mixture is not only sought after in L4. It's no coincidence that Jose Mourinho likes to play Ashley Young and Antonio Valencia – both former midfielders – for their attacking strengths. Equally, Chelsea have done well with Marcos Alonso and Victor Moses going forward and adding to an already potent forward line, though they have the advantage of N'Golo Kante's energy to plug the gaps when necessary. Meanwhile, Tottenham's Kieran Trippier is arguably the best passer of the ball in the current England set-up. These days, fullbacks need to be more than 'just' defenders.

This can also be said of Trent Alexander-Arnold. He may have started his first team career as a right back at Liverpool, but it's unlikely he'll end it there. Jurgen Klopp employs him because of his forward forays and has even tried him in midfield on more than one occasion. He has too much energy for a staid approach to the game. Likewise Andy Robertson. Ask Ederson if Robbo is a conservative defender.
So Leanne and I agreed. We often do. All was well.
It was only when she uttered three of the foulest names imaginable to my ears by way of example that we set up the barricades and lobbed grenades at each other.
Leanne's view is that John Arne Riise was the first of the modern day fullback. He would fit in perfectly now.
I must admit I winced.
There are two schools of thought on Riise. Many can quite point rightly to his astonishing successes as Leanne did in her excellent article. That free-kick against Fabian Barthez, the cross in Istanbul, the fastest goal in League Cup final history and a goal in Barcelona which saw off Xavi, Iniesta, Messi and Ronaldinho. That result in 2007 meant that Liverpool are the only British side to win at the Nou Camp twice. The first being in the 1976 UEFA Cup semi-final thanks to a John Toshack goal.
Riise won the FA Cup and Champions League in his time here. Not bad at all. No complaints. But is that enough to bestow him with the word 'legend' as many have done?
Well, the man himself, never overburdened with humility, has strong views on the matter. Here's what he told a fan on Twitter:
"I know I was overrated. Didn't have nothing. I was crap really. Not bad for a overrated player to get 348 games for LFC? Win CL and FA Cup? I don't mind being crap and overrated having those medals at home, Good night my little troll."
He enjoys a Twitter spat.
Legend?
For the first couple of years, he was great. He really was.
His goal at Goodison is one of my favourite ever and it was a joy to see him slide across the turf in celebration with his shirt over his face and arms outstretched. I loved him in 2001-2. In fact, it was around that time that I was giving serious consideration to starting a fanzine entitled Riise's Nipples in his honour. Seeing the Norwegian nips always brought a smile.
His milky white skin, his shock of red hair and angry eyes. Lovely.
But as his reputation increased so did the iffy performances.
For me, Riise was always the classic Match of the Day highlights player. You'd see him in glimpses firing long shots from all quarters or going on mazy runs and think him to be brilliant. When viewed in small snippets he looked like a ginger, Roberto Carlos. But when viewed in the flesh, week in week out …
So many risks. The own goal which cost us the game at Southampton, the Chelsea semi when he tried to head the ball some six feet beneath him rather than use his right foot to clear it and his habit of trying to emulate the Man Utd free-kick turned grins into frowns into scowls. Those free kicks truly bugged me. Each attempt became more and more desperate until it came to the point where it was hardly worth standing up whenever a direct free-kick was awarded. Time and again Kopites would look to the air as the ball sailed harmlessly over the bar.
And he loved a long shot. Give him the ball 30 yards out without a defender closing him and he'd refuse to play an unmarked striker in. He'd pull back the left foot and the people behind the goal ducked again. It drove me (and others) mad.
And yet there were still glimpses of the old magic.
In December 2004 he had a run of games where he absolutely shone, but I think that may be due to his new manager.
In Rafa's first season, the defensively minded Spaniard chose to play Djimi Traore at left back and push Riise up the pitch. Some said that it was to utilise the Norwegian's pace, but I've always felt that it was because he could do less damage to his own centre-backs. By the time we played in Milan he was a fixture on the left side of Liverpool's midfield.
And he was important in that game, crossing for the opening goal at the second attempt. He deserves that medal even though he missed the penalty. He was very unlucky with that.
But he wasn't a left back at that point. I don't think he ever was, really.
The best fullbacks are the ones who love to defend, not play as auxiliary wingers, but this is the age where those types are no longer wanted. Can you imagine Trent telling his boss that he'd rather sit and take out any approaching wide men rather than carrying the ball? He'd be laughed out of training.
And this is why Robbo is such a find. He can genuinely play both roles. The man loves to defend but also loves an unprotected bye-line and Mo Salah pointing at the ground for a cut-back.
Riise was never like that. He could be breath-taking, but he was a player who needed ten bad games to cough up an acceptable one. Oh, he was never lazy or anything so base. He just fell short once he started to believe his own press. And John Arne Riise loves his own press.
Leanne's right. Maybe he was born into the wrong age, but the best full backs have to play with consistency in every part of their game.
And also be fullbacks.