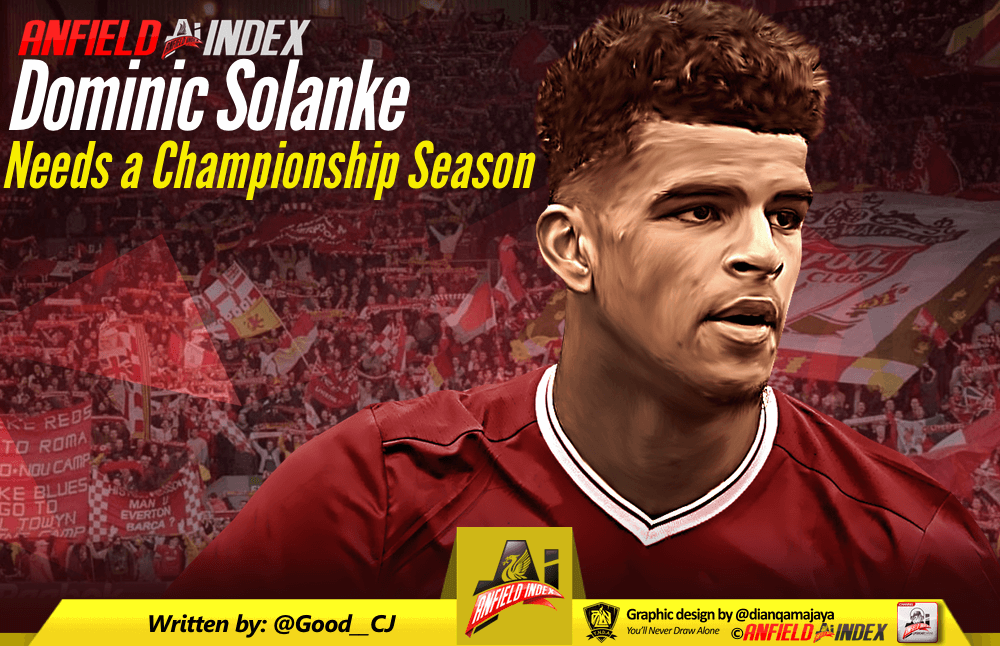 Dominic Solanke Needs a Championship Season
Liverpool FC's first signing of the 2017 summer window left many supporters scratching their heads. Rumours of major incomings were being tossed all over social media, which made sense given the momentum that Jürgen Klopp was able to generate following the 2016-2017 season. The Reds were able to finish top-four in the EPL and were guaranteed Champions League for the 2017-2018 campaign, hopes were high. When the announcement that the Reds first signing was Dominic Solanke, the then 19-year-old academy prospect from Chelsea, the welcoming was lukewarm at best. Partly because LFC supporters had bigger aspirations in terms of player quality, and partly because the fanbase didn't know Solanke as a potential target or player. Now, over a year later, and with 27 senior appearances under his belt for the Reds, the initial scepticism that met Solanke's arrival seems further justified.
The 2017-2018 was an odd one for the young man from Reading. Klopp tried to work Solanke in from the offset, using him as substitute weekly from the start of the season through November. As the season went on, Solanke was still used extensively for the last quarter of many matches, though slightly less consistent than at the start of the season. Solanke tried, over and over, but never took off at any point of the season. He came close, was given some great chances, but ultimately couldn't find a goal until his final EPL appearance against Brighton where he was given a full 90 minutes to net.
Solanke's biggest issue was that he never really changed a match, and his performances as a "9" were never that impressive. This is primarily due to the fact that the type of striker Solanke intends to be never emerged. Solanke is not a particularly pacey striker who can run on to through balls or simply outpace defenders. He has not displayed the composure to be a hold-up striker as his touch is not overly superb, nor is his stature to hold off defenders. In addition, he consistently shows that his true desire is to push the ball forward instead of looking at options to his sides. In youth games, Solanke was at his absolute best working himself deep into the midfield, catching a pass, and then working the ball to the outside while he pushed forward to receive the final ball. However, Solanke hasn't shown the type of power, speed, and physical prowess to be able to do this same manoeuvring at the senior level. To make matters worse, supporters had to wonder why Solanke, and not Divock Origi, was being used as the primary striker substitute. After all, Origi had a better record of goalscoring and playing in bigger matches, so the use of Solanke was even more peculiar.

As the start of the 2018-2019 season approaches, one move makes the most sense for Solanke, a move to a Championship side. There, Solanke, could further define himself as a striker and gain more confidence with his ability to finish as a goal scorer and in defining his positioning. Solanke is still young, but if he hopes to break into an LFC squad that is continually upgrading at key positions, he'll need to grow as a player. At 20, he's probably not ready to play full-time for most EPL clubs, but a stint at a Championship side would be ideal for a young player working to find his legs. This worked for both Zaha and Lukaku, ultimately making them better players and increasing their market value. While market value may not be what most supporters want to think about, it has to become a bigger feature of the LFC transfer strategy. With the biggest clubs in Europe consistently buying young, increasing value, and eventually selling on, Liverpool will likely need to increase this practice to make sure they secure a regular revenue stream from selling on players.
In May, Solanke (predictably) was linked with a move away to Scottish side Rangers. Links for LFC players to join Gerrard up north will persist throughout his tenure in Glasgow, but a move to SPFL simply makes no sense. Football in the SPFL is anything but refined, and it's rare to see players improve in that league. Players may showcase, but they'll rarely develop into better players with such a large discrepancy between clubs. The league is largely defined by four teams, while the remaining clubs fight to avoid regulation, are content with ugly football, and work primarily just to keep the goals to a minimum when playing against the likes of Celtic. It would be unlikely that Solanke would grow in this type of footballing environment, and goals against smaller club wouldn't serve in Solanke's development, just his confidence, falsely so.
Solanke certainly has a set of abilities that could prove useful to top-tier football teams in England, but only time will tell if ultimately those skills will actually be used at Liverpool.  He proved underwhelming in his Firmino backup role this season, but at his age supporters could see a different player for 2019-2020. More minutes, more opportunities, and further development are ideal for Solanke at this stage in his career. If the right Championship loan move is found, LFC could see Solanke as a true contributor in seasons ahead. Without that opportunity to develop, however, he might always be known as a Chelsea academy prospect.