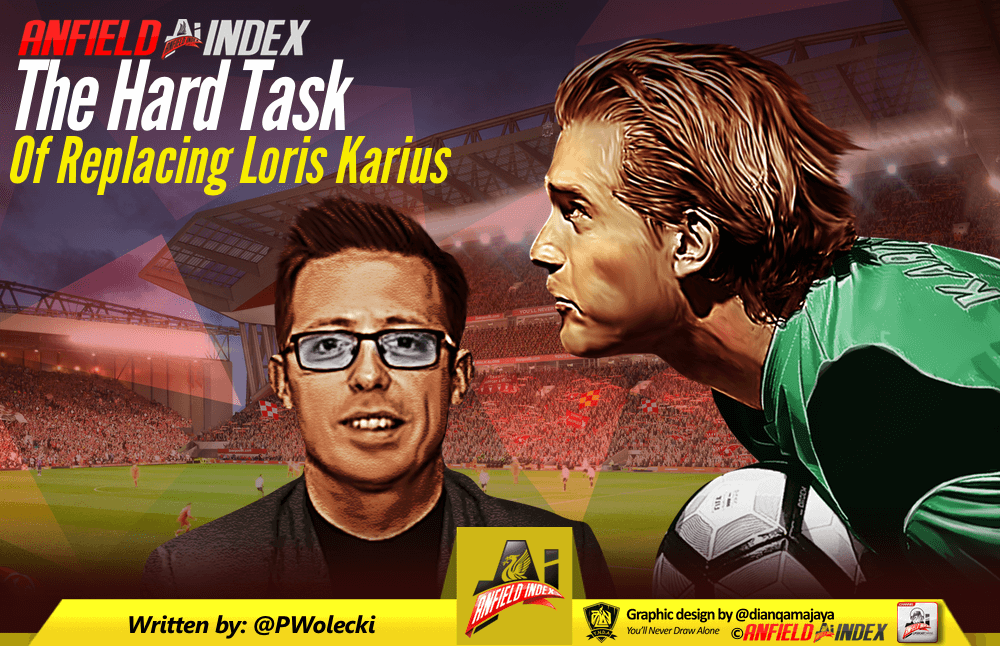 The Hard Task Of Replacing Loris Karius
The Champions League final has just finished. Loris Karius walks to Liverpool supporters in tears and apologises for a catastrophic performance, in the last 45 minutes his mistakes allowed Real Madrid to comfortably beat Jurgen Klopp's side. The dream of conquering Europe is over.
For many Liverpool supporters, these scenes seem to still define German goalkeeper's season. Journalists seem to have a similar view on the matter since virtually every decent goalkeeper in Europe is getting linked with a move to Klopp's side at the moment. There seems to be an agreement in place that, in order to progress, Liverpool needs to improve on who they currently have in their goal.
This kind of approach seems to over-simplify the season Karius had. It reduces that season to a single, poor performance during that ill-fated night in Kiev. Karius is not a perfect goalkeeper. As a matter of fact, calling him great would also be a massive overstatement. Quite obviously, it is possible to get a better goalkeeper than the German and if Liverpool can get one, they should go for it.

What people seem to forget though is the fact that, during last season, Loris only committed two errors, both while suffering concussion. Bigger picture should be examined before drawing any conclusions, especially when it comes to goalkeepers Klopp could turn to in his bid of replacing Karius.
Thibault Courtois' situation at Chelsea caused Belgian to get linked to a number of teams, while Milan buying Pepe Reina seems to suggest it might be possible to land Gianluigi Donnarumma. Kasper Schmeichel's heroics at World Cup caused some people to call for Liverpool to go for him. Finally, there is this dream of landing Roma's Alisson. How do these players look compared with Karius?
Shot-stopping and errors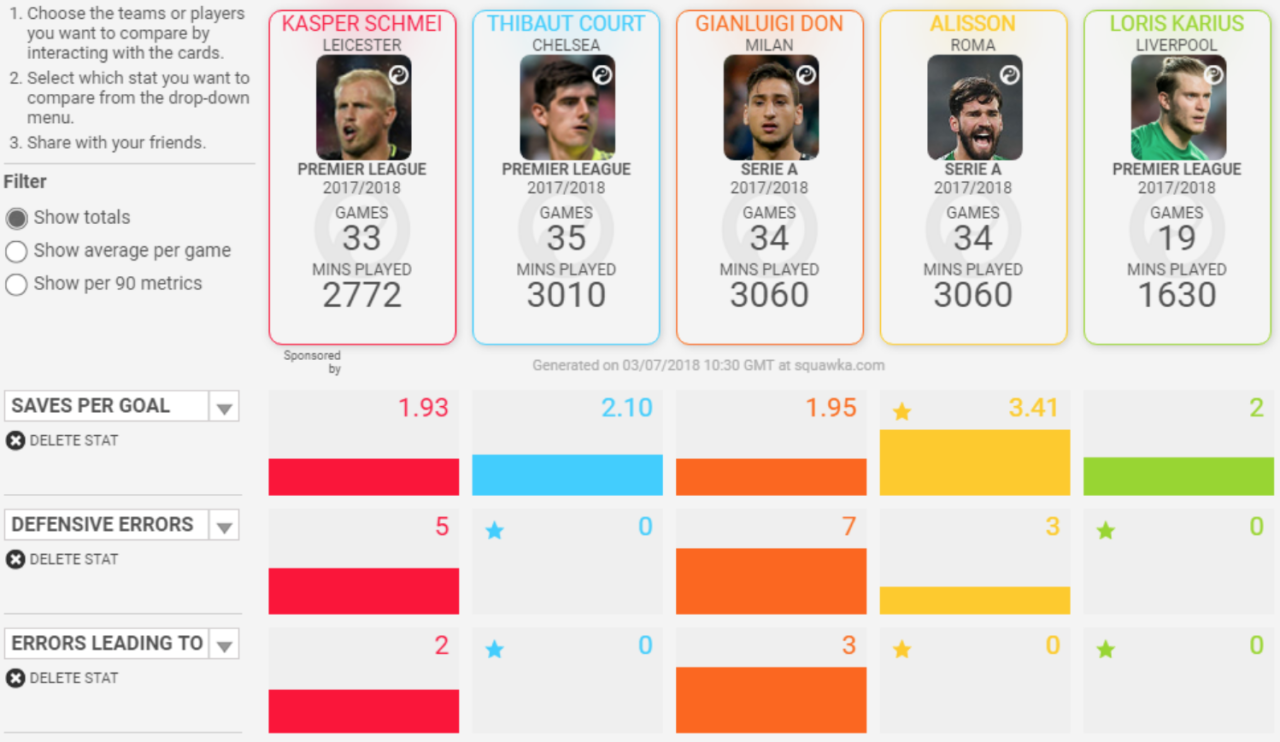 To start with stating the obvious, Alisson is simply a level above all the other goalkeepers in this comparison. He is clearly much harder to beat than the rest of the group as on average it takes around 1.40 saves more before he concedes the goal.
In terms of errors, Brazilian goalkeeper committed one every 1020 minutes of play. This might not be the lowest figure of all the involved goalkeepers, you need to mind two things when assessing this figure though:
Playing as sweeper-keeper makes it much easier to commit mistakes as you often have to play the ball under pressure or make risky runs to claim passes played behind your team's high defensive line.

None of those errors ended up with Roma conceding a goal which could be an indicator of those errors being inaccurate passes played under pressure – something that just has to happen for sweeper-keepers.
When it comes to the rest of compared goalkeepers, saves per goal ratio is relatively similar for all of them, with the worst Schmeichel at 1.93 and the best Courtois at 2.10. Karius comes second with 2 saves made per every goal he concedes, it looks like Liverpool would not see much of a difference had the German goalkeeper been replaced with Courtois, Donnarumma or Schmeichel.
If you look at error stats, two goalkeepers seem to look much better than the rest as neither Courtois nor Karius made any mistakes. When assessing that stat, it is important to bear in mind that Loris played just a little bit more than half the time other goalkeepers spent on the pitch. In other words, he might have had committed a couple had he played for the whole season, not making a single mistake in half of all the games is still pretty good though.
Courtois numbers are especially impressive here as he did not commit any errors while playing over 3000 minutes, something that makes him look even better than Alisson. Obviously, his playing style is a bit of help here as he does not find himself in risky positions as often as the Brazilian.
Donnarumma and Schmeichel seem to be the worst two when it comes to a number of errors they have made, with the young Italian's 7 leading to 3 goals and the Denmark international's 5 ending up with his team conceding 2.
Gianluigi looks really bad when it comes to the number of errors he made last season. You need to bear in mind he is still 19 years old and fairly inexperienced when assessing these numbers though. His playing style is again something that might put him under pressure more frequently as Donnarumma himself admitted he is trying to learn to play in a similar way to Manuel Neuer.
Schmeichel is a completely different case. Being 31, he should have enough experience to be able to avoid making too many mistakes, especially if you consider his style and the role he plays in his team. Kasper is a typical shot-stopper, used to staying on his line behind a deep, well-organised defence. With Leicester playing to his strengths, he does not find himself in too many situations where he has to play the ball under pressure.
Passing and distribution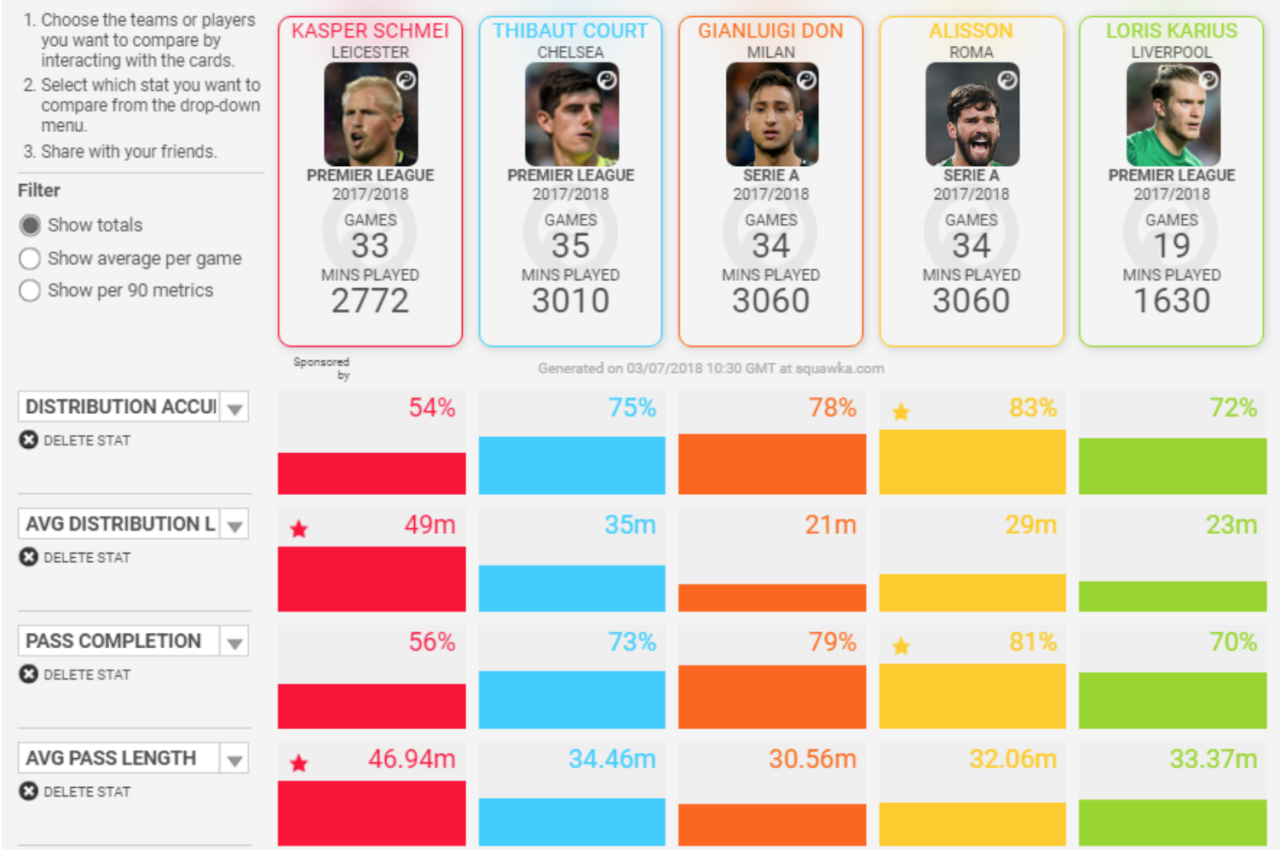 These 5 goalkeepers' distribution stats seem to strongly resemble their playing styles and the roles they play in their teams.
Alisson, Donnarumma and Karius are clearly very similar in the way they distribute the ball. Each one of them prefers to play short passes and throws, with their average distribution varying from Donnarumma's 21 meters to Alisson's 29 meters and average pass length going from Italian's 30.56 meters to Karius' 33.37 meters.
To a very little surprise, Alisson looks to be the best one when it comes to ball-playing skills as both his distribution and pass accuracy are over 80%. Donnarumma is not far off Brazilian goalkeeper while Karius is the weakest of those three, being 11% less accurate than Becker in terms of both passing and distribution accuracy.
Schmeichel's stats show clearly how different he is to the rest of this comparison. His passing and distribution are much longer than those of the other four while at the same time being by far the least accurate. This again is a clear indicator of how stylistically different Denmark international is to the rest of these goalkeepers.
Leicester is the kind of team that defends deep and relies on long distribution to move the ball up the pitch and Kasper seems to be a very good goalkeeper when it comes to providing that. Quite obviously, playing this way makes it impossible to achieve good accuracy on his passes and distributions as it is much harder to play a long ball accurately, especially when the striker he plays that ball to needs to win an aerial duel with opposition's defenders.
Courtois' stats place him somewhere between Schmeichel and the other 3. Although his passing length is only a little bit bigger than those of Donnarumma, Alisson and Karius, he is much more direct with his distributions than the other 3 goalkeepers. With an average distribution length of 35 meters, he is nowhere near Schmeichel's directness at 49 meters, but he distributes the ball significantly longer than Alisson's 29 meters or Donnarumma's 21 meters.
Interestingly, while being slightly more direct than the 3 typical sweeper-keeper types of this comparison, Courtois is as accurate as them. With his distribution accuracy of 75% and pass completion of 73%, Belgian is just behind Donnarumma and looks to actually be more accurate than Karius.
Given the above, it seems possible for Thibault to adjust his style to Liverpool, playing a little less direct. This should also result in his accuracy improving.
Summary – Kasper Schmeichel
The Denmark international is a prime example of why it is not a good idea to sign players based solely on one or two performances. Although his national team heroics were very impressive and certainly deserve a praise, he does not seem to fit what Liverpool are looking for neither stylistically nor in terms of pure goalkeeping quality.
He is more error-prone than Karius, with lower shot-stopping effectiveness. Schmeichel is also used to playing a completely different role than what Klopp is looking for.
At 31, he does not offer any kind of improvement on what Liverpool currently has, he does not seem to be likely to get any better or to be able to change career-old habits in order to adjust to the Reds playing style.
Summary – Thibault Courtois
The Belgian goalkeeper could be a slight improvement on Karius. He has a slightly better saves-per-goal ratio and does not look to be error-prone. Courtois' distribution also looks to be better than what Loris offers.
Thibault is definitely a very good goalkeeper and, although an improvement on Karius could turn out not to be very big, it might be worth the risk for a reasonable price.
Summary – Gianluigi Donnarumma
The young Italian is definitely one of the best goalkeeping prospects in the world. Long-term, getting him would be a no-brainer as his potential is simply huge.
Short-term gains of such a move could turn out to be a bit problematic though. Gianluigi does not seem to be better than Karius in terms of his shot-stopping, he is also error-prone. This might be understandable for a 19-year-old and should improve as he gains experience but the Premier League is a nasty place to mature in, especially if you are a goalkeeper.
Landing Donnarumma and making him first-choice goalkeeper, especially for a rumoured price, would put him under immense pressure, with many expecting him to perform from day one. Add his young age and the fact foreign goalkeepers usually need some time to get used to playing in England and you should be able to easily see him finding himself under attack from both the media and some supporters.
In a perfect world, Liverpool would get the Italian and then loan him out, allowing him to get some experience before comfortably getting into the first team at Anfield. With Milan expectations being rather big when it comes to a transfer fee, this might not be possible to happen.
Summary – Alisson
The Brazilian goalkeeper is a no-brainer and the only immediate, clear improvement on Karius in this group. He fits the style Klopp is looking for, his shot-stopping stats are brilliant and distribution is close to perfect.
He may make an occasional error now and then but it looks like none of those ended up actually hurting his team last season, it is also something that comes with this kind of playing style.
Becker seems to rightfully be Klopp's number one goalkeeping target. Unfortunately, getting him would be extremely hard, with other big teams also interested and Roma not being too eager to sell their star.
Summary – Loris Karius
Contrary to popular belief, Liverpool has a really decent goalkeeper in Karius. He might not be a world-beater and it is definitely possible to improve on him, this task is not as easy as some make it seem though.
Klopp and his recruitment team are definitely looking for ways to improve their goalkeeping options. It seems pretty obvious that Alisson is someone they would like to have in their goal, it is also clear that there are alternatives being considered.
Should any of those attempts fail, there will probably be no despair at Melwood. After all, Liverpool's current goalkeeper is not as bad as the Champions League final made him look.