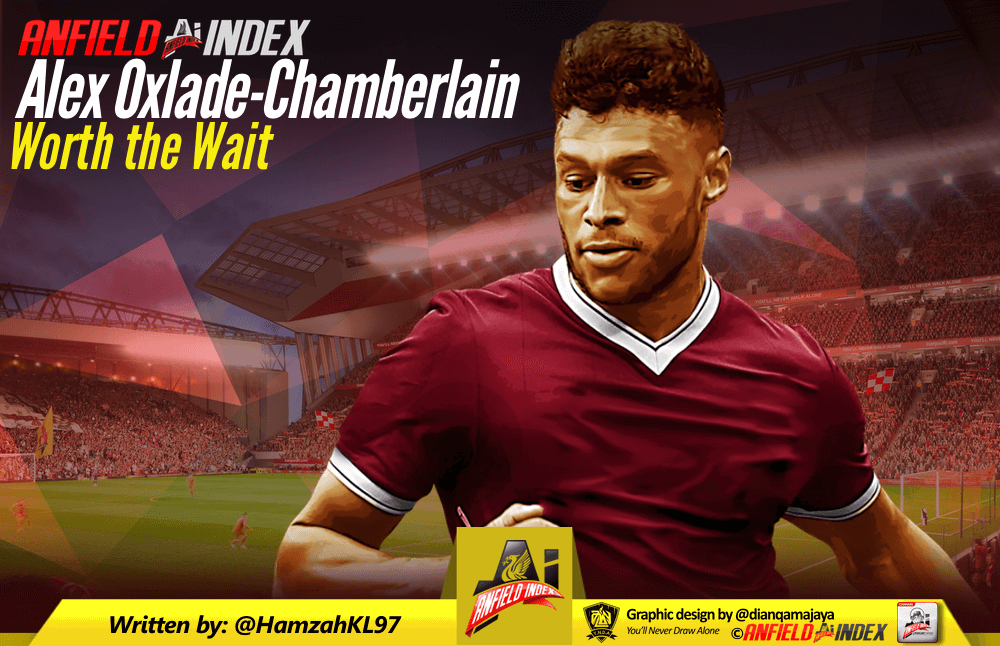 Alex Oxlade-Chamberlain: Worth the Wait

It's still yet to be a year since the day Liverpool signed Alex Oxlade-Chamberlain from Arsenal for £40 million. On the day he left, Arsenal fans had mixed emotions; on one hand, a fan favourite with undeniable talent had left, and that was a shame, but considering his ambitions to play in centre midfield, and a tidy £40 million for a player who was in the last year of his contract, it seemed a deal that was more than acceptable. Up north in Liverpool, the deal was received in a similarly split fashion: at the start of the 2016/17 season, in Liverpool's 3-4 away victory at the Emirates, Liverpool fans saw a glimpse of the dynamic, forward-thinking and fleet-footed player we all now know Chamberlain is, but in the August of 2017, a summer transfer window in which Liverpool had not managed to wrap up their first-choice transfer target, fans were sceptical of the young, former Gooner, with a checkered injury history.
It took Oxlade-Chamberlain a while to get going, and though he joined Liverpool to stake his place in midfield, he initially found himself working on the wing. Nothing spectacular performance-wise at first, but he was certainly giving his all, perhaps he was even guilty of trying a bit too hard – indeed, after seeing his celebration after his first goal for the club, it seemed that the magnitude of his move, away from Arsenal, where he was settled and integrated, seemed to weigh heavily upon him. But it was Adam Lallana's torrid injury issues which gave Oxlade-Chamberlain the ability to really put his case forward to play in midfield, and he did not disappoint.
During the 2016/17 season, Lallana played a new role, in midfield, in which he shone. He was able to press, pick the ball up and break forward when in transition, and greatly aided the fluidity of the attack, whilst displaying some of the best football of his career. As most attacking centre-midfielder, in a staggered trio, he had made his function his own, and it was aptly dubbed the "Lallana role". By December 2017 though, Oxlade-Chamberlain had not just made it his own, he had bettered it.
Oxlade-Chamberlain was picking up momentum and form, but it was not until the fixture against Manchester City, at Anfield, in January where he really placed his mast into the Anfield turf. It was Liverpool's biggest match of the season, and, following the 5-0 mauling handed out at the Etihad, a grudge match too. Liverpool played out of their skin, but it was Oxlade-Chamberlain who stood up first and dispatched a low shot which kissed and skipped across the grass as it burrowed its way into the far corner of Ederson's goal. It was a work of his own. Oxlade-Chamberlain picked it up from deep, ran into midfield, and seized the game for himself. This was his moment – he grabbed it, and would not let go.
The Champions League quarter-finals pitted Liverpool against Manchester City again, and Oxlade-Chamberlain raised his level once more. A force across the pitch, he ran like a man possessed, and for Liverpool's second goal he unleashed a rocket of a shot, past Ederson, into the side-netting that had millions of football fans across the world screaming in disbelief.
Control. Touch into space. Bang.
Steven Gerrard would have been proud of that one.
Suddenly, the £4o million man was playing like the man who left for £100 million more. In the second-leg of the quarter-finals, Leroy Sané managed to score a goal, just before half-time, which was incorrectly ruled out for offside. Oxlade-Chamberlain's reaction to the ball as it crossed the line (unaware that it was offside) was picturesque. He struck the floor in anger, rage etched across his face. It was as clear as day then that Oxlade-Chamberlain was not just a typical disappointed footballer. He really cared. He really wanted it. At that moment, we could all see, he is a man of passion and character.
Sadly though, Oxlade-Chamberlain's Champions League campaign was cut short, so too his hopes of starting for England, in the World Cup, as he suffered a knee injury against Roma, in the first-leg of the Champions League semi-final. His immediate reaction to the injury told a story in itself. He covered his eyes and writhed in pain. Anyone who has suffered a cruciate ligament tear will be aware of the near-unbearable pain it causes. Jürgen Klopp's post-match interview was sullen and downbeat, and not because of Liverpool conceding two goals late on. Klopp shook his head and sighed when asked about Oxlade-Chamberlain's injury, with his eyes and facial expression mirroring the look of a deeply concerned and distraught parent. That enthusiasm, passion and character noted earlier would suddenly be absent in the Liverpool dressing room, and Klopp attested to the impact had on the morale of the players.
It's an injury that has ended many players' careers, and one which many people may never fully recover from – and I can speak from my own experience as a testament to this. But it's not just the injury itself that's hard to cope with, it's the pain of not being able to walk around your home, of seeing your teammates struggle without you in a Champions League final, or seeing a national side in which you were a guaranteed starter, on the back of a season's worth of effort and performances, play without you, and then it's returning to pre-season training, and working alone in the pool, or on the physio table, as the rest of the team set to working on the field.
It's a tough time, and looking down as your muscles waste away, or struggling to do the simplest of tasks at home, makes it a psychological challenge as hard as any. It's expected to be near enough 2019 when Oxlade-Chamberlain returns to the field at something close to full fitness, and it'll almost certainly take him more time to get up to speed and earn his place back in the side.
For a player that took several months to really get into the groove at Liverpool, it seems as if we, as fans will have to afford him a few more months too. It's important that Oxlade-Chamberlain is given an opportunity to get back into the side without pressures placed upon him too. It's hard enough as it is playing for Liverpool, let alone being expected to pick up where he left off – in the form of his life – when he returns.
If we give Oxlade-Chamberlain the time and support he needs, he'll no doubt be back, and better than ever before, but one thing is for sure, we'll have to be patient, and willing to accept any small setbacks or performance issues. But as he's proved before, he's more than worth the wait.