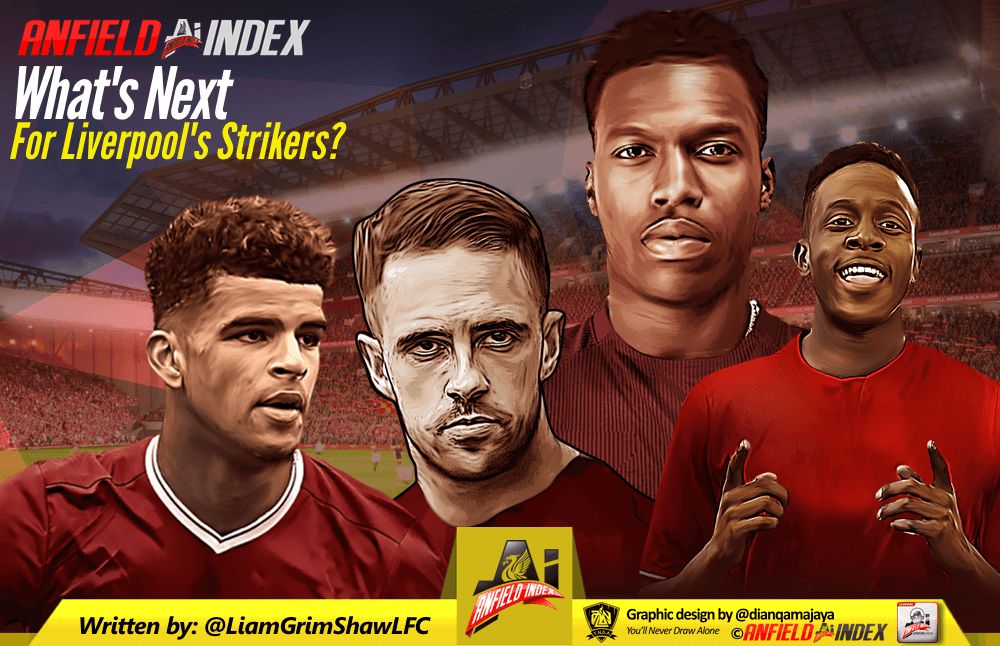 What's Next For Liverpool's Strikers?
Roberto Firmino is Jürgen Klopp's go-to striker, in his strongest XI. However, the German is faced with issues when Firmino is unavailable, or being rested – who replaces Firmino?
Last season Klopp relied heavily on Dominic Solanke as back-up for the Brazil international, and as the season reached it's close Danny Ings got more game time on his road to recovery. But for a player of Firmino's ability, and what he adds to the team, neither can fill his boots. Although Salah stole all the headlines last season, his brilliance was only enhanced by the role Firmino plays, and he plays it brilliantly. A constant threat to opposition defenders, both with and without the ball, and the vital cog in what is a dynamic Liverpool strike force. He's such a unique player it's impossible to replace him directly.
With that in mind, what does Klopp do with the remaining strikers in the squad?

Daniel Sturridge
It looks as though Sturridge's time at Anfield has come to an end. After forming a formidable striking partnership with Luis Suarez in 2013/14 the Uruguayan left for Barcelona and Sturridge became the main man in the squad. Unfortunately, injuries have hindered the former Chelsea man and fans have only seen glimmers of the brilliance we saw in 13/14. He spent the end of last season with West Brom but the injuries came back, and he failed to impress. Klopp is willing to let 'Studge' leave for £15m this summer. Another tale of what could have been without injuries.
Verdict: Sell
Danny Ings
Ings was one of Brendan Rodgers' last signings at the club before Klopp took over in October 2015. Having put in an impressive string of performances Ings was called up to the England squad, making his debut on 12 October 2015. Three days later, in Klopp's first training session Ings was ruled out for the rest of the season after injuring his ACL. Despite making not one but two impressive recoveries, Ings realistically needs to move on this summer in order to reach his potential. Newcastle are said to be interested, and he would be an excellent fit in Rafael Benitez's well-drilled side.
Verdict: Sell
Divock Origi
Following the arrival of Dominic Solanke last May, Origi was sent out on loan to Wolfsburg. It's fair to say he didn't set the Bundesliga alight. During his time at Die Wölfe, Origi managed six goals, and just two assists, with an average rating of 6.71 over 31 league games – the joint most of any outfield player. However, when given the chance at Liverpool, Origi was an extremely effective backup striker. He started just 14 league games in 2016/17, averaging a goal or assist every 146 mins. In his only real run of games, the Belgian managed five goals in as many games. As a back-up, Origi is a great option, all the raw talent is there, but there remain question marks over his footballing IQ. This season is a win-win for all involved, if Origi really can harness his talent, the club wins as they have a brilliant option off the bench. If not, the next man in the list has the chance to step in.
Verdict: Keep, but this season is a big one for him
Dominic Solanke
Solanke had a difficult first season at Anfield, but it certainly didn't start badly. He joined his new teammates triumphant from the 2017 FIFA U-20 World Cup. He scored four goals in the tournament and won the Golden Ball. Pre-season was also a success for the new signing, he managed goals against Crystal Palace, Hertha Berlin, and Athletic Bilbao, and finished pre-season as the club's second highest scorer behind Mo Salah – and we all know how his season went! The basic stats tell you Solanke had a poor first season, but scratch beneath the surface and he's putting the hard work in. He is outperforming every expected per 90 average in the Premier League, except Goals. It's a difficult choice between the former Chelsea man and Origi, but both should be utilised by Klopp throughout, what should be, a busy season.
Verdict: Keep
Rhian Brewster
Brewster could be set for a breakout season at Liverpool, as he signed his first professional contract last month – following serious interest from Bundesliga side RB Leipzig. Klopp has always placed emphasis on youth, and following the brilliance of Trent Alexander-Arnold, U23 players should be willing themselves forward to take their chance in the first team once they get it. Brewster is nearing his return to action after suffering ligament damage to his right ankle which cut his 2017/18 season short. He managed six goals and seven assists in 15 games. If he can get back for pre-season, he has a chance to show Klopp what he can do, and how well he can fit in the Germans system.
Verdict: Keep, play predominantly at U23 level
After Firmino, Klopp has a decent crop of striking talent, but it's time for some changes, and hopefully, a youthful new crop of forwards can challenge Firmino for his spot.