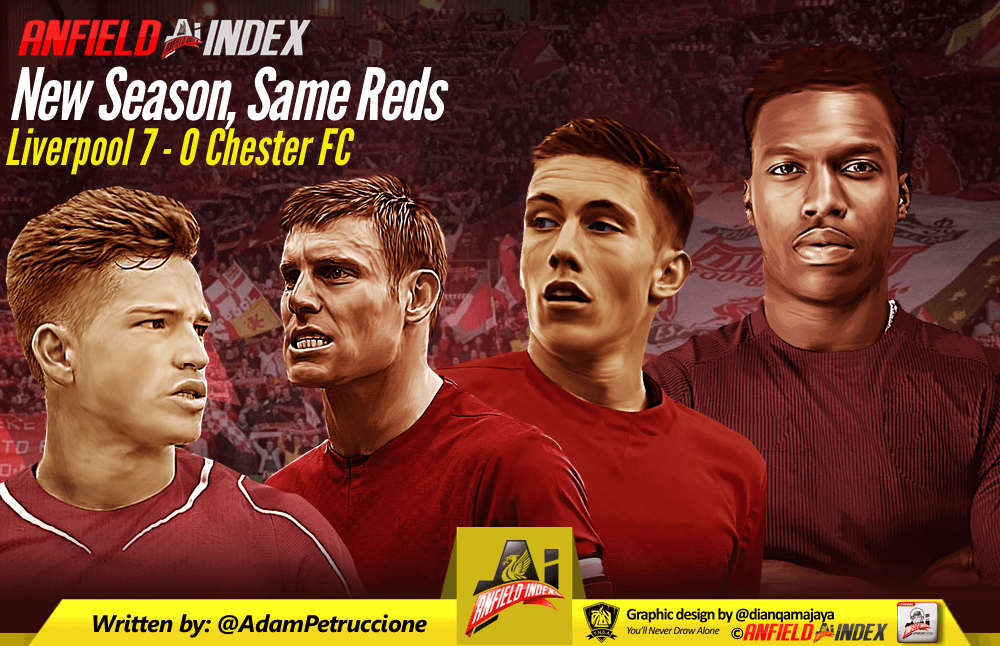 New Season, Same Reds: Liverpool 7 - 0 Chester FC
Liverpool got the 2018/19 season underway with familiar flair, putting the National League side away with ease. Last season's heroes returned. Some familiar faces came home and a few new ones took their Liverpool bow.
Here are the observations from the match.
WILSON vs OJO
Jurgen Klopp blamed a slow start on his usual nemesis, the dry pitch. The only first-half fireworks came from the foot of Harry Wilson, playing on the right wing. He put away two before the half-time whistle, making some excellent runs and generally looking polished in the process. In the second half, Sheyi Ojo was the standout performer, though the team around him also functioned much better as a whole.

#LFC #Wilson scores our first of pre-season with a delightful chip over the goalkeeper pic.twitter.com/ZhetciwpQ4

— KING SALAH (@LfcNo10) July 7, 2018
As we progress through the summer this may be the key battle to watch amongst Liverpool's youth products. What they offer is completely different. Wilson is a composed finisher, while Ojo is pace and power personified. Ojo isn't as sure in the 18-yard box, while Wilson might not be a perfect fit in Klopp's system.
THE STURRIDGE CONUNDRUM
Daniel Sturridge scored two while setting up several other chances. He played further back, almost the way that Firmino would, casually setting up goal after goal. Against this level of competition Sturridge made it look like a walk in the park. What does that tell us about his readiness to contribute next season? Probably not a whole lot. We never doubted his ability, just his availability and the forward will need to have a stellar preseason to erase that from our memories.
Sturridge's goal was a beauty. pic.twitter.com/rZWjKhClCy

— LFC Fans Corner (@LFCFansCorner) July 7, 2018
INGS NIGGLES
Danny Ings got on the score sheet but didn't look comfortable in doing so. He was performing his usual routine, popping up here and there around the box, making himself a general nuisance for the Chester defenders, but he was carrying some type of injury and for Danny Ings that could mean just about anything. He's another that would need a miracle to stick in the squad, but it would be nice to see him go out, fit and firing.
#LFC Danny #Ings slots home to make it 6-0 after a flick from #Milner. Hope he stays fit this season pic.twitter.com/QT4cIExoIQ

— KING SALAH (@LfcNo10) July 7, 2018
KEITA & FABINHO DEBUTS
Naby Keita and Fabinho made their much-anticipated debuts in red. Fabinho played the first 45 and Keita the second. They both cruised through, showing class and calmness on the ball. Keita made a spectacular run into the box late in the match, wound up his powerful left leg and watched the ball sail… towards the corner flag. We're looking forward to more of those chances for him.
LORIS KARIUS
Lo and behold, Karius didn't melt into the Chester pitch. He was first out onto the pitch and was greeted by a standing ovation from the travelling Reds.
Loris Karius among the first #LFC players to have a pre-match stroll pic.twitter.com/zf9D59IjJG

— James Pearce (@JamesPearceEcho) July 7, 2018
What can we take from today? Not a whole lot, but it's great to see Liverpool back out there and racking up the goals.
Up the Reds!