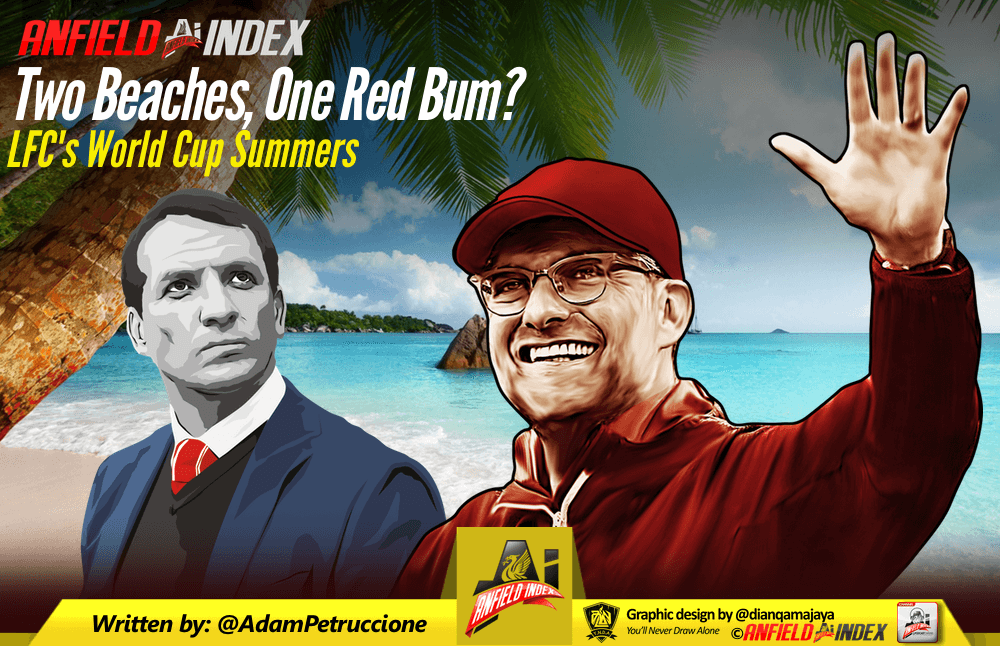 Two Beaches, One Red Bum? LFC's World Cup Summers

Four weeks remain until the transfer window slams shut and Liverpool have added one senior player. One. Is it time to panic or is this just business as usual during a World Cup summer? The only logical thing to do, painful as it may be, is to get in the way-back machine turn the dial back to the summer of 2014.
By this point in that summer, the Reds were ahead of the pace, having already raided Southampton twice and sold our best player to Barcelona. With Adam Lallana and Rickie Lambert arriving from the south coast and a young German named Emre Can, there was still a lot of work to do.
The big name signings of Markovic, Origi, Lovren, Moreno and Balotelli were yet to be unveiled. But those transfers stretched from July 15th through August 25th. This summer we will not be afforded that kind of time. We'll have one-third fewer days to get deals over the line with the shorter window ending on August 9th.
The major takeaway from 2014 was that we sold Suarez and were unable to adequately replace him even with that extra time to search for a frontline striker. Legend has it that Rodgers fiddled while Melwood burned. We remember tabloid images of the Reds' manager sunning it up and canoodling with his soon-to-be second wife while Arsene Wenger was all business. The Gunners' boss was all over French TV by day and stealthily pursuing Alexis Sanchez by night.
Arsenal on the verge of signing Khedira. No wonder Wenger looks happy. Brendan Rodgers needs a trip to the beach asap pic.twitter.com/1G9oyz1cL8

— Mark Dunphy (@Mark_Dunphy) July 14, 2014
"We finished second in the league playing a great level of football. Players were flexible in how they could play and then it was about trying to make that next step. And for that we needed to get a replacement. And we deemed Sanchez to be that one." – Brendan Rodgers (October, 2017)
"Sanchez was identified for us as someone who would have been a key signing and really just a roll on to what we had with Luis Suarez. So to not get him was obviously bitterly disappointing, but once he was gone that was it. We just had to focus on what we had." – Brendan Rodgers (December, 2014)
Ultimately Rodgers would come back without his number-one target, so it doesn't really matter so much how dedicated he was or wasn't. But for what it's worth, the truth is that Rodgers did sun it up that summer. One of those beaches being in Brazil. He was actually there at the World Cup and perhaps that aided in the signings of Divock Origi and Dejan Lovren.
Last Man Tanning! Brendan Rodgers is still, ahem, scouting talent on Copacabana beach http://t.co/RUmR73O8Vd pic.twitter.com/pe7YCt6dgW" #LFC

— Tim Brannigan (@tim_brannigan) July 15, 2014
Our current manager, the man, the myth, has been beaching it up himself with trips to St. Tropez and Ibiza. Of course, his rest was deserved given the season that the Reds had last year, not just as a reward, but rest and recovery from a drama-filled season at Liverpool.
Jurgen Klopp enjoys a beer and kick-around on the beaches of St Tropez while unwinding with family following long season https://t.co/xg8LzMMCRk

— MailOnline Sport (@MailSport) June 13, 2018
However, as we tear the days from our desktop calendars, each tug is going to get a little angrier if we're not satiated with significant signings. Fabinho is a huge addition, ending the long wait for a defensive midfielder, but Mel Reddy and others close to the club promised an aggressive, ambitious summer and supporters should expect nothing less given the Reds successes in 2017/18.
"Fabinho will be the start of an aggressive summer in the market for #LFC. As previously stated, they have no intention of standing still…" – Mel Reddy (Joe.co.uk)
AIPro's Gags Tandon, Dave Hendrick, Dan Kennett and Mo Chatra recorded a series of transfer podcasts, diving into the financial side, scouting and analytics of the available players and came out with a feasible list of six. Feasible in terms of targets and cost, but what can the Reds realistically get over the line in 28 days? Six players would be one every 110 hours, a pace we've just never seen the club operate at.
We're all familiar with the nearly done Nabil Fekir deal. In the here and now, maybe that chase gets points for effort, but as with the Sanchez non-signing, when the window closes only the players actually in the squad will count.
Is there a point where the current manager starts to receive anywhere near the same scrutiny as the man who previously held his seat? Are Jurgen Klopp's seaside exploits immune from criticism? Should the manager have been parked at a cafe in Moscow, holding court for the World Cup's brightest stars rather than trying to lure them to secret rendezvous in Blackpool?
A Champions League run does wonders to build up a heaping pile of credibility for a manager to draw from, but this is no ordinary summer. Every window is so critical for Liverpool as they claw their way back into the elite of Europe. All of the top-six clubs are trying to become top-four clubs and the top four are aiming to contend for titles. What makes this summer unique is that Liverpool has a squad that is already competitive in the league and in Europe that we can now build on top of rather than having to rebuild as it was in 2014 after the biting and the selling.
Liverpool have the three M's; the money, the manager and the momentum. An Alexis Sanchez type whiff in the transfer market would arguably be an even bigger blow from Liverpool's current perch than it was in 2014 when the team was chasing the title with smoke and mirrors to an extent. There is a real chance for the Reds to do what supporters have been begging for, and that's to start collecting trophies of all sorts again. But one major signing is not going to keep pace with the rest of the top clubs in Europe or in the Premier League. With Brexit changes looming, it may be decades before Liverpool or any English club can truly compete in Europe. The time is now.
It's all well and good for Jurgen Klopp to play it cool as if he has all the time in the world to assemble to right combination at Liverpool, but that truly is not the case as he rounds the half-way mark in his Reds tenure.
The major frustration with the Alexis Sanchez saga wasn't just missing out on the player, but the apparent lack of alternative targets at the time. Surely Klopp and sporting director Michael Edwards must be more prepared this summer to move on from Fekir. On paper, there are plenty of alternatives, but any time one of them gets any ITK traction, James Pearce has been there to deliver a transfer rumour smackdown.
The Dybala rumours met the same cruel fate this week, leaving us to wonder, who is left that James Pearce hasn't denied?
James Pearce: "Dybala is not on Jurgen Klopp's list of targets as he looks to bolster his squad ahead of the 2018/19 campaign." pic.twitter.com/kotsWe38BE

— Rousing The Kop (@RousingTheKop) July 10, 2018
Jurgen Klopp continues to operate as if he is in a pressure-free environment and perhaps that has served Liverpool well up to this point. A time of reckoning is quickly approaching though where pictures of the manager laughing it up on the beach won't be met with responses of, that's our Klopp.
There is not an infinite amount of tinkering time available for Liverpool. In fact, there may be no time at all depending on the whims of politicians. A meek, mild transfer window this year, even if the club progresses to 3rd or 2nd in the Premier League will be seen as a failure. Edwards and Klopp have to grasp every opportunity to improve the squad with both hands.
Pragmatically pausing until the perfect moment arrives to pull the trigger on deals while sipping piña coladas is simply not going to work this summer. The only tropical hot-spot that should be mentioned from here on out is Blackpool Pleasure Beach. Get the recruits in and get after those trophies!
Up the Reds!