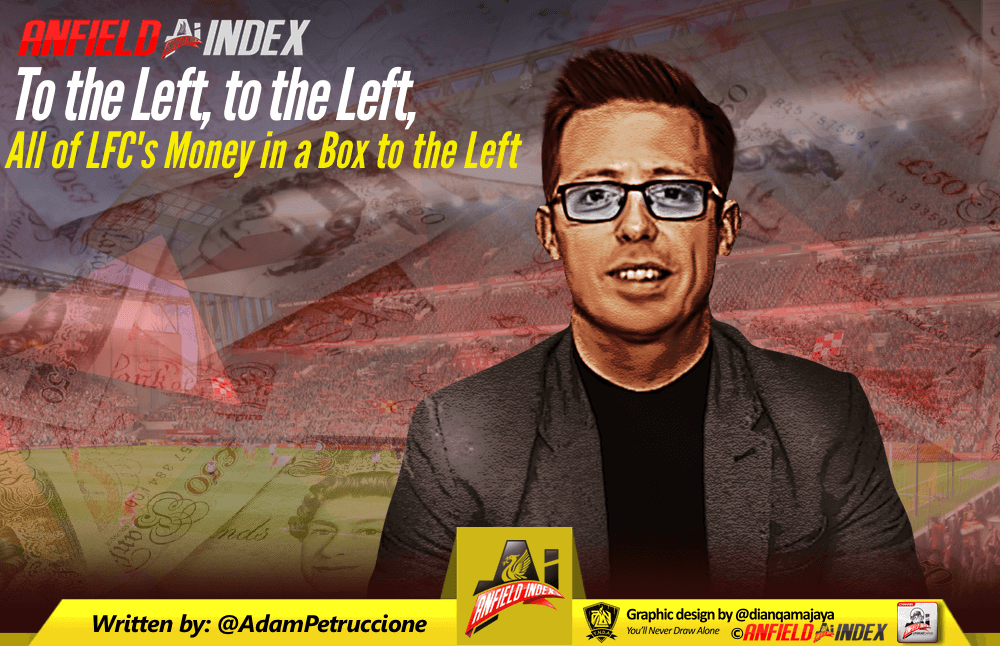 To the Left, to the Left, All of LFC's Money in a Box to the Left

It was obvious to close observers last summer, even before all of the pieces were moved around Jurgen Klopp's chess board, that Liverpool were short an attacker. More specifically, the Reds could have done with a left-sided forward in order to complete the ultimate rotation.
When Liverpool can assemble their preferred starting eleven, it's an imposing, potent force. However, when one of the attacking players had to be rested the Reds brought back 80's childhood memories of being one Decepticon short from assembling Bruticus. On their own, they were fun and all, but you needed one more to stand a chance against your brother's Transformers collection.
Whew. Finally got Bruticus assembled. #transformers pic.twitter.com/kfAnVWHgdu

— karubah (@karubah) July 7, 2018
For this writer, amongst the players who were actually available, Keita Balde was that perfect left-wing/wide-forward. Unfortunately, he ended up going to Monaco while Liverpool stuck with what they had while patching together attacking reserves from Sturridge, Ings, Solanke and Lallana, none of which made major impacts in the goal-scoring column.
Why is the left side so critical? Mo Salah is our all-world right winger and will make most of Liverpool's starts on that side if all goes to plan. Saido Mané used to play on the right side prior to this past season, can rotate there if needed and then there's our Academy products who are also predominantly right sided.
One match into the preseason, the most intriguing battle for squad positions is Harry Wilson versus Sheyi Ojo. Both right wingers with one offering raw speed and clever crosses; the other deft movements and calm finishing. If even one of them ends up on the roster as well as Rhian Brewster who has been promised a spot, you can see where the attack is predominantly right-sided.
Bobby Firmino and Dom Solanke can play on the left side, but Liverpool's aim should be higher than to make due in 2018/19.
Lemar was one of those left-sided, multi-positional players who was available until Atletico snapped him up. Who else is left that could be the final piece to take Liverpool from competitive to title-winning?
Liverpool have ZERO interest in Croatia centre half Domagoj Vida, despite widespread reports in Turkey claiming bid has been lodged. Same applies to Villa's Jack Grealish. Priority in window remains versatile attacking midfielder #LFC

— David Maddock (@MaddockMirror) July 9, 2018
With denial after denial coming from Liverpool's trusted journalists, it seems that the Reds are preparing to take a massive swing at someone after the Fekir deal fell short. Here are ten versatile, predominantly left-sided attackers who would be worth a major splash.
Goncalo Guedes
(21)
The PSG owned player offers flexibility; able to play on the left or as a false-nine, as well as physicality. He'd be able to provide a contrast to the Reds' relatively shrimpy forward line, but is the production there? Tallying 8 goals and 9 assists in 33 appearances for Villarreal isn't prolific, but if his finishing had already peaked PSG wouldn't be selling him.
Leon Bailey
(20)
Similar production to Guedes in a much different package. Bailey is a speed demon for Leverkusen who would fit right in with Liverpool's track & field stars. 9 goals and 6 assists in 30 appearances have all of Europe's big clubs circling, but are Liverpool in for him given that he isn't as strong without the ball?
Marco Asensio
(22)
With 6 and 6 in 32 appearances on the left of Real Madrid's attack and midfield, Asensio struggled to put up massive numbers in the Spanish capital. We've seen similar numbers out of Vasquez and Isco in the past though, so I wouldn't hold that against the youngster. Asensio has the ability to shoot from distance that would add something to the Reds' attack while his pressing would be an easy fit.
Niko Kovač doesn't guarantee James Rodriguez enough playing time for Bayern Munich next season. #Arsenal, PSG, Juventus and Chelsea are all interested in the Colombian with Arsenal apparently set to make an offer. [rcnradio] #AFC pic.twitter.com/OoATeaBtgQ

— Cannon Insider (@CannonInsider) June 21, 2018
James Rodriguez
(26)
German tabloids and Colombian radio shows seem convinced that James Rodriguez isn't in Niko Kovic's plans for Bayern this season. Never has such a talent been so casually discarded by his clubs. The Bundesliga team of the season midfielder is comfortable on the left or in a creative role. Still, in his prime, James is a real difference maker that would be scary in Klopp's system.
Julian Brandt
(22)
With 9 goals and 3 assists in 34 appearances, you'd have hoped for more in the creative column for Brandt, but in terms of versatility, he played all over the shop for Leverkusen. Left, right, forward, back, he's like a human Contra cheat code. Liverpool love to flirt with their transfer targets a while before they strike and we know Brandt and Klopp have been making eyes at each other for over a year now.
Federico Chiesa
(20)
Chiesa is the latest young talent to make a pit-stop in Fiorentina. Will they let him go at only 20 years of age? Sure they will if the money is right. Chiesa is another incredibly versatile attacking talent who has spent most of his time on the left for the Gigliati. With 6 and 5 in 36 appearances, he's up there with the rest of the potential targets. The concern is that he's a skinny bugger, not someone who is going to be ready to impose himself as a pressing force.
Denis Cheryshev
(27)
'Denis the menace' is on the older side at 27 and has scored more goals in the World Cup for Russia than he did for Villarreal last year. His contributions without the ball would please Klopp, but he wouldn't be a long-term solution for the Reds.
Christian Pulisic
(19)
American owners, German manager, the links to Pulisic are never going to go away. Especially when Liverpool have a vacancy on the left, the Dortmund teenager makes sense on paper. Jurgen Klopp hasn't seemed anxious to raid his old club thus far though and you wonder if he'll ever go back in for any of his old players.
Ryan Sessegnon
(18)
My personal favourite, Ryan Sessegnon, to me would be worth throwing all the monies at. He has the pace, the power, the nose for goal from the left side, all at just 18 years-old. A big expenditure on Sessegnon could be justified over the course of a long tenure at Anfield.
– – –
Who did I miss? Have an idea for another left-sided attacker that would take Liverpool to an even higher level? Let us know in the comments below.