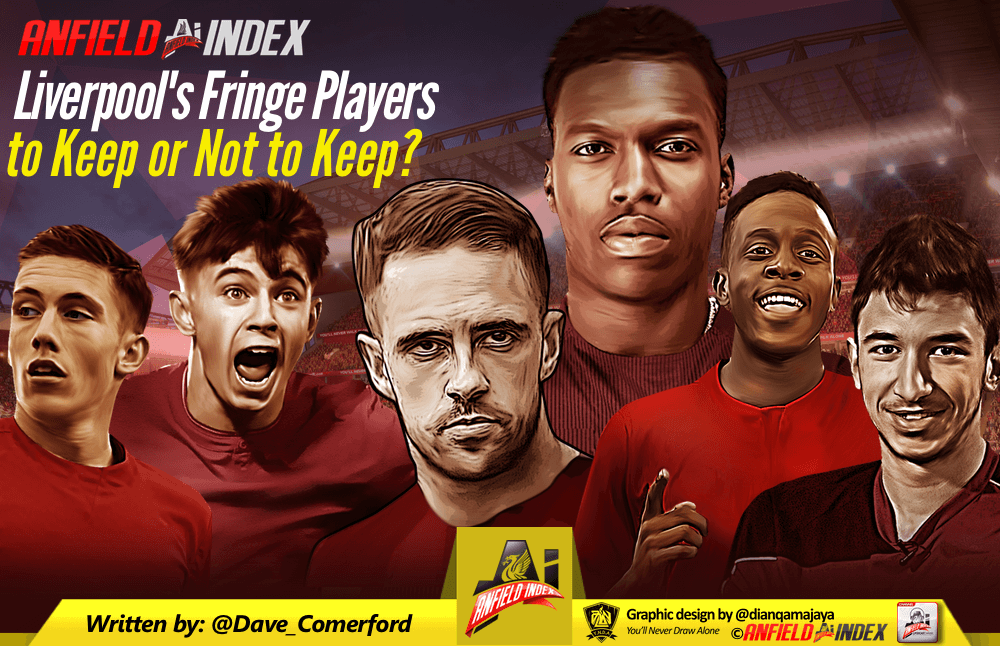 Liverpool's Fringe Players - to Keep or Not to Keep?
For managers, major international tournaments mean disruption, with big players late to return after fulfilling their international commitments. But for fringe players, disruption means opportunity.
Many of Liverpool's stars, including each member of their revered front three, remain in Russia or are enjoying some well-earned time-off after an early exit. Jurgen Klopp has been forced, as a result, to dip into his reserve pool, granting a number players who have not figured in his first-team plans of late, be they promising youngsters or experienced yet troubled talents, a chance to prove their worth.
It is a chance many of them must seize if they are to remain at Liverpool, with something close to an exodus expected as the club look to shed the plentiful deadweight and in doing so fund upgrades to the squad.

Below, then, is an evaluation of six players whose immediate futures rest on whether they can catch Klopp's eye this summer and a sensible course of action.
Marko Grujic: Productive loan
It looks at the moment like there are two principal suitors for Grujic – Cardiff, who want another loan move after his impressive spell in South Wales in the latter part of the 2017/18 season, and Lazio, who are after him on a permanent basis.
Few Reds fans would dispute the claim that it would be a mistake a sanction a permanent move after the clearest indication of his potential yet, but keeping him at the club seems counterproductive, with new signing Fabinho, Jordan Henderson and maybe even Trent Alexander-Arnold, whose preferred position is defensive midfield, ahead of him in the pecking order.
Sending him back to newly-promoted Cardiff is the best option here, depending of course on assurances of playtime which, if neglected, could see the Serb return to Anfield midway through the season.
In all likelihood, Grujic would be afforded the opportunity to show Klopp whether he can cut it at the highest level and, as a bonus, in the heat of a likely relegation battle. It would be a representative test of his credentials.
Harry Wilson: Leap of faith required
It appears increasingly likely that Wilson, a player who has rather bizarrely found opportunities extremely hard to come by, will be handed a new contract and make his (very) long-awaited breakthrough into the first-team fold.
Following his double at Chester on Saturday, supporters were raving about his composure in front of goal, a rare characteristic among those of tender years.
A starring performance against sixth-tier opposition alone should not be the source of too many conclusions, but it was, without doubt, an encouraging start to a huge pre-season which will decide whether 2018/19 will bring progression or stagnation for Wilson.
One of Liverpool's biggest weaknesses is their lack of adequate cover for Mohamed Salah and Sadio Mane, demonstrated most clearly by Adam Lallana's uninspiring display in Kiev when introduced in place of the star man.
Liverpool could rectify this key issue for the loss of just £13million if they have Wilson as Salah's deputy and Xherdan Shaqiri, available at a relative snip, to replace either winger.
Promoting Wilson to that level might seem too big a gamble, but Alexander-Arnold's superb 17/18 season proved that the very best youngsters cannot only cope, but shine when they are hurried into the limelight. There's certainly reason to give Wilson, who banged in the goals at a fearsome rate for the Under-23s and produced equally excellent numbers at a relegation-threatened Championship outfit, that label.
Ben Woodburn: Loan with caution
The excitement surrounding Woodburn soared when he netted against Leeds in the League Cup back in 2016, but in truth, his development has rather stalled since.
We saw at the tail-end of the last season that Klopp does not seriously consider him to be an adequate attacking back-up, though on the evidence of Chester he might be able to force himself into contention for a deeper role in the side.
Still, a loan move is looking likely, but the club have to be very careful.
Woodburn clearly has the potential to be special, but if you loan him somewhere where he won't get sufficient game-time, there'll be no progress at all, but equally, if you sanction a temporary switch to a struggling side and he can't impress, he could find himself almost forgotten.
That may sound a touch dramatic given that he is only 18, but we saw something similar with Ovie Ejaria, who broke into the team around the same time as Woodburn and has now been shipped out on loan to Rangers after an anonymous spell at a woeful Sunderland side.
So much potential among academy graduates, not just at Liverpool but throughout the Premier League, goes to waste because loan moves don't work out as planned. It's crucial to find a balance between the quality of the side and the likelihood of starting opportunities for your man.
Daniel Sturridge: Sell – for the right price
The case of Daniel Sturridge really is a curious one, so much so that two goals against Chester have prompted many fans to change a stance which seemed set in stone.
Sturridge's strikes were a timely reminder of his superb finishing abilities, which very few have ever really questioned, and that, when he's on form, it's really difficult not to love him.
His wonderful ability has been disguised by a brutal succession of injuries. It has been a footballing travesty, and it means that no club would really consider him a reliable asset (just ask West Brom) despite his evident potency in front of goal.
Liverpool want £15million for Sturridge, but his chief suitors, Sevilla and Fenerbache, are understood to be unwilling to pay that, even before they reach the obstacle of his wage demands.
How low do we go, then, to negotiate a deal? If it comes to a point where the club are being forced to consider selling him for less than £10million, surely they have to hesitate – this is, after all, a top-drawer goalscorer.
Alongside his fitness, there are concerns about his work-rate, but if Klopp sees reason in pre-season to grant him one last chance (and it really would be his last), it is just about conceivable that his Reds career could be resurrected when it seemed to be over.
For now, it is important to stress, the odds seem stacked against him.
Divock Origi: One more chance
Origi's loan to Wolfsburg came as a bit of surprise – it signalled that he had been leapfrogged in the strikers' pecking order by Dominic Solanke, who had yet to make any impact in senior English football on his arrival.
All in all, Origi struggled in Germany but, in fairness, Wolfsburg struggled themselves, securing their place in the top division only after coming through a relegation play-off.
He claims to have grown as a player and as individual as a result, and that's certainly understandable – it was quite different to what he had become used to at Liverpool, who tend to scrap for fourth rather than survival.
His goalscoring record at Anfield is decent, coming to an average of around one strike every four games, which may sound underwhelming but comes with the important caveat that many of his appearances have come as a substitute.
Sometimes, you wonder if he has the agility or the finesse to slot into a charismatic front three, but perhaps Liverpool ought to keep hold of him precisely because he offers something different and an alternative route to goal.
In each interview, it's clear how much Origi wants to succeed at Liverpool, and it was clear how much he wanted to score at Chester last weekend.
We'll see this summer whether that desire translates into anything tangible, but Liverpool need a strong back-up to Firmino, their most important player, and Solanke's disappointing debut campaign proves he's not quite ready to play second fiddle just yet.
Danny Ings: Think it through
Liverpool need to keep at least one of Sturridge, Origi and Ings to avoid having Solanke and Rhian Brewster, whose career remains in its infancy, as the only two out-and-out forwards at their disposal.
It's really difficult to say which of the three they should hold onto, but Ings himself may force the club's hand, with reports he will be allowed to leave. A sense of reluctance on Liverpool's part pervaded those reports, and there is still time to alter their stance.
If Origi offers something refreshingly different, Ings theoretically brings something familiar – great pace and a bottomless tank of fuel.
When he did play last season, he spurned good opportunities on more than one occasion, but he was building his fitness and still you are tempted to think back to his time at Burnley, when he so good in a really poor side, and Rodgers' final games, when he was the sole shining light in many respects.
Ings can, of course, be excused for wanting to start elsewhere, but it feels like, after finally returning from a layoff which does the phrase 'injury hell' justice, this story shouldn't end just yet.
Perhaps that is mere sentimentality given that Ings is so likeable as an individual, but our manager is in many ways a people person who is fond of second chances.
On the other hand, Klopp is almost immovable when his mind is made up. Perhaps he's already decided that the futures of Ings, Sturridge and maybe even Origi lie elsewhere, making room for the next generation.
It's going take some pre-season from the players listed if they're not (but intend to be) part of Klopp's plans, not just in the games but also on the training ground and in the gym.
But even after one game against semi-professional opposition, you sense the picture has changed. Already Sturridge and Wilson have caught Klopp's eye and already Origi really needs a goal.
Somehow, suggesting that performances in these friendlies can transform perceptions and maybe even define careers, seems far from an exaggeration.