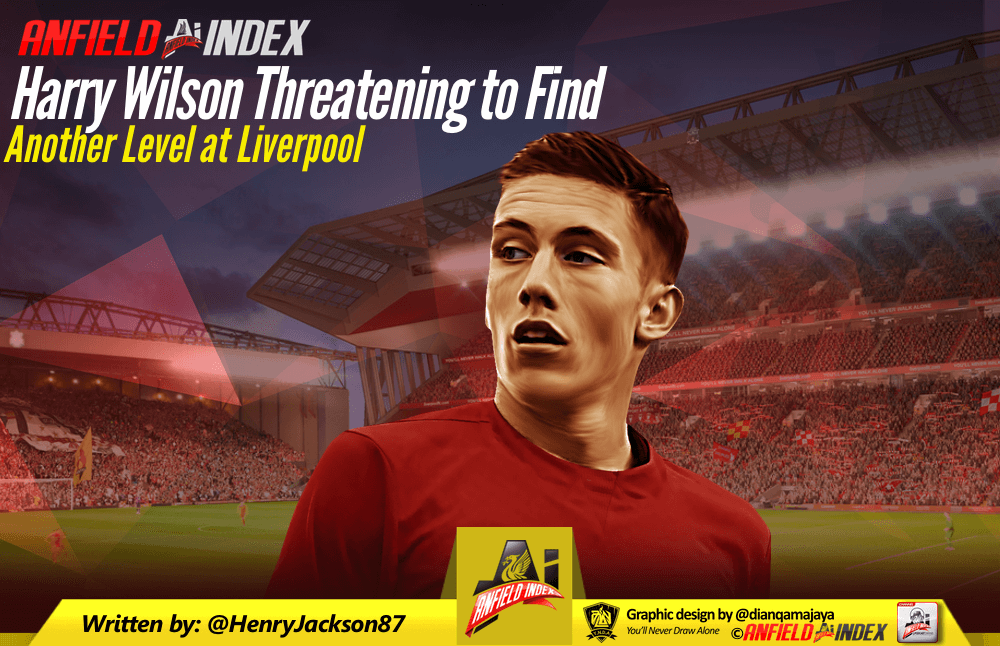 Harry Wilson Threatening to Find Another Level at Liverpool
Saturday's pre-season opener away to Chester was meant to be all about Naby Keita and Fabinho making their Liverpool debuts, but two others made the headlines.
Daniel Sturridge showed us that there is enduring class in his boots, scoring twice before hinting on social media that his work at Anfield may not be done just yet.
Harry Wilson also registered a well-taken brace as Liverpool romped to a 7-0 win and his all-around 45-minute performance was one that caught the eye, in particular.
It is always risky to get carried away by one friendly against very-limited opposition, but this looked like a different Wilson – one who feels like it is time to up his game.
Now 21, the Wales international is no longer a teenage prodigy like Ben Woodburn and even Trent Alexander-Arnold – it's mad that he is still only 19 – and he knows he must seize his opportunity.
Wilson is fortunate that Jurgen Klopp is not only a huge advocate of playing young home-grown talent but also a big fan of the player himself, which sees him on the verge of signing a second new deal at Liverpool in the space of six months.
Such quickfire contracts rarely come your way if the club doesn't value your talent or have faith in you making the grade eventually.
Klopp is also ruthless, however, and as his squad becomes increasingly formidable with the addition of Keita, Fabinho and hopefully others in the coming weeks, he will not hesitate in ditching anyone he deems not good enough.
Let's not forget Ryan Kent signed a new contract last summer, bamboozled Bayern Munich's defence and was then shipped out on loan to Freiburg.
Perhaps we are reading too much into Wilson's new offer, especially with the Times' Paul Joyce suggesting a loan move is still more than possible once a Reds deal is signed.
The general consensus with the young forward is that he is stuck somewhere in the middle of being far too good for the Championship but not yet reliable enough to be a solid squad member for the Reds.
It is up to him to change that perception.
It was almost embarrassingly easy for him in Liverpool's U23s last season, as he scored and created at will before a loan move to Hull City in January gave him a chance to prove his worth in England's second tier.
The 21-year-old immediately shone, scoring seven goals and laying on four assists in 13 appearances, inspiring the Tigers to safety and scooping the Championship PFA Player of the Month award.
The Championship is a tough league for any youngster to thrive in, so for Wilson to shine so much for a struggling team spoke volumes about his talent.
He hit the ground running and never looked back, showing the kind of immaculate attitude that Klopp demands and adores in equal measure in his players.
There have been numerous reports linking Wilson with a temporary return to the Championship next season – as many as a dozen clubs are thought to be interested in signing him – but now is the time for him to show that it would be a step backwards.
The Welshman has so much natural talent and his versatility, intelligence and numbers in the final third are on the cusp of being good enough to grace Liverpool.
It is a case of doing it week in, week out and not looking out of your depth when given the chance.
His goalscoring instinct and ability to great into great positions were on show at Chester and that part of his game could be the key to Klopp retaining him.
Not enough of Liverpool's current squad members stretch defences and are willing to run in behind, finding dangerous attacking positions in the process. Wilson does just that, though, which is a potent weapon.
He is playing with such confidence at the moment and his two finishes against Chester were a testament to that. He tucked his chances away in such a calm, effortless manner and there are shades of Antoine Griezmann about his general demeanour and style of play.
The key question looming throughout the summer will be: is Wilson at the required standard to be an option from the bench next season?
It would be a risk, that's for sure, especially when the funds are there to bring in more established figures with a history of delivering in a top European league.
Would he just struggle in the way Dominic Solanke did last season, showing that another loan move would benefit his development? It's debatable.
Doing it for the U23s and for a short spell in the Championship is very different to being reliable in the Premier League and pre-season is Wilson's chance to persuade Klopp to keep hold of him.
The early evidence is promising.