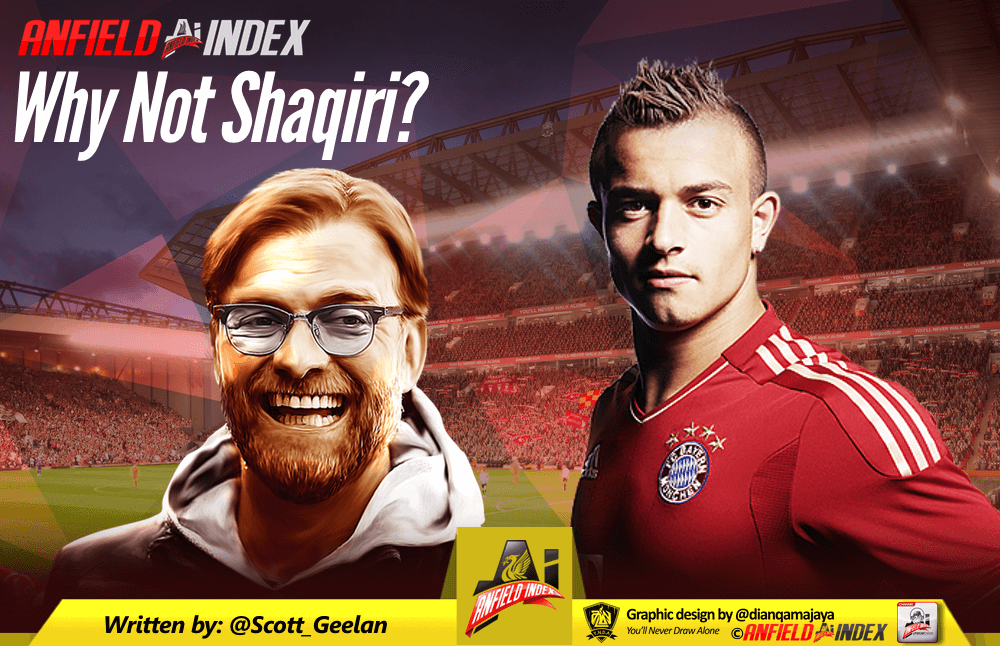 Why Not Shaqiri?
Ever since Liverpool were first linked with Xherdan Shaqiri, I have found myself one of a large portion of Liverpool fans who were at once disappointed with and confused by the prospective signing of the Swiss international. Six years ago this would have been an exciting signing, with Shaqiri the prospect in high demand across Europe. Indeed, if the Liverpool of six years ago was here today, this might still be an exciting signing. 
But it's not summer 2012 and the Liverpool of summer 2012 is a far cry from the Liverpool of summer 2018. Resultantly, the opposition to the signing is twofold: firstly, and most fundamentally, is the idea that Shaqiri is not good enough to play for Liverpool. Secondly, and a direct off-shoot off that, is the suggestion that he is blocking the route to the first team of several talented youngsters, a cardinal sin in the eyes of many Reds.
Not good enough to start, but Liverpool need a squad
The latter is undoubtedly a major reason for supporter discontent, but we begin with the former. Shaqiri's quality at a club like Liverpool, and therefore his fit there, is being questioned quite validly by many. He has had two bites at the cherry at the top table of European football and neither was a success. That table, recently the exclusive haunt of the giants of continental Europe, is the target of Liverpool; unsurprisingly, the players Liverpool sign have to be judged against that standard. The chances of one of the European elite being keen on Shaqiri is slim, that much seems clear, so there is a jarring sense that he isn't up to the standards Liverpool are setting for themselves. 

Nevertheless, it is crucial to consider the differences between Liverpool's situation and the situations of those big European clubs, centring around the nature of the Premier League. Firstly, the Premier League is more competitive overall than the other top leagues in Europe. Liverpool need a greater strength in depth to compete on multiple fronts than is demanded of the other top sides in Europe, a strength in depth that is lacking and needs to be supplemented. Shaqiri provides that. He is a proven Premier League performer, a man who contributed to 42% of relegated Stoke's goals and is undoubtedly better suited to playing for a side that finds itself on the offensive rather than the back foot. He is unproven in other leagues and resultantly, is less attractive there.
Just as important to note is that the other top sides on the continent have the luxury of being able to hoover up the top talent in their respective domestic leagues and not have to compete (and therefore overpay) to do so. The costs of building a side that can compete on multiple fronts is therefore much lower outside of the Premier League and the top sides rarely have to compete with the Premier League's big guns to sign up their own local talent. Shaqiri simply isn't on their radar because they have other options internally. (Of course, the result of this is that the top sides on the continent have better strength in depth than the likes of Liverpool and Man City as a result.)
Conversely, there is far greater competition for players of proven quality within the Premier League – teams below the top tier are desperate to hold on to those types of players to keep them competitive and rightly charge an absolute premium for them. They know full well these players are exactly the sort the likes of Man City, Chelsea and Liverpool require if they are to compete on all fronts.
These realities have left the Reds in a difficult situation, requiring strength in depth but also fully aware that they need to spend sizeable sums on other areas of the team. There is normally a gap in the market here, good quality Premier League wingers simply do not come cheap and Liverpool are extremely fortunate that by signing Shaqiri, they can avoid breaking the bank for a player that does not improve their best team. The simple fact is that he is not good enough to be a starter, but is a back up of the calibre that ensures they can rest Mo Salah and not have to play a youngster who Jürgen Klopp clearly has his doubts about.
The path of Liverpool's youngsters to the first team is being blocked by far greater obstacles than Shaqiri
These doubts are a helpful retort to those who bemoan the signing of Shaqiri due to its likelihood of blocking the route to the first team of several youngsters. Though his perceived lack of quality plays a part in these sentiments, considerations of Shaqiri's calibre should not play a role in an assessment of the qualities of the other options currently available to Jürgen Klopp. His reticence surrounding the first team futures of the likes of Harry Wilson, Sheyi Ojo, Ryan Kent and Ben Woodburn should be all that is required to realise that these players are borderline Liverpool players at best. Whilst fans cannot be faulted for their romantic hope for the next great youth talent(s) to emerge from Melwood there needs to be some realism. Other than Wilson, who does appear to make some kind of an impression after a successful spell with Hull, the other youngsters do not look of the requisite quality to be relied upon as viable backups at this moment.
Given we have already been blessed with Trent Alexander-Arnold and Raheem Sterling in recent(ish) years, after a long wait since the likes of Michael Owen, Jamie Carragher and Steven Gerrard burst onto the scene, we are perhaps being greedy in looking for another youngster to force his way through. Even when considering that good young players seem to be a bit like buses (you wait a long time for one and then two or three come along at once), the current evidence of Liverpool's youthful wide options suggests that most of them have very little shot at making the grade at Anfield. Times have moved on since Sterling came onto the scene, and Liverpool have changed.
The Liverpool of 2018 requires players possessing physical conditioning and a tactical nous that young men in their late teens and early twenties are extremely unlikely to possess. There is a reason Jürgen Klopp has signed players generally in or just entering their mid-twenties, as they enter their physical peak and having experience at the top levels of European football. To succeed at Liverpool today, coming from the youth system, players not only need to be absurdly talented, but they need to be freakishly ahead of the curve athletically and mentally for their age. Alexander-Arnold, blessed with experience in centre midfield and right back, would appear to have those traits, especially the latter. His former Melwood peers perhaps do not. That necessitates someone to be brought in to back up the likes of Salah and Mane.
Shaqiri offers the Reds a cheap, proven option to fulfil that role. If the money saved by making this singing is not spent well, fans will have far more reason to feel frustrated; for now, however, it appears a pragmatic use of a fraction of their transfer budget.