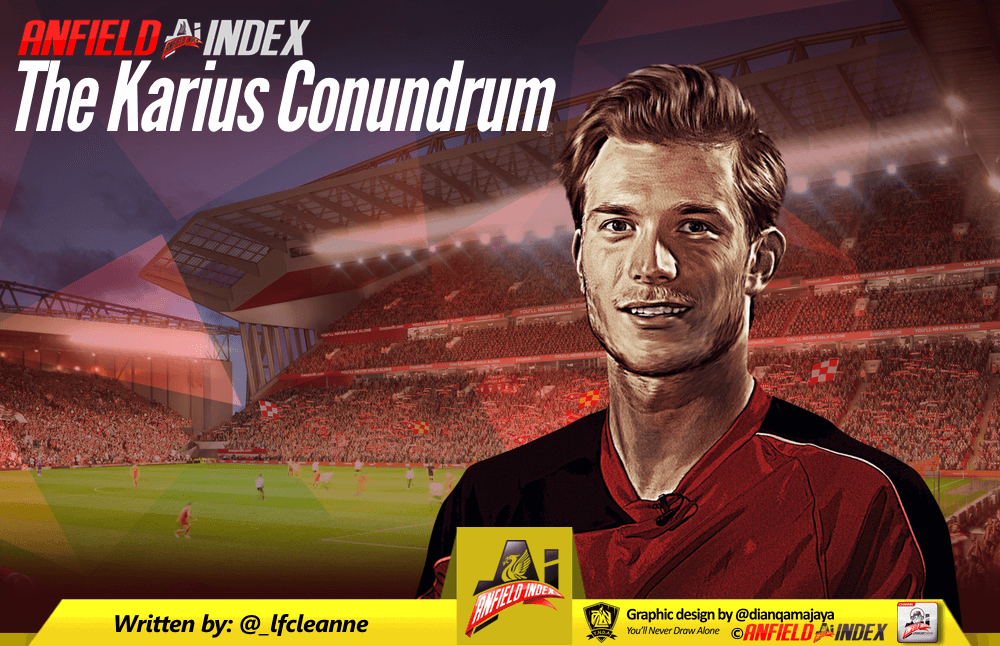 The Karius Conundrum
Liverpool have made huge strides under Jurgen Klopp on and off the pitch; the German's infectious touchline antics have fuelled a strong feeling of togetherness between the fans and players. Then there's the enhanced decision making in the transfer window, the cohesion between Michael Edwards and Klopp and a surge of optimism that this side is quietly worming their way towards some silverware.
Yet, Klopp remains imperfect.
Loyalty is a powerful thing. Used in good proportion, it provides players with the backing of their manager, thereby giving them comfort that when things aren't necessarily going their way they won't be shafted from the line-up.

Such an intense, high-pressing system as the one Liverpool use requires a strong element of trust; every player must work in unison, marking their opposite numbers to ensure the system doesn't break down.
Too much loyalty though, and you've got a problem.
Klopp's problem.
An overwhelming amount of loyalty to certain players has arguably hindered Liverpool's progression at times, resulting in reoccurring and increasingly frustrating individual errors both domestically and in Europe.
You've got Simon Mignolet, a goalkeeper below the required standard to be the club's No.1 but one that enjoyed the full faith of his manager up until last season.
Then there's Dejan Lovren, a centre-back that will forever divide opinion. Crumbling against Spurs before producing a top draw display in the Champions League, Klopp's loyalty never wavered in a rollercoaster campaign.
Loris Karius is the latest player to fall under that bracket.
An initial howler in Kyiv saw him throw the ball straight at Karim Benzema's leg before it ricocheted into the back of the net. Gareth Bale's long-range strike then swerved during its trajectory, causing Karius to make an error in judgement and subsequently spill the ball into his own net.
Two high-profile mistakes on the biggest stage, the 25-year-old's confidence was at an all-time low.
I was one of few willing to forgive him for his misdemeanours, after all, we're all human. Hugo Lloris has made his fair share of screwups while David De Gea looked a completely different player for Spain at the World Cup. Let's not forget the progression he had made in the months prior; starting 19 Premier League games, Karius conceded 14 goals from the 45 shots on his goal.
That corresponds to a save percentage of 69% and goals against per 90 mins of 0.74. For context, in Mignolet's 19 league appearances Liverpool leaked 24 goals from 61 shots on target – a save percentage of 61% and goals against per 90 mins of 1.26.
Thus, it came as little surprise to see Karius gain a chance at rehabilitation in pre-season given Simon Mignolet's likely departure (and inferior goalkeeping record) and Danny Ward's distinct lack of game time since returning from loan. Yet, further blunders, albeit in far less important games for Liverpool, was precisely what the doctor didn't order.
A warm-up video of Karius at Chester went viral on Twitter with the shot-stopper spotted allowing a shot to spill through his hands and roll into the back of the net, eliciting distasteful cries of 'Does he have another concussion?'
Loris Karius away to Tranmere tonight pic.twitter.com/hQcEygVjkE

— Alan Smith (@alansmith90) July 10, 2018
Tuesday's game against Tranmere provided no better fortunes as the former-Mainz 'keeper calamitously fumbled Ollie Norburn's 25-yard free-kick despite it being struck into his midriff. Liverpool fan Jonny Smith converted from the rebound before making his feelings about Karius' mistake known.
Football is a ruthless business and goalkeepers often face the brunt of it. Should a midfielder make a mistake, there are often three or four players behind able to step in and rectify the situation. A goalkeeper has no such luxury – you make a mistake and it more often than not ends in a goal.
It remains to be seen whether Karius can bounce back but Klopp's continued faith in the German however noble is only hoarding more pressure on his shoulders, making it hard to see how he'll get the chance to recover in the eyes of those who want his head.
Taking Karius out of the firing line could do the world of good to a player whose confidence is so visibly shot.
It remains to be seen whether Liverpool delve into the market for a new No.1 but should a move fail to arise, Klopp would do well to pull back on his loyalty and consider his options.
Danny Ward only made one appearance last season despite serving an important role in Euro 2016 and Huddersfield's promotion to the Premier League. However, reports now suggest the Welshman is set to compete for a starting spot in Klopp's team ahead of the 2018/19 campaign having shown good composure and authority in the second-half against Tranmere.
Fears over his attitude have also been heavily quashed with Ward suggesting he's in the best shape of his career as he looks to stake a claim on a highly problematic position.
Ward may or may not be the answer, having been relatively untested in the Premier League while making his own blunders in the Championship despite a positive campaign overall, but Klopp's continued faith in Karius is merely fuelling further criticism, making it harder for him to full rehabilitate from the Kyiv nightmare.
Alisson, Oblak, Ward or whoever, the manager has a big decision to make regarding his No.1 ahead of the new campaign. At this point in time, it looks an increasing rarity that Karius will be in the mix, though.