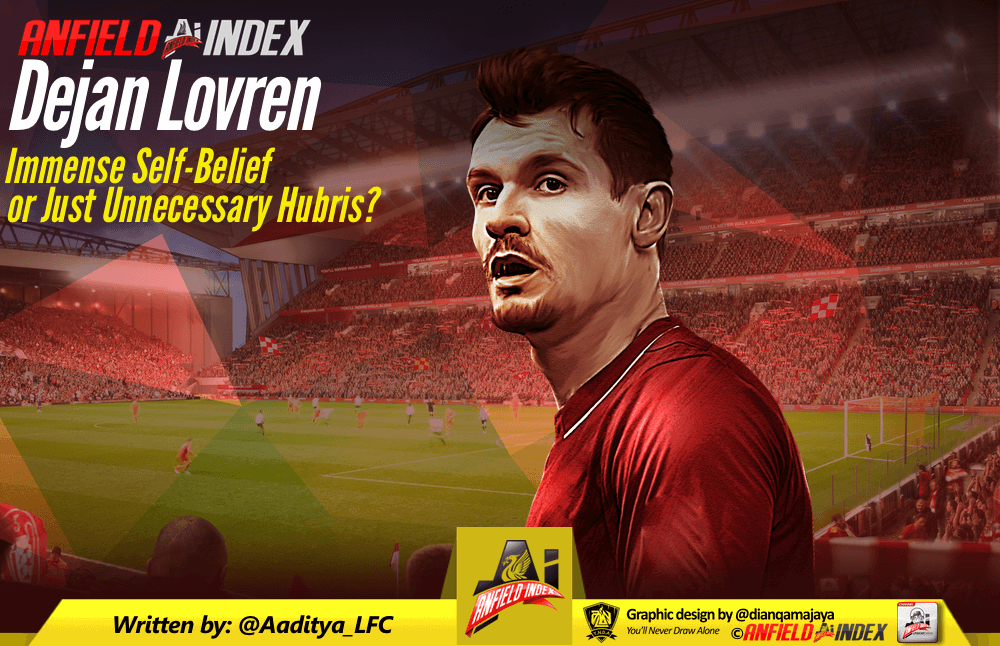 Dejan Lovren: Immense Self-Belief or Just Unnecessary Hubris?

"From my point of view, people said I had a difficult season but I don't agree.

"I took Liverpool to the final of the Champions League. Now with my national team, we are in the final.

"I think people should recognise that I am also one of the best defenders in the world and not just talk nonsense."
The mouth that Liverpool fans so dread has opened again. Only this time, it is a Croatian fan's worry, not so much one of a more Liverpool persuasion. Dejan Lovren had a hard-hitting strongly-worded retort to all the naysayers that have followed him everywhere since his move to Liverpool.
Does that signify someone who takes criticism well enough and responds with performances on the pitch? Or is it just another example of Lovren's mentality just not being good enough?
For that, one has got to understand where Lovren comes from, and what he has had to go through ever since he was a child. Being born in the Balkans in the late 80s or the early 90s couldn't have been easy for any kid, it definitely wasn't for a young boy born in Bosnia's Kraljeva Sutjeska in 1989.
The Bosnian War broke out in 1992, and after having everything a little child anywhere would've wanted, Lovren and his family lost everything. They moved to Germany to flee the war, and when they were back seven years later, Lovren was an alien in his own country.
He himself has gone on record to say that he was mocked in school after he came back to Croatia and that football was his get-out from being mocked.
Given that background, one can understand that Lovren is proud of what he has achieved today, and maybe some things he says come out as arrogant and over-the-top. But in truth, it is the voice of the man who has had to struggle at every step of the way to be where he is today.
The struggle has been as real as it has even been since the summer of 2014 when he joined Liverpool.
Lovren has had to deal with a whole host of unacceptable nonsense over the last year, in particular. That grim October evening at Wembley will forever be the lasting image of Dejan Lovren in a Liverpool shirt, but the aftermath was unsavoury.
Death threats, the choicest of abuse, and other such unacceptably vile reactions marked that disaster against Tottenham, but Lovren has come back rather well since then.
Especially with the addition of Virgil van Dijk to partner him at the centre of Liverpool's defence, he has been a lot more secure and reliable than he has ever looked in a Liverpool shirt.
The point though, really isn't whether Lovren is one of the best defenders in the world – it is about the psyche of a man that has been hurt and hurt repeatedly.
There is a school of thinking that statements such as this one from Lovren are the result of all the frustration and anger that has built up within himself, due to the events of the last season especially.
It is easily explainable that such a ludicrous statement only comes out as a result of his insecurity, and that he should ensure that he markets himself as much as he can when he has got the opportunity to do so.
That insecurity stems from an insecure childhood, where nothing came easy for Lovren, so it is a credit to him that he has brought himself to where he is.
A chat with fellow Anfield Index contributor Guy Drinkel had me chuckling at Guy's description of Lovren's confidence. "Trumpian", he trumpeted. And that isn't far from the truth.
Despite Lovren's mistakes and his fragility, the confidence in his interviews does stand out. But sometimes, it can be disillusioning for the average football watcher.
It is an oft-repeated cliché that players do their best talking on the pitch itself, and Lovren doesn't exactly seem to be the biggest proponent of that.
He is a fighter, on and off the pitch, but when he's on it, he doesn't exude the same confidence as he does off it. There are things like calling himself one of the best defenders in the world when he's off the pitch.
On it, he's always prone to the error. Even in this World Cup, in the game against Argentina, Croatia were comfortable for a large part of the game and yet could have gone behind when Lovren had a miscommunication when Danijel Subasic, only to be bailed out by Enzo Perez not being able to put the ball into an open net.
There is also a sense that throughout his career, Lovren has had a tendency to blame those around him for his own problems. He had a falling out with the club hierarchy at Lyon, during a period of poor form, for which he was dropped. He even went on to say that his passion and joy of playing football was being killed by the club. At that time, given his form for the French side at the time, it reeked of just giving poor excuses to cover his own faults.
That much-famed self-confidence seemed to have ended Lovren's Croatia dream ahead of Euro 2016. The then coach Ante Cacic tore into Lovren, saying he would get back into the national side, only if he learnt to be a team man, and not look down upon his teammates, coaches and other members of the support staff.
He also had a horrific start to his Liverpool career, and constantly blamed external factors for his own shortcomings. Some of the external factors during his time at Liverpool have been horrific, to put it mildly, but Lovren has not helped himself. He has given the sense throughout his Liverpool career that he is someone who doesn't take criticism as it ought to be.
As footballers, criticism is something that has got to be dealt with, something that comes with the territory. You cannot hide behind the veil of being a public figure just to get away from the criticism, especially in this day and age of social media scrutiny.
To be fair to him, he's played hugely important roles in taking his club to the Champions League final and his country to the World Cup final, but is he one of the best defenders in the world?
He is among the most self-confident ones out there for sure. And given his past, and what he's had to endure during his four years at Liverpool, it is a miracle in itself that his belief in himself remains as strong as it has ever been.
Well Dejan, maybe sometimes, you could just come across as a little less pompous and acknowledge some of your own shortcomings too?