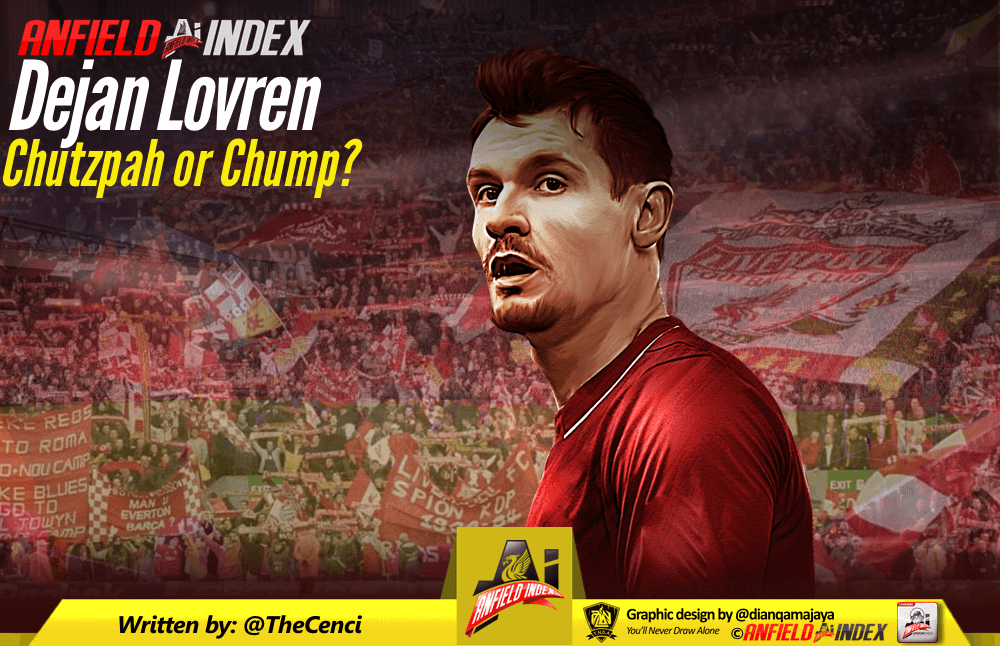 Dejan Lovren: Chutzpah or Chump?
It's Friday afternoon as I write this and the World Cup is all but over.
On the whole, it's been a triumph. The home nation's journey to the quarter-finals have made it interesting domestically – ever the hallmark of a good World Cup – and the introduction of VAR have kept all but the usual blowhard pundits happy. True, the majority of the big teams went out early, but that did little to reduce the intrigue of the fixtures. There have been some great games and some France v Denmark games, but this will be a competition remembered with fondness.
England's rise has been met with either an outpouring of pride or a derisive sneer of 'well, they didn't really play anyone.' As usual, the truth lies somewhere in the middle. Gareth Southgate's side performed well and far exceeded any expectations of it through the drop off against Croatia in the second half was more characteristic of previous incarnations. England made it to last four with an inexperienced side and that alone is worthy of a commendation. Let's not forget that his predecessor lasted just two games four years earlier in Brazil before being sent home. Their solitary point coming from a dead rubber with Costa Rica.

From the Liverpool perspective, it was heartening to know that at least one regular would be a start the final. Arguably, that should have been Jordan Henderson had he not been substituted for Eric Dier, who did little to stop the Croatian midfield swarming through the ranks as the team tired. Instead, Dejan Lovren, everybody's favourite whipping boy prior to Kyiv, will take to the field in the Luzhniki Stadium with just France standing between him and a World Cup winner's medal.
Degsy's in the final. That's brilliant. Sorry, but it just is.
Should he win he would become only the third player to appear in a victorious World Cup Final side alongside only Roger Hunt and Fernando Torres. There are others who have been on the bench or squads (Ian Callaghan, Gerry Byrne, Dietmar Hamann, Pepe Reina and Dirk Kuyt), but the 29-year-old would join that elite bunch.
This is a huge turnaround from October last year when he left the Wembley pitch in disgrace following a shocking opening half-hour against Spurs. Some blamed his performance that day on a medical issue while others pointed at a man who had clearly lost his head. He wasn't alone in 'having a mare' at Wembley (step forward Messrs Mignolet, Gomez and Matip), but Lovren's was the one that caught the eye as he missed Harry Kane's movement time and again. At least he gained some revenge for that on Wednesday night as the Tottenham man squandered the chance to put England 2-0 had he squared the ball to former Red Raheem Sterling.
Dejan is in no doubt that he deserves it, telling beIN Sports.
"From my point of view, people were saying I had a difficult season but I don't agree with that.

"I showed that I took Liverpool to the Champions League final and now with my national team we are in the final. I think people should recognise that I'm one of the best defenders in the world and not just talk nonsense I will say."
Well, okay mate.
Naturally, he's been criticised across the game for these comments, but, well, you have to admire his chutzpah.
As Steve Nicol – a man who unquestionably WAS one of the best defenders in the world on his day – observed, when it comes to defending incoming crosses, Lovren is indeed magnificent. Some of his displays in the Champions League last season were impressive and only passed under the radar due to the excellence of his centre-half partner. Virgil van Dijk clearly makes Lovren a better player, but you have to give credit where it's due. When he's on it, Dejan Lovren is an asset.
The trouble occurs when he isn't. As Nicol told the ESPN panel 'he can be a train wreck'. Wembley was not an isolated incident. He is more than capable of a rick and it's usually uppermost in Liverpool fans' minds during tense encounters. Deep down he knows that and if he needs a public display of over-confidence to give him a little bit more juice then why not?
But personally, I don't care. We have a Liverpool player in the World Cup final. I'm rather proud of that. That it's one of the most maligned in the squad somehow makes it even better. Funnier.
Whether he can survive the pace and power of Kylian Mbappe and Antoine Greizmann is another matter. That Denmark game aside, the French have been one of the more consistent sides in the tournament and their strikers, coupled with the control of Pogba and Kante in midfield has made them irresistible. Dejan is in for a long afternoon.
This is not to say that Croatia are without chances and it's telling that Lovren has performed well with a good goalkeeper behind him. Monaco's Danijel Subasic has been a revelation over the past few weeks and maybe it's his instruction to his defenders that has helped Lovren along the way, much in the same way Virgil van Dijk has brought out a more consistent player by being in his ear.
Lovren's words seem to have angered a lot of Liverpool supporters, though I suspect that many are upset at England's exit from the tournament. Perhaps it's just those of us with no links to the national side who think that it's great that he's in the final and from ending a bizarre season with the biggest prize in international football.