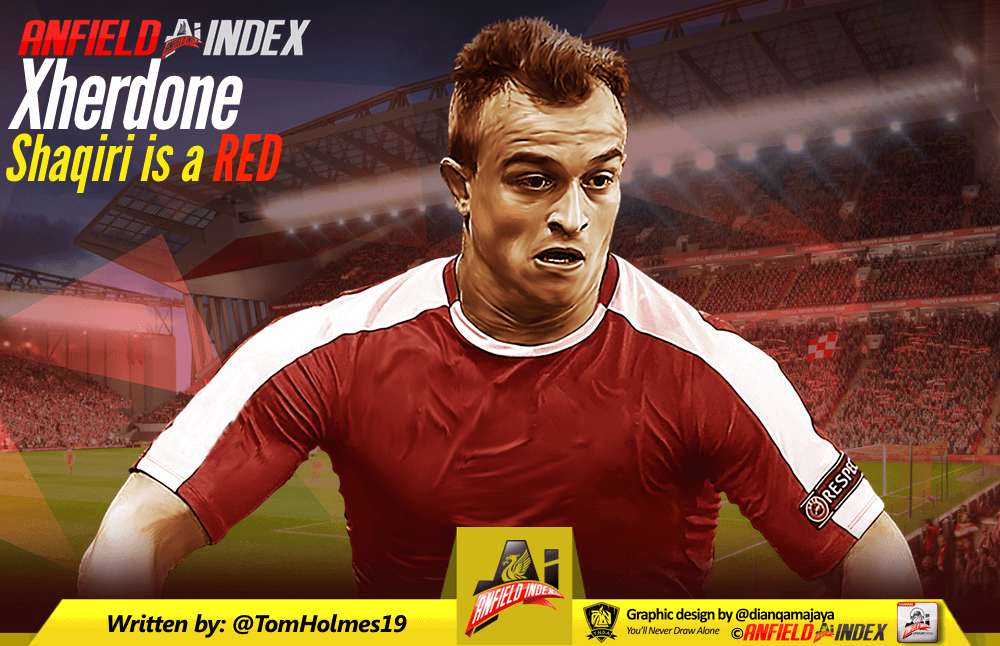 Xherdone - Shaqiri is a Red
So Xherdan Shaqiri is a Liverpool player. This has been one that has threatened to run for most of the window, but in the end, LFC wrapped it up with little fuss and little mess, courtesy of a £13m release clause in his contract after Stoke were relegated from the Premier League last season.
It's been a strange summer for Liverpool, one that started in earnest with Fabinho's signing on top of the already incoming Naby Keita, threatening to completely overhaul Liverpool's midfield, with the touted missing piece of the puzzle Nabil Fekir also allegedly on his way. But with the Fekir deal stalling, it's been over six weeks since Fabinho was announced and we're only now getting confirmation of Liverpool's third summer entry – Shaqiri.
Shaqiri is an interesting player. In many respects, he was a big dog in a small pond at Stoke, clearly their best attacking player and notching eight goals and seven assists last season in just over 3000 minutes. Contributing a goal or assist every 200 minutes is an output that Liverpool might need him to improve him, but the underlying numbers are there, as this thread from the Under Pressure Twitter demonstrates.

Shaqiri: the good.
When you consider he's at Stoke, the raw shots/key passes look good vs Mane/Salah at same age
XG Buildup also good.
His distance/sprints also good considering he's not on a high intensity team, would need to up by 30% at LFC. pic.twitter.com/k0918wNrhW

— AIUnderPressure (@AIUnderPressure) July 11, 2018
At 26, Shaqiri is about to hit his prime then, with the underlying metrics to potentially hold his own off the bench. Most importantly, he's an upgrade in a position that Liverpool need an upgrade – the level of attacking quality off the bench is notable, with Mo, Sadio and Bobby all having to play vast amounts of minutes of football last season.
Listen to our special AI:PRO podcast on Xherdan Shaqiri with a Swiss football expert and the full lowdown on Liverpool's new number 23!
Another thing that cannot be questioned is value. At £13m, Shaqiri is value for money. There's no doubt that the relegation clause in his contract was an opportunity that Liverpool couldn't miss out on, even if normally he might not have been considered a prime target.
What we can say about Shaqiri is that he is not necessarily a target to excite, or to explode a fanbase, but he's nevertheless a very useful one. He fills a position that Liverpool needed filling, in terms of backup wide-forward, with the versatility to give Liverpool different options off the bench, and most importantly, he's done that without eating into the budget for other key areas, with Liverpool still desperate for an attacking midfielder and hopefully (maybe) a goalkeeper.
What's interesting about the deal itself is the time taken to complete and announce the signing. Shaqiri's release clause has been there all along, so Liverpool must have made a decision a while ago that they wanted him, and negotiations with Stoke must have been straightforward, with Liverpool agreeing to pay the fee on the table. Likewise, it couldn't have taken too long to negotiate with Shaqiri's agent, as it doesn't seem that any other top clubs made much effort to stop Liverpool picking him up.
However, Shaqiri was at the World Cup and obviously holidaying after it. His Switzerland side was knocked out in the Last 16 stage, a week and a half ago, and Liverpool secured the signing of him just ten days later. This suggests two things. The first is that the World Cup has clearly held up Liverpool's transfer work, as everyone expected it to. But the second is that the club was thoroughly prepared for that, and have wrapped up the Shaqiri deal promptly and swiftly once he was available to do a medical.
So we can see that the lack of apparent transfer activity in other targets doesn't mean that the club isn't working hard, and it means that there's still plenty of time for deals to get done. Shaqiri was a relatively low priority target, but the club has wrapped up another good deal.
Whether or not it's a good deal remains to be seen, but it's worth noting that the risk is potentially higher than just the £13m fee. Whilst Shaqiri has the capability to slot into this LFC side, he will need to change some of the perceptions around him – that he's not necessarily a player that fits into this LFC side, that he's inconsistent and that his output isn't good enough. On paper, there's plenty of evidence to suggest that he will, but equally the evidence suggests that these are areas of concern nevertheless.
But whilst the transfer is low risk in terms of money, in terms of Liverpool's season, it could be an issue. There is still work to be done in the forward areas and with Bobby Firmino in particular fresh off the back of a long season and a World Cup to boot, Liverpool need a player who can hit the ground running and make an impact in the final third.
Overall then, Shaqiri is a smart, opportunistic and cheap signing, who won't be the highlight of the window, but does a job at low expenditure. And he certainly has the capacity to have a great career at LFC. But arguably the best thing about this signing is what it means for Liverpool's window. They have money to spend, the World Cup is almost over, and this transfer shows that work is going on behind the scenes. LFC still have the time and the means to go big.
But until then, welcome Xherdan. You're one of us now.