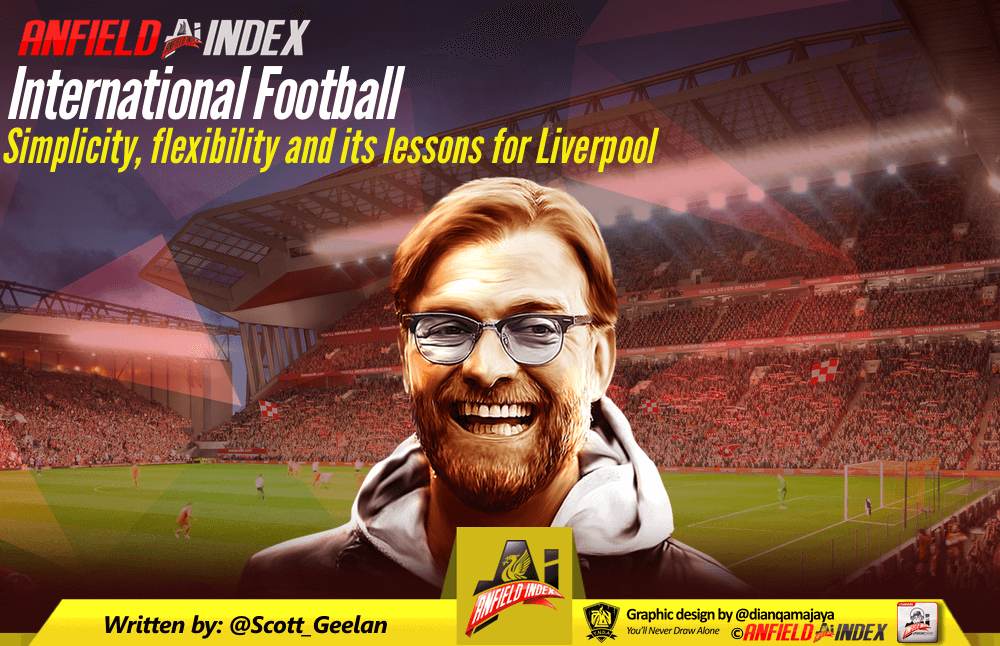 International Football: Simplicity, flexibility and its lessons for Liverpool
International football has many joys. Whether its the carnival atmosphere at major international events, the seeming togetherness produced both intra-nationally and internationally, or just the chance to see teams and players you would never normally get the chance to watch, international football can be an enjoyable departure from the closer-to-home tribalism and intensity of club football.
A further joy to be added to the list is the simplicity of international football compared to the club game. International managers are not blessed with the same luxury of time afforded to their club counterparts, rarely having the opportunity to drill complex patterns of play or defensive structures. There is a focus on the basics, a stripping back of tactics and the necessity to quickly locate a team's strengths and play to them, whilst also hopefully masking weaknesses. Players and coaches must be flexible, capable of altering tactics entirely in the space of a few minutes – when every game is a final of its own being out-thought is often a death wish for tournament hopes. Simplicity and flexibility are the calling cards of international football.
Unsurprisingly, given these constraints, few World Cup-winning sides in recent years have been vintage teams – barring the Spanish of 2010 who were blessed by having a spine of Barcelona players capable of easily transferring their club tactics into the international arena. They have however married tactical pragmatism and flexibility, with a mastery of the basics of football – seemingly obvious areas. Nevertheless, in the international arena, they can often be the one percenters required to secure victory. Before this World Cup, the teams who scored most from set pieces had gone onto win the competition, for example. The basics, the areas of the game that could more easily be controlled and rehearsed, were perfected.

The club game, and Liverpool more specifically, can learn from this but also take solace from these lessons. Mastery of the basics, notably of the set piece, has eluded the Reds for some time. With aerial threats such as Dejan Lovren and Virgil van Dijk, Liverpool should be looking to extract every last ounce of value out of those players at either end of the pitch. Set piece routines like those of England should be rehearsed and perfected.
Furthermore, at times last season, especially with Coutinho in the side, Liverpool appeared unbalanced. The likes of Jordan Henderson, Gini Wijnaldum and Alex Oxlade-Chamberlain found themselves and Liverpool's left exposed as Coutinho roamed freely, vacating the defensive responsibilities his midfield partners clearly thought he had. In the best international teams, everyone knows their job first and foremost – basic but crucial margins that are a focus in the international game but are perhaps pushed into the background in the club game. Clearly, increasing the complexity of patterns can widen the scope of a players' responsibilities, but players understanding their role as well as those around them is crucial to cohesion. Liverpool appear increasingly cohesive – the arrivals of Keita, Fabinho and potentially Nabil Fekir will require a re-appraisal and re-assertion.
Additionally, at times, Liverpool must be more tactically pragmatic. Given Liverpool's struggles at goalkeeper, is it perhaps worth, in some games, dropping deeper in a manner which can leave their goalkeeper and defence less exposed? Do they have that capability? Or will other areas suffer? The evidence would seem to be that they do have such a capability and other areas will not suffer, most obviously demonstrated by their victory of West Ham last season in London. Could they, on occasion, demand less attacking contribution from their fullbacks and centre midfielders? Perhaps if Nabil Fekir arrives we will see such a move to a more defensive double pivot and a stronger midfield screen.
Nevertheless, there are many reasons for solace from these lessons, given Liverpool's adherence to their teachings. Klopp has shown a capacity for tactical flexibility, something that one senses will only increase with the arrival of two midfielders who have made their reputations in a two-man, not a three-man midfield typical of the Reds. The versatility of many of Klopp's signings also points to a desire for greater flexibility, enabling the types of in-game adjustments required in the biggest games of all. Even though Klopp has a far wider pool of players available to him through the transfer market (unlike international managers) he has shown an ability to adapt Liverpool's style to the men on the field. Oxlade-Chamberlain and James Milner's usage on the right of a midfield three when Joe Gomez was in the side is an example of that, with either player capable of drifting wide, allowing Mo Salah to move inside whilst retaining a threat in the wide areas in lieu of having one from the fullback position. Klopp's and his side's tactical flexibility is undoubtedly a major coup. Perhaps with a little more pragmatism, renewed cohesion and a greater mastery of the basics, the next level can be attained.